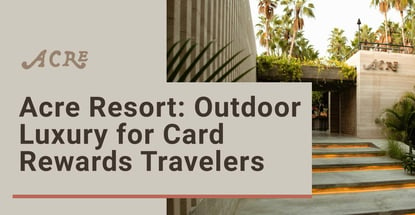 In a Nutshell: After developers Cameron Watt and Stuart McPherson experienced the vibrancy of San José del Cabo in Mexico's Los Cabos region in 2011, they knew they'd be back permanently. Soon after that visit, they built Acre Resort, a restaurant and cocktail bar located on a 25-acre parcel in a garden of palms. The property has since expanded to include a unique treehouse hotel, ample space for weddings and celebrations, and exclusive vacation villas. Acre is an idyllic setting perfect for adventurers using card rewards to book their next vacation or special event.
When Cameron Watt and Stuart McPherson traveled in 2011 to San José del Cabo in the Los Cabos region of Mexico, they were enthralled by the area's natural lushness and welcoming spirit of its inhabitants.
From that moment on, the Vancouver-based entrepreneurs and developers vowed to return to Cabo permanently with a plan to build a hotel and restaurant.
Acre Resort is the result. Creatively constructed on 25 acres rich in palm trees and mango groves, Acre is widely praised as a unique gathering place for adventurers searching for a fusion of luxury and local authenticity.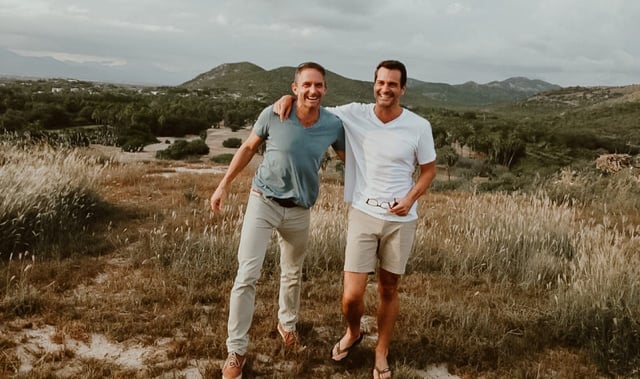 Credit card travelers have several options to book a stay at Acre using their rewards. They can redeem their rewards for cash or a statement credit and use those funds to experience Acre, or they can book their flights directly through the card issuer's travel portal, including Chase Ultimate Rewards or American Express Travel. 
And after they experience Acre, they're likely to return home with a renewed outlook.
Acre is perhaps best described as a farm resort — it's anchored by a cosmopolitan restaurant and cocktail bar that receives produce and cocktail ingredients directly from farms on the property. There's ample space for weddings and gatherings as well as for private group dining.
Guests stay in a treehouse. These elevated spaces are equipped with terraces, bathrooms, closets, outdoor showers, and king-size beds, and offer all the amenities of luxury hotels. At the same time, guests are immersed in the natural environment of Cabo.
And all within a mini-community dedicated to sustainable practices that include a rehoming shelter for dogs, an animal sanctuary, an art and cultural center, and yoga classes.
"We're adding things all the time — essential little attractions and getaways within the property," McPherson said.
Farm-to-Table Dining and Cocktails in Los Cabos
Acre is a quintessential alternative destination where appreciation for design, sustainability, and modern life intersect. Acre Restaurant & Cocktail Bar exemplifies a progressive ethos with its approach to farm-to-table global fusion.
"It's just a beautiful space for an evening with a friend or partner or for a party or celebration," McPherson said. "It's very elegant and sophisticated, but there's a relaxed vibe as well."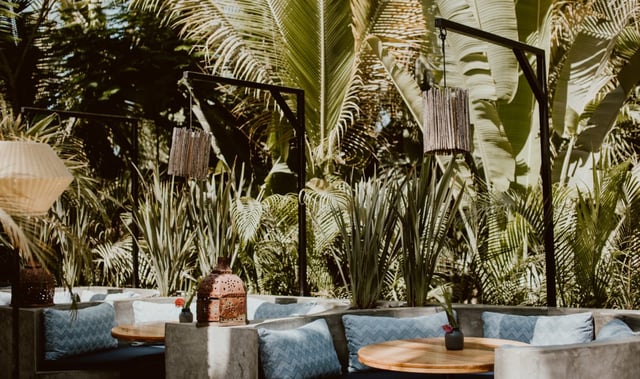 Seasonal entrees and desserts arise out of the organic garden and grove operations on the property. Only fresh, ripe produce makes its way onto the plate when the time is right.
And with Watt also the owner of the well-regarded Keefer Bar in Vancouver, Acre's cocktail program heightens the farm-to-table experience even further.
"We brought in a Keefer Bar mixologist and have won awards for our cocktails," McPherson said. "Our own local herb mixtures in the cocktails add a Mexican authenticity to them."
Cocktail lovers will appreciate that Acre produces its award-winning Acre Mezcal, which infuses some of Acre's drinks with special local magic.
"It's been very well received, and we're super happy with that," McPherson said.
The key to it all is that there's never anything particularly fussy about Acre's approach. Guests expecting high-end experiences won't be disappointed, but it's the friendly accessibility that is always a touchpoint to welcome visitors.
"We run the spectrum to give our guests as much choice and opportunity as we can, yet it doesn't come across as that sort of five-star dining experience where all the forks and knives are measured out," McPherson said. "It's casual, chic, laid-back, sophisticated, and elegant all at the same time."
Luxurious Treehouse Suites Offer Elevated Experiences
Some of that relaxed vibe comes from the fact that Acre is mostly outdoors.
"It's warm all the time down here," McPherson said. "That allows for so many more rich experiences than you can get inside an air-conditioned room."
Acre's Treehouse Hotel extends the outdoors nearly to the clouds. Couples who travel using credit card rewards in search of a truly memorable Cabo lodging experience will find it in the hotel's collection of 13 self-contained and private treehouses.
Nestled in an area of about 6 acres and engulfed by a dense palm canopy, the treehouses are all hidden from each other, and the only sounds guests hear are from the birds and the Baja breeze. Everything but the king-size bed is scaled down to fit within the treehouse, but accommodations are all first-class and include high-speed internet and a curated minibar.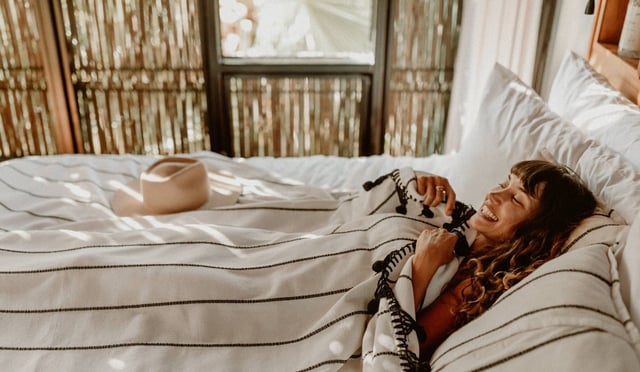 "It's luxurious treehouse living if you can believe in such a thing," McPherson said. "You're up in the trees with the birds, and it's quite an experience."
Naturally, there's a sense of peace that comes from living in solitude in the canopy. But there's too much to do every day on land at Acre to keep most guests in their treehouse suites all day.
A popular pattern is a breakfast of pastry and coffee or tea and perhaps a morning yoga class in Acre's mango orchard. From there, it's out and about. On the Acre property, guests can visit garden and farm operations, interact with staff, and even gather the ingredients for lunch or dinner.
"But every experience is different — very rarely do two couples say the same thing about the treehouses," McPherson said. "It's a wonderful feeling as a hotel owner to know our guests are experiencing that."
An Oasis of Sustainability on the Baja Peninsula
From there, a visit to one of Acre's two beautiful pool areas is in order. However, more activity-minded guests will opt to connect with some aspect of Acre's community commitment. In addition to its support  of sustainable practices and local hiring, Acre's community outreach contributes to the area's progress.
At Acre Dogs, for example, Acre houses and finds homes for stray dogs and their litters, and guests are always welcome to take part in the animals' socialization or adopt a loving pet.
"One couple who rescued a dog also got engaged and got married here," McPherson said.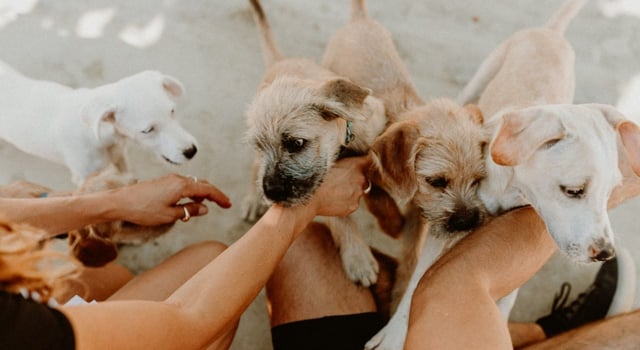 Acre also operates a sanctuary for donkeys, goats, and other animals, and guests are free to roam around and experience that as well. Horseback riding, hiking trails, and pickleball courts, among other outdoor amenities, keep guests exploring the natural environment.
Guests who are more culturally attuned will gravitate to Acre Academy, where art and movement come together in a spirit of culture, connection, and creativity. Personal fitness offerings include yoga, pilates, meditation, and HIIT workouts.
Acre's meal relief program reaches out to families most in need in San José del Cabo. Thousands of people have been helped thanks to contributions from area nonprofit organizations and from the general public, including diners at Acre Restaurant & Cocktail Bar.
Whether a card traveler's journey to Acre Resort is motivated by a desire to get away from it all or to celebrate with family and friends, there's always something in the air to make the trip memorable.
"It's all unified by the authenticity of the place, and there's nothing too commercial about any of it," McPherson said. "And we're quite proud of that."
Advertiser Disclosure
CardRates.com is a free online resource that offers valuable content and comparison services to users. To keep this resource 100% free, we receive compensation for referrals for many of the offers listed on the site. Along with key review factors, this compensation may impact how and where products appear across CardRates.com (including, for example, the order in which they appear). CardRates.com does not include the entire universe of available offers. Editorial opinions expressed on the site are strictly our own and are not provided, endorsed, or approved by advertisers.