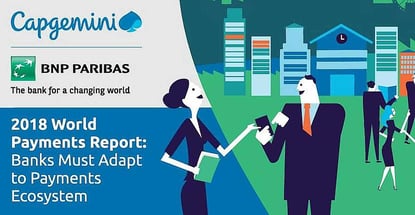 In a Nutshell: Each year, the World Payments Report from Capgemini and BNP Paribas evaluates the current state of the payments ecosystem, identifying notable trends, and offering industry advice based on its findings. The latest report revealed that the rate of non-cash transactions is increasing rapidly and will continue to increase into the next decade. Banks must learn how to be an anchor in the industry by offering the most up-to-date products and services, and leverage the latest technology. The report also emphasizes the importance of key regulatory and industry initiatives working together for a smooth transition into the new payments ecosystem.
Cash is king. That's what they used to say, anyway.
For decades, people stashed spending money away neatly folded into wallets or hastily crumpled into pockets. While they wrote checks to pay bills, cash is what carried them through their daily lives.
But, in recent years, the cash dynasty has been challenged by non-cash payments. While cash still makes up the most common type of payment, non-cash payments collectively beat out hard currency.
The diminishing role of cash is due to the advent of numerous digital age technologies that allow for quicker and safer non-cash payments than was previously possible. In 2006, Capgemini — a global leader in consulting, technology services, and digital transformation — took note of the shifting payments world, and in partnership with the Netherlands' ABN AMRO Bank, released the first World Payments Report.
"At Capgemini, through our research and work in the industry we maintain a high level of knowledge and visibility in the financial services industry," said Christophe Vergne, Cards and Payment Practice Leader at Capgemini. "Each year, we publish the World Payments Report, which examines payment trends and regulations as well as provides thought leadership on how to navigate industry changes."
He said that, for the purposes of the World Payments Report, the term payments refers to anything other than cash, including credit cards, debit cards, prepaid cards, checks, credit transfers, and other electronic payments.
Now, more than a decade later, the report from Capgemini (and its more recent partner, the European bank, BNP Paribas) provides valuable data each year about the evolving payments ecosystem. The report also offers recommendations on how various industry players can evolve to remain relevant as money continues to move across the world in new ways.
Non-Cash Transactions are on the Rise and are Expected to Continue Increasing at Higher Rates
Perhaps the most notable findings of the 2018 World Payments Report involved trends in non-cash transactions, Vergne said.
Non-cash transactions across the world grew by 10.1% for a total of 482.6 billion during 2015-2016, according to the report.
"One of the key factors of this year's report is that the growth of usage of payment services is accelerating," Vergne said. "Last year, we reported two-digit growth for the very first time, and this year we are even upgrading our prediction for the coming four years to 12.7% growth."
Of all non-cash transactions, cards make up 67% of the market share or about two out of three transactions, Vergne said. This includes payments with physical credit and debit cards, card accounts, and e-wallets.
Developing markets accounted for a third of all non-cash transactions, collectively surpassing the United States for the first time. Russia led the way as the country with the fastest growing rate of non-cash transaction with a 36.5% increase. India's non-cash transactions increased by 33.2%, China's by 25.8%, and South Africa's by 15.1%.
Vergne said about 8.6% of global non-cash transactions in 2016 were conducted via e-wallets. And about 71% of those transactions were through payments apps and e-wallets offered by Big Techs, including Google, Amazon, Facebook, Apple, Alibaba, and Tencent.
The report acknowledges that there is no one-size-fits-all strategy to help with the evolution of the market but states that "Regulators can help by creating the required demand-side pull and supply-side push to enable rapid adoption of non-cash instruments."
Banks Must Become Anchors of the New Payments Ecosystem by Adding Services and Leveraging FinTech
Over the past year, disruption to the payments landscape has accelerated due to a number of factors, including open banking, technological innovations, and evolving customer expectations. Vergne said it is important for banks to recognize these changes to the landscape and take steps to maintain value to consumers.
The report states that banks can achieve this by becoming ecosystem anchors that are leveraging the latest technologies and collaborating with key stakeholders. Banks should also present more value-driven offerings, particularly in areas that can help corporate treasurers.
Vergne emphasized the importance of institutions and regions adopting the concept of open banking, which is also reflected in the 2018 report via its Payments Open Banking Assessment segment.
"Open banking is a system that provides a user with a network of financial institutions' data through the use of application programming interfaces (APIs)," according to Investopedia. "By relying on networks instead of centralization, open banking helps financial services customers to securely share their financial data with other financial institutions."
The principal of open banking is that industry players are able to more effectively provide valuable services to consumers because there is more communication between the various parties, Vergne said. "This really benefits the customer. The institutions and industry players also are in a position to really enhance their service offerings," he said.
"Banks must be ready for open banking as early as possible in order to derive prime mover advantage, essentially ensuring that they are well-architected for the API economy not only for compliance but also for the ability to expose further value-added service from partners to customers," according to the report.
Vergne said it is also crucial for banks to move toward the real-time transfer of funds.
"If you combine the benefits of open banking and the ability to move money in real time, 24/7, then plenty of new use cases and additional services can be created for payment service providers," he said.
Key Regulatory and Industry Initiatives Must Work Together to Ensure a Smooth Ecosystem Development
"As Key Regulatory and Industry Initiatives (KRIIs) gradually spread from regional up to global levels, standards and interoperability measures must be developed to harmonize the fragmented global marketplace," according to the report.
With the new payments ecosystem constantly evolving, conflicting KRIIs can present operational challenges and roadblocks to implementation, Vergne said.
"The regulatory agencies are forcing accelerated transformation in world banking, which goes in the right direction," he said. "But they need to align and coordinate across the banking industry and spend some time interpreting and agreeing upon regulations and how to make things work."
Without such coordination and despite the agencies' best intentions, important client services may be delayed to market.
The report also highlights conflicts around the regulatory treatment of cryptocurrencies across different regions, stating that "This creates an uncertain environment that could hamper progress and innovation." For example, Australia and the European Union have made efforts to bring cryptocurrencies into national guidelines. Other countries, including India, were initially friendly toward cryptocurrencies but have more recently restricted their use. And the U.K., France, and Germany tend to be friendly toward cryptocurrencies but have yet to establish any regulations surrounding them.
Vergne said the report highlights opportunities like this, to pursue better harmonization among KRIIs.
Additionally, the report indicates that KRIIs are operating in a cycle in which they have moved from standardization to innovation, then back to its current state of standardization. To meet the challenges facing the payments landscape, KRIIs must strive to move back toward innovation.
Building Infrastructure and Seeing Newcomers Take More Market Share
While the cash king may have been dethroned, the new digital monarchy is expected to play out with efficiency and convenience.
Vergne said the payments industry is currently pushing to build infrastructure to support the rapid technological developments in areas including open banking and real-time payments. And, along with those accelerated changes, legacy players should anticipate losing some market share to the new stakeholders popping up in the game, he said.
"And, in the meantime, we will continue reporting on progress in the payments industry and how these new innovations will play out in different market segments," Vergne said.
Advertiser Disclosure
CardRates.com is a free online resource that offers valuable content and comparison services to users. To keep this resource 100% free, we receive compensation for referrals for many of the offers listed on the site. Along with key review factors, this compensation may impact how and where products appear across CardRates.com (including, for example, the order in which they appear). CardRates.com does not include the entire universe of available offers. Editorial opinions expressed on the site are strictly our own and are not provided, endorsed, or approved by advertisers.