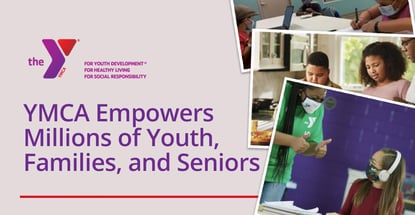 In a Nutshell: The COVID-19 pandemic highlighted how important the YMCA is to families and communities across the U.S. As shutdowns took hold and unemployment and isolation spread, local YMCAs increased support programs for children, families, and seniors. Many of those affected by the COVID-19 pandemic restrictions may continue to struggle after the virus recedes. That's why credit card rewards enthusiasts may consider donating their earnings to support the vital work the YMCA does in more than 10,000 American communities.
Communities across America have felt the consequences of the COVID-19 pandemic — both socially and economically. First, shutdowns caused massive unemployment. Then, as unemployment drained public assistance resources, more individuals and families began experiencing other adverse situations — including food insecurity.
The fallout from the decline in revenue extended beyond municipalities and states to the federal level. The U.S. Department of Agriculture's $4.5 billion Farmers to Families Food Box program was forced to end a month before its scheduled close on December 31, 2020, due to high demand and a shortage of funds.
As food insecurity has increased, nonprofit YMCA organizations stepped in to bring relief to more than 10,000 communities across the U.S.
Donations from corporate partners and individuals, including cashed in credit card rewards, are critical to maintaining programs and providing for communities. Contributions also help local YMCAs extend memberships, cope with other impacts of the economic downturn, and make safe spaces available to people in need.
Examples abound of local YMCAs going above and beyond to serve community members affected by hunger, said the organization's Anti-Hunger Initiatives Specialist Stacey McDaniel. For example, in the wake of the pandemic, the small Osage Prairie YMCA, located in Nevada, Missouri, called on volunteers to ramp up its food delivery operation — even though just one full-time staff member serves the entire facility.
"In a community with a population of only 8,500, volunteers are currently serving meals to 1,100 children a week," McDaniel said. "It's been amazing to see how they bring people together in service and ensure those children have what they need to thrive."
Bridging Gaps in Food Assistance and Senior Care
YMCAs draw on those local connections because they are community-based organizations.
During the summer of 2020, the city of Rome in Floyd County, Georgia, gained access to thousands of pounds of produce generated by the Farmers to Families program. The produce was stored a two-hour drive away, and there were no public resources available to retrieve them.
Fortunately, the son of a board member of the YMCA of Rome & Floyd County happened to own a trucking company.
"They coordinated, and within a couple of hours, they arranged to get those boxes and distribute them in the community," McDaniel said.
Under normal circumstances, the local Sheriff's Department might have helped them manage the process, but its members had been exposed to COVID-19 and were in quarantine. That also put the Sheriff's Department's normal Tuesday food delivery to local shut-ins on hold.
"The YMCA gathered volunteers to make sure those individuals continued to receive the food they needed," McDaniel said.
McDaniel works for YMCA of the USA, which acts as a national resource office for local branches. As her colleague, YUSA Public Relations Manager Emily Waldren, said, many similar volunteer efforts are aimed directly at senior shut-ins. So, people who decide to donate their credit card rewards help relieve acute food insecurity and address social isolation.
"At the Greater Cincinnati Y, volunteers found seniors who were food insecure and some who just needed to get things done," Waldren said. "Volunteers could pick up prescriptions and do other simple things that, when you're locked down in your home, become a challenge."
Supporting Educational Equity through Child Care and Virtual Learning
Seniors also volunteer at the YMCA and routinely build relationships with struggling school-age children in need of guidance. As COVID-19 shutdowns increased, volunteer mentors quickly pivoted to continue those mentorship relationships online and over the phone.
"Seniors mentoring children provide that nice touchpoint of a different generation," Waldren said. "And when they can do that virtually, it's just an amazing way to continue to have those connections."
That ability to quickly pivot, of course, is what makes local YMCAs indispensable on-the-ground resources for dealing with all types of challenges. When COVID-19 shutdowns were at their most restrictive, thousands of local YMCAs made daycare resources available for first responders and essential workers with children.
Watch on
"The way the Ys have pivoted to work with families in need of child care during the pandemic has been mind-blowing," Waldon said. "At the very beginning of the lockdowns, we had more than 1,100 sites offering child care to parents who were grocery store workers, police officers, and many others. And as the pandemic has gone on, it's been amazing to see the Ys continue to pivot."
As the need for virtual learning spaces became apparent, Ys stepped up again to offer safe places where kids could learn while their parents continued to perform their essential work.
"Over half of our Ys nationwide opened up these virtual learning spaces either on their own or in conjunction with partners, including churches and schools, which might be closed themselves but can offer remote work," Waldren said. "It's just been amazing to see those kids continue to attend school and take part in after-school activities."
Empowering Individuals and Connecting Communities
The YMCA of Memphis and the Mid-South has adjusted to many of the challenges posed by COVID-19. It worked with public agencies, schools, and churches to set up community food distribution centers in the pandemic's early months. In August 2020, the Memphis YMCA converted some of those same centers into virtual learning spaces.
"In areas of Memphis that were struggling, providing virtual learning, internet access, and mentorship was vital," McDaniel said. "The Y brought the community together first to provide food equity and then to provide equity around education."
For all the good work its branches have performed during the pandemic, the story of how the YMCA contributes to society goes beyond the demands of the past year. The first American YMCA was formed in Boston in 1851, and ever since, organizations have persevered through change, always promoting individual and social well-being.
Resources at all levels are taxed, and YMCAs also face staffing cuts while being asked to do more than ever. Credit card rewards and other donations help YMCA locations continue to provide services that help children, families, and seniors thrive.
Card-based contributors and others can specify the program areas where they want the funds to go — or make a general donation.
"For everything from swim lessons to summer camp to childcare and after-school programs, YMCAs always provide scholarship assistance to families in need," Waldren said.
"And it's important to note that we will never turn anyone away based on their inability to pay," McDaniel said.
Advertiser Disclosure
CardRates.com is a free online resource that offers valuable content and comparison services to users. To keep this resource 100% free, we receive compensation for referrals for many of the offers listed on the site. Along with key review factors, this compensation may impact how and where products appear across CardRates.com (including, for example, the order in which they appear). CardRates.com does not include the entire universe of available offers. Editorial opinions expressed on the site are strictly our own and are not provided, endorsed, or approved by advertisers.