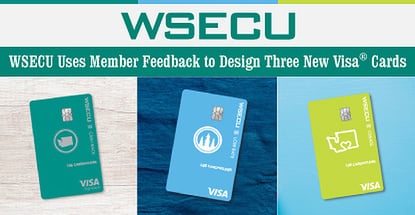 In a Nutshell: For many financial institutions, broad demographic information determines the rates, rewards, and terms of many credit card offerings. Many issuers never even talk to their customers to gauge what they want in a card. But Washington State Employees Credit Union (WSECU) leaned on its panel of nearly 900 members when designing three new Visa-issued credit cards unveiled this week. The cards feature a stylish vertical design, as well as a Tungsten metal option. Each card charges no fees for membership or balance transfers and low ongoing interest rates. The cash back option features rates of up to 1.5%, with redemption occurring automatically each month. //
Think about the credit cards in your wallet.
Did anybody at the card company ask you what kind of rewards are important to you or how you thought the card should be designed? The answer is probably no.
Most banks employ outside agencies to gauge the state of the credit card market before they create new products. Some spend millions of dollars to get analytical details on their consumers' spending habits, rewards preferences, and transactional history.
The banks' credit teams churn through the gathered information and use it to create what each thinks is the optimal credit card offering for its customers — yet, at no point in the process did the bank ask actual customers what they want in a card.

The result is a less personalized card experience, often with rewards you may not even know about, much less, how to use them.
For example, how often do you use the extended warranty protection that many cards come with? What about the travel accident insurance popular with most mileage cards?
Washington State Employees Credit Union's (WSECU) 61 years in the financial services industry has taught the institution that members come first. New products and services only work when they're specifically tailored to meet the needs of the people who will use them every day.
Customer Feedback Turns into Real-World Benefits
The credit union called on Andrew Becker, Vice President of Product Design at WSECU, and his team to properly curate a new suite of cards that give members exactly what they want.
Becker's group initiated research, talked to members, and conducted two comprehensive surveys that focused on what members want in a card's design and what they're looking for in terms of card benefits. With the help of experts from the WSECU's service design, lending, and card services teams, their hard work culminated in launching three new Visa® offerings unveiled in August.
"We started with credit cards because we hadn't really touched those products in a very long time," Becker said. "That seemed like a great place to start and an opportunity to refresh those products."
Becker joined WSECU a little over two years ago, around the time the credit union created a panel of members to collect feedback on new product and service ideas. Today, the panel consists of nearly 900 members.
"When we want to learn more about something specific, and a survey or member interview makes sense, we'll lean on the panel to get some feedback," Becker said. "That works out really well for us."
The panel's input was the inspiration for the Cash Back Visa®, Low Rate Visa®, and WSECU Create Visa®, which were announced to great member enthusiasm on August 20.
WSECU Members Get Greater Flexibility with 3 New Cards
Consumers use credit cards for convenience. Banks and credit unions use them to make money. When used responsibly, both parties remain happy.
But, too often, consumers get swept up in rewards propositions and intro offers that require them to spend a significant amount to obtain. That can quickly lead to trouble for cardholders who charge more than they can afford to pay off each month.
WSECU took a different approach to its three new offerings. Instead of promoting spending, the cards reward paying off balances and responsible usage.
"The credit union is trying to orient these products to enable financial wellness," Becker said. "We considered that as we worked on designing the credit cards."
1. Cash Back Visa® Offers a Flat-Rate up to 1.5% Back
The Cash Back Visa card offers up to 1.5% cash back with no annual fee. Cardholders receive an initial 1% rewards at the time of purchase and an additional 0.5% on payments.
There is no limit to the cash back a cardholder can earn and the rewards never expire. The card's credit limits range from $5,000 to $50,000, based on creditworthiness.
The card's ongoing APR falls between 14.50% and 26.00% for new purchases and balance transfers, and lacks the fees normally charged for membership, balance transfers, or for going over the credit limit.
"Most credit card companies just want you to spend as much money as possible on the card," Becker said. "For us, we want you to only spend the amount of money that you have the ability to pay every month."
2. Low Rate Visa® has an APR Starting at 8.00%
The WSECU Low Rate Visa is good for consumers who tend to carry a balance from month to month. The card features a 0%, six-month introductory rate on balance transfers made within the first 60 days of the account opening.
And, when WSECU calls this card a low rate card, it really means it. Ongoing APRs on the Low Rate Visa start at an unheard of 8.00%, based on the applicant's credit score, with no annual fees or charges for balance transfers.
The card works for consumers with a range of credit histories and provides credit limits that start at $250 and can increase to $50,000.
3. WSECU Create Visa® is Great for Credit Building
WSECU specifically tailored its Create Visa card to the needs of consumers who are just starting on their credit-building journey.
All cardholders start with a set 17.00% APR for new purchases and balance transfers but can lower that rate by 0.25% after six months of on-time payments, up to a maximum of 2%.
"What we're really trying to solve with this card is how to help people who have a fear of using credit and don't understand how credit works," Becker said. "We're trying to change a significant amount of behaviors with this card, especially for the 20-something cardholder who may have never had a card and may be at risk of defaulting because they don't know how it works."
The card's credit limit starts at $250 and can increase to as high as $5,000. As with its siblings, the WSECU Create Visa card charges no membership or balance transfer fees.
Delivering Sleek Credit Card Designs Members Want
Consumers today want credit cards that not only reward them for usage and provide low interest rates for revolving balances, but they want the cards to look good while doing it.
WSECU survey respondents made it clear that design matters. Not only did members want a card that stood out in their wallets, but they wanted it to reflect their Washington state pride.
"We chose color and features reminiscent of the moss in our rainforests, evergreens in our mountains, and bright blue skies in Eastern Washington's high desert," Becker said. "We decided to shake things up a bit by positioning the logo vertically and gave a nod to the tech industry by using sleek Tungsten metal for the Cash Back card."
Over the last year, consumers across America have gravitated toward metal credit cards — something Becker said helps the cash back offering stand out, despite the drawbacks of creating a metal card.
"We found out very quickly why not a lot of people offer metal cards," he said. "They're super expensive to make. But, from the feedback we heard from our members, we realized it was something we had to try out."
Card Benefits are Straightforward and Hassle-Free
Becker said WSECU members didn't want the hassle of difficult redemptions or rewards categories with the new cards. To make them easy to use, WSECU automatically redeems any cash back rewards each month, so cardholders don't have to worry about doing so manually.
"A lot of cards offer big rewards, but you don't realize until you're about to use them that they're really difficult to redeem," he said. "We didn't want to do that to our members. We want them to not have to think about anything."
Becker also pointed out that the credit union makes all of its credit card details transparent, so no member feels tricked or unaware of any fees or charges. That commitment to customer satisfaction helps keep WSECU members loyal to the institution and drives innovative change through the use of surveys and other feedback tools that have been successful at creating popular products.
Unlike many other credit card holders, WSECU members can say they were asked what is important to them in a credit card, and the results are in the new offerings.
Advertiser Disclosure
CardRates.com is a free online resource that offers valuable content and comparison services to users. To keep this resource 100% free, we receive compensation for referrals for many of the offers listed on the site. Along with key review factors, this compensation may impact how and where products appear across CardRates.com (including, for example, the order in which they appear). CardRates.com does not include the entire universe of available offers. Editorial opinions expressed on the site are strictly our own and are not provided, endorsed, or approved by advertisers.