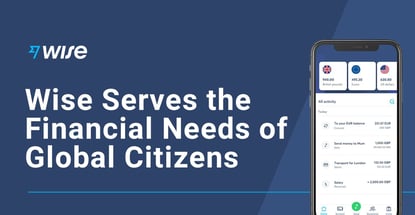 In a Nutshell: Wise offers a transparent way to spend your money anywhere without jumping through hoops. The company's multicurrency account includes a debit card and allows users to deposit funds in the currency of their choice. The account makes it easy to have funds available during international travel or online overseas purchases. The company automatically exchanges funds to local currencies transactions take place. Wise converts funds using the mid-market rate and charges a small fee, which it said is at least four times less than what traditional banks charge when exchanging currency.
Traveling anywhere in the world is an exciting adventure. Travelers can visit historical landmarks, taste new food, and experience different cultures, which motivates them to plan their next trip as soon as they get home.
Buying a plane ticket and booking hotels is just one part of the equation. Unless you are traveling within the European Union, you are going to need to figure out how to pay using that country's currency.
Banks can exchange your money, but it comes at a cost. A quick search online provides the current exchange rate from U.S. dollars to euros, but that's not the exchange rate you'll get at a bank or foreign currency exchange window at an airport.
The fees added on top will inflate the price, giving you less bang for your buck. 
Enter Wise.

Formerly TransferWise, Wise exchanges currencies at the mid-market rate for anyone. That's the rate you will find when searching on Google or Reuters. Wise charges a small fee on its end that it said is at least four times lower than traditional banks.
Wise's multicurrency account features a debit card that can be used for purchases in more than 50 currencies. Accounts also have banking information, including account and routing numbers, for seven countries and the European Union, making it easy to send or receive money through systems like direct deposit.
And Wise has a service that works like an international Venmo or PayPal account. People can send money in different currencies using the mid-market rate with a small fee on top. This service can be used without opening a multicurrency account.
"At our core, it's about how you can send money between those borders and not pay that hidden fee," Senior Product Director Sharon Anne Kean said. "We support many use cases. You can send money, you can receive it, you can hold it in your bank account, you can switch it between balances, and you can spend it on the card."
Wise was started by two friends born in Estonia who needed to exchange currencies but didn't have the means to without paying hidden fees and bad exchange rates.
Taavet Hinrikus lived in London, but was paid in euros from his job at Skype. Kristo Käärmann also lived in London and worked for Deloitte, but was paid in pounds. This was an issue for Kristo, who needed to pay a mortgage in Estonia, but needed euros.
As a solution, the two friends would look up the Reuters exchange rate between pounds and euros, and transfer money currencies between their accounts almost instantly.
This problem prompted the pair to come up with Wise so anyone in their shoes could transfer currencies without jumping through hoops.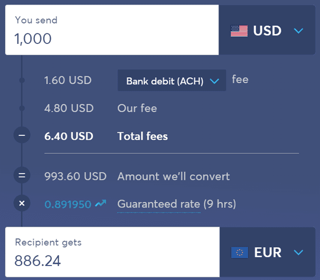 Money transfers are fast and can be sent to bank accounts all over the world, making Wise a good solution for people sending remittances to their home countries.
Wise's system is automated and easy to use. Users load their account with a supported currency through the app to make purchases with the debit card. After that, the funds in the account can be spent by using the card like any other debit card.
When entering a new country, the app detects the user's location and offers tips on how to use their debit card and what they need to do to save when making purchases using their account.
Every exchange uses the mid-market rate and is automatically applied during a transaction.
"We do that conversion in the background in your Wise account," Kean said. "So you would just walk into a bar, say in Germany, buy the beer with your card loaded with U.S. dollars, pay the transaction in euros, and when you look at your bank account, you'll see that Wise has done the transfer for you. You'll see the euro amount, and then what it equates to in U.S. dollars."
Securing Transactions and Fighting Fraud
Security is critical whenever finances are involved. Wise takes seriously the task of ensuring that money is where it's supposed to be and that it won't be used for illicit purposes.
The company has an entire Fintech team dedicated to detecting fraud and stopping it before it happens. It has rigorous Know Your Customer protocols to ensure everyone using the service is who they say they are.
The process to identify yourself is thorough, but Wise makes it easy to verify identities.
Its website lists the specific documents needed for identity verification and provides a guide on how to upload them. Once the application is completed, Wise gives an estimated time on when the account will be checked and approved if no issues pop up.
Wise takes its company philosophy of simplicity and transparency to the application process to give as many people access to its services as possible.
As an electronic money institution, Wise is required to register and comply with the security and privacy policies of several countries. The company is currently certified and registered in 14 countries including the U.S., Canada, and the United Kingdom.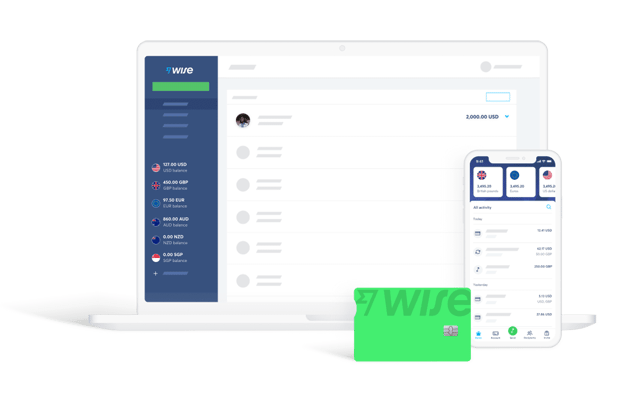 The funds in member accounts are safe and belong to the account holder. Because Wise is not a bank, it cannot use the money in a customer's accounts to loan money out.
As part of its certification in the United Kingdom, Wise is required to maintain its own corporate operational accounts separate from the accounts of its customers.
"Ultimately, the top goal for us is to make sure we know who our customers are, and that they are doing the right thing," Kean said. "We have to do it. And we want to do it for every customer. But we try to minimize that friction and do it in a way that creates a really good user experience."
Providing Swift International Business Transactions
Wise's international business accounts offer the same flexibility and security features available to its personal accounts, with additional features to process payments in multiple currencies in seconds. Business accounts are free to get started.
For businesses that have payroll, account managers can pay employees overseas in their preferred currency without any extra hassle. International business accounts can also accept payments in 80 countries.
All payments to international vendors, employees or invoices are transferred using the mid-market exchange rate. Independent research from March of 2021 found that Wise is three times cheaper than banks and alternatives. Rate tends to fluctuate, but Wise displays a real-time pricing comparison on their site for those who are interested.
Wise provides support for local bank details in 10 currencies. Businesses can give customers the local bank details for the specific region's currency so they can get paid without paying fees.
There is no waiting to move money between currencies because the conversion process takes only seconds. The company said that 45% of transfers are received within 20 seconds.
When developing its services, Wise often looks to the feedback it receives from members. That's how the company developed its popular debit card services. 
For the future, Wise is looking to add a credit card to its card services to offer more flexibility.
"We want to reach more customers," Kean said. "We're continually working and building extra features that may make the product more desirable and usable. We meticulously work on it so we can give our customers the best possible value."
Advertiser Disclosure
CardRates.com is a free online resource that offers valuable content and comparison services to users. To keep this resource 100% free, we receive compensation for referrals for many of the offers listed on the site. Along with key review factors, this compensation may impact how and where products appear across CardRates.com (including, for example, the order in which they appear). CardRates.com does not include the entire universe of available offers. Editorial opinions expressed on the site are strictly our own and are not provided, endorsed, or approved by advertisers.