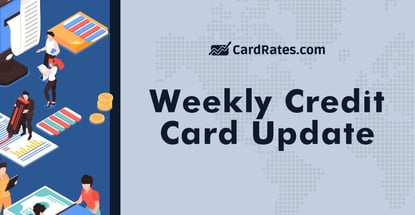 For media inquiries on these stories and more, contact credit card expert and industry analyst Bill Hardekopf at (205) 985-9725 or billh@cardrates.com.
1. Painful Debt: How Credit Card Bills Can Hurt Your Health

It's easy to quantify the pain that high levels of debt can cause to one's finances by either looking at the opportunity cost or the squeeze on the ability to pay day-to-day expenses. But causing pain to the actual body?
According to new research, the ache you may feel or the stiffness after work may also relate to the amount of debt you have. Researchers evaluated Baby Boomers as they aged, starting from 28-to-40 and then checking them again at 50 years old. They separated the group into the levels of unsecured debt, like the debt you take on by owing on credit cards or taking out payday loans. The results found a significantly higher rate of physical pain among those with high unsecured debt, when compared to those without debt.

• Story By: Ryan Derousseau, Forbes
2. As Americans Spend, Credit Card Debt is Ticking Back Up

Early in the pandemic, there were encouraging and surprising signs about the decline of credit card debt. Now, that trendline seems to be changing. Many Americans stayed at home at the start of Covid-19 and did not spend like they usually do.
They also received several rounds of emergency cash assistance, helping to chop away at those credit-card bills, at least temporarily. Spending is ticking back up – and the results are starting to show up on our monthly statements.
• Story By: Chris Taylor, Reuters
3. Record Number of Credit Cards Opened in June

Banks issued 42% more credit cards in the first six months of 2021 compared with the same period in 2020, including a record-high 6.93 million in June 2021, according to a recent Equifax report. Credit card originations started out strong in 2020 but finished down 27% from 2019 as the COVID-19 pandemic weighed heavily on the credit card industry.
April and May 2020 saw the fewest originations (2.72 million per month) in a decade. May 2021 originations, on the other hand, totaled 6.6 million. That figure was only topped once previously (in Aug. 2019). Talk about a turnaround: Banks issued 2.4 times more cards in May 2021 than in May 2020. And then June 2021 topped them all.
• Story By: Ted Rossman, Bankrate
4. Buy-Now, Pay-Later Seen as Growing Competitor to Debit Cards

Increasingly popular buy-now, pay-later services are seen by credit card issuers as stealing market share from debit cards and cash payments, Morgan Stanley said in a report. Some 75% of the transactions are funded out of debit accounts.
Most growth in programs with purchases made in four payments comes among customers with marginal credit quality. Global sales using buy-now, pay-later totaled $93 billion last year with the potential to top by $181 billion next year, with such programs estimated to account for 3% of e-commerce in the U.S., according to Bloomberg Intelligence.
• Story By: Zijia Song, Bloomberg
5. Mastercard Will Provide a Buy Now, Pay Later Option to Lenders

The buy-now, pay-later services that let shoppers settle up for their purchases in four interest-free installments have so far been the domain of start-ups. But now a traditional financial player is moving in with an option of its own: Mastercard.
The company announced plans on Tuesday for a new pay-later offering that it said would enable banks, financial technology companies, digital wallets and other lenders to provide a variety of installment payment options to their customers, whether they are making purchases online or in a store.
• Story By: Tara Siegel Bernard, The New York Times
6. Apple Pay Security Flaw Leaves Visa Cards at Risk of 'Unlimited' Unauthorized Contactless Payments

Commuters who use Apple Pay to tap in and out of public transport could be at risk of having "unlimited" sums of money stolen from their Visa payment cards. Researchers from two British universities identified a vulnerability that occurs when an Apple Pay user sets a Visa credit or debit card as their "Express Transit" payment option in their iPhone's wallet.
In a video demonstrating the vulnerability, the researchers were able to take a £1,000 contactless payment from a locked iPhone. The researchers said that the security flaw only occurred when using a combination of Apple Pay and Visa. Other combinations such as Apple Pay and Mastercard or Samsung Pay and Visa were not affected.
• Story By: Tom Bateman, Euro News
7. PayPal Launches Its Super App

The first version of PayPal's "super app" is officially being introduced, offering a combination of financial tools including direct deposit, bill pay, a digital wallet, peer-to-peer payments, shopping tools, crypto capabilities and more. The company is also announcing its partnership with Synchrony Bank for its new high-yield savings account, PayPal Savings.
These changes shift PayPal from being largely a payments utility that's tacked on other offerings here and there, to being a more fully fleshed out finance app. These features could make PayPal more competitive, as getting paid earlier has been one of the bigger draws among those considering digital banking apps instead of using traditional banks. In addition to shifting their paychecks to Payal, customers' PayPal funds can then be used for things that are a part of daily life, like paying their bills, saving or shopping.
• Story By: Sarah Perez, TechCrunch
8. Sanders Pitches $1,000 Debit Cards for Seniors in Budget Bill

Seniors could get $1,000 loaded onto a debit card for dental visits, hearing aides or eye glasses, under a plan from Sen. Bernie Sanders. The debit cards, which Sanders has called vouchers, would be means-tested for Medicare beneficiaries.
The funds would be available to individuals making less than $75,000 per year and families with incomes under $150,000, similar to the rules used for stimulus funds during the pandemic.
• Story By: Alex Ruoff, Bloomberg Government
9. Wells Fargo to Launch Reflect 0% APR Card in October

Wells Fargo is planning to launch its Reflect card on Friday, the second of a trio of new credit cards it announced in June. Reflect is designed to reward customers for paying on time. It initially offers a 0% annual percentage rate for the first 18 months, with the option to extend that APR to 21 months for making all payments on time.
The product follows the July launch of the issuer's Active Cash Card, which offers 2% cash back on all purchases. Wells Fargo also promised a new rewards card in 2022. The timing of these launches reflects the nature of how consumers are changing their spending habits over the course of the pandemic.
• Story By: Daniel Wolfe, American Banker
10. Democratic Plan to Have Banks Report Transaction Data to IRS Raises Privacy Fears

Democrats' plan to have banks report all transactions over a certain amount to the Internal Revenue Service is mired in practical and privacy concerns, Republicans and some tax groups contend.
President Joe Biden initially planned for banks to report all account inflows and outflows of over $600 to the IRS to help raise revenue for Democrats' multitrillion-dollar infrastructure and social spending package. Since then, Democratic leadership has worked to narrow the scope of the provision and revise the threshold, perhaps up to $10,000. The concept would be a new one for both banks and the IRS. 
• Story By: Zachary Halaschak, Washington Examiner
11. What Did Covid-19 Teach Government About Digital Payments?

Digital payments and prepaid cards took on more work for local and state governments during the pandemic, and agencies that have yet to embrace such methods to distribute funds to residents will likely miss out on significant savings.
A new report from the Association of Government Accountants tells the story of how digital payments have pushed paper checks further from the spotlight for government-to-consumer disbursements, an ongoing move in line with trends in the retail, services and (to a smaller extent) business-to-business worlds. Even so, relatively new payment methods showed fresh worth during the pandemic, the report found.
• Story By: Thad Rueter, Government Technology
12. China's Sweeping Cryptocurrency Ban Was Inevitable

On September 24, China's central bank and its National Development and Reform Commission issued two documents. One outlawed cryptocurrency mining following an earlier crackdown in May, and the other declared all cryptocurrency transactions illegal and all companies providing cryptocurrency trading services to Chinese citizens as engaged in illicit financial activity.
Several exchanges, wallets, and other cryptocurrency companies have announced that they will stop providing services to users in mainland China and enforced a sweeping block of all Chinese IP addresses on their services.
• Story By: Gian Volpicelli, Wired
Advertiser Disclosure
CardRates.com is a free online resource that offers valuable content and comparison services to users. To keep this resource 100% free, we receive compensation for referrals for many of the offers listed on the site. Along with key review factors, this compensation may impact how and where products appear across CardRates.com (including, for example, the order in which they appear). CardRates.com does not include the entire universe of available offers. Editorial opinions expressed on the site are strictly our own and are not provided, endorsed, or approved by advertisers.