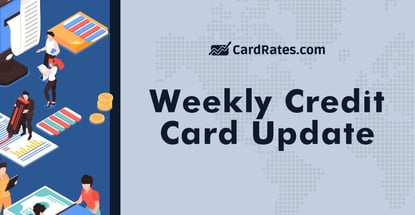 For media inquiries on these stories and more, contact credit card expert and industry analyst Bill Hardekopf at (205) 985-9725 or billh@cardrates.com.
1. Paying With a Credit Card? That's Going to Cost You

More small businesses, and even some larger ones, are charging shoppers a fee for credit card purchases or offering them discounts when they pay with debit cards, cash or checks. The moves are meant to offset the various fees businesses pay on credit card transactions, costs that have grown alongside generous cash-back and travel rewards.
Data on cash discounting is hard to come by, and less than 5% of 8 million card-accepting small businesses in the U.S. charge fees for credit card payments. But that share has risen steadily in recent years. Five years ago, an estimated 2% or less of businesses charged fees on credit card purchases. The coronavirus accelerated the shift, sending businesses in search of revenue to make up for sales lost in the pandemic's early months.
• Story By: AnnaMaria Andriotis, The Wall Street Journal
2. Amazon Takes Page from Walmart's Playbook to Fight Visa's Fees

Amazon is justifying plans for a surcharge on Visa credit cards in Singapore by pointing to the costs it pays for handling those transactions. It's a tactic similar to what other retailers have used to pressure the card network over payment costs. 
Amazon on Tuesday sent an email to customers in Singapore saying it would charge 0.5% for Visa credit card purchases starting Sept. 15. An Amazon spokesperson said the cost of accepting card payments is an obstacle to providing the "best prices" for consumers. Amazon also contends the payment costs, including interchange and other fees, should be decreasing over time given technology advancements.
• Story By: John Adams, American Banker
3. Mastercard is Getting Rid of its Credit Cards' Magnetic Stripes

Mastercard is getting rid of magnetic stripes on its credit and debit cards over the next 10 years, part of a broader push from the company to use "more capable and secure" alternatives to the old-fashioned swipe. The company said it's the first payments network to phase out magnetic stripes, which debuted in the 1960s and allowed banks to store information on a piece of metallic tape adhered to the card.
Card swipes aren't going away just yet. Newly issued Mastercards are still required to have magnetic stripes. But in 2024, they will become optional, and Mastercard will no longer issue cards with magnetic stripes by 2029. They'll be completely eliminated by 2033. 
• Story By: Jordan Valinsky, CNN
4. Retail Sales and Credit Cards: Falling Sales Indicate Credit Card Revenue Risk

The U.S. Census Bureau published their numbers for July 2021 this morning. Unfortunately, the numbers do not bear well for the credit card industry, suggesting low consumer confidence and reduced spending. Spending in retail sales and food services dropped between May and June by $9 million.
Retail sales affect credit card revenue from several perspectives. First, when spending falls, so does interchange. Interchange, the merchant expense for using the payments network, generates noninterest fee income. Then, when spending drops, revolving credit tends to stagnate, which affects interest income. And, of course, credit risk can be an issue. Remember that consumer spending drives 70% of the economy, so bells and sirens go off when that metric falls. 
• Story By: Brian Riley, Payments Journal
5. Capital One Launches Two New Student Credit Cards

Capital One has just launched two new student credit cards, the Capital One Quicksilver Student Rewards Credit Card and the Capital One SavorOne Student Rewards Credit Card. Like the flagship versions of these cards, they offer excellent rewards but with less stringent eligibility requirements.
The Capital One Quicksilver Student Rewards Credit Card offers unlimited 1.5% cash back on every purchase. The Capital One SavorOne Student Rewards Credit Card offers unlimited 3% cash back on dining, entertainment, popular streaming services, and at grocery stores, plus 1% cash back on all other purchases. Through January 2023, cardholders will also earn 8% back on purchases made with Vivid Seats, an online events-ticket seller.
• Story By: Ben Luthi, Investopedia
6. Save Up to 40% on Amazon by Using Just One Amex Membership Reward Point

Before you submit your next order to Amazon, you can save big by using your American Express Membership Rewards points. Through Oct. 31, targeted Amazon customers will receive either 20% or 40% off their next order, up to $40.
All you need to do is redeem one Membership Rewards point to earn the deep discount. Here's what you need to know about this great offer, and how to maximize it.
• Story By: Brett Holzhauer, CNBC
7. Wells Fargo Abandons Plan to Shut Down Personal Credit Lines

Weeks after Wells Fargo set off a public outcry over its plan to discontinue personal lines of credit, the bank is reversing course. In recent days, the lender began informing customers who have been using their personal credit lines that the financing channels will remain available.
People who haven't used their accounts since October also will be given the option of keeping them open. 
• Story By: Hannah Levitt and Jennifer Surane, Bloomberg
8. Most People Now Making Mobile Deposits

A study released by JPMorgan Chase showed just how many people are using digital features throughout the financial industry. Nearly 90% of those surveyed by Chase say they're depositing their money through their financial institution's app. Almost half say they have started and/or continued to utilize these mobile options just to avoid physical interactions.
As Covid-19's impact starts to level out in the U.S., the digital banking tools people came to depend on during 2020 appear to be a permanent fixture in their banking habits.
• Story By: Garret Reich, The Financial Brand
9. The Head of Facebook's Cryptocurrency Project Says the Social Media Giant's Novi Digital Wallet is Ready to Come to Market

Facebook is prepared to launch the Novi digital wallet tied to Diem blockchain-based payment system. David Marcus, chief of Facebook's financial services division, said Novi could play an instrumental role in fixing the global payments system that he said is, among other things, too slow and too costly. 
Diem, which was first spearheaded by Facebook under the Libra name, is a blockchain-based payment system that has faced a number of roadblocks. Regulatory concerns over Facebook's data privacy and potential money laundering issues have contributed to delays for the program that was meant to launch in early 2021. 
Diem was originally meant to be backed by a wide mix of currencies and government debt but it's now meant to launch as a single coin backed by the US dollar.  
• Story By: Carla Mozee, Business Insider
10. T-Mobile Says Data Breach Affects More Than 40 Million People

Tens of millions of current, former or prospective T-Mobile customers' personal information has been leaked to hackers. The breach affects as many as 7.8 million postpaid subscribers, 850,000 prepaid customers and "just over" 40 million past or prospective customers who have applied for credit with T-Mobile.
While no customer financial information appears to have been exposed, the stolen personal information includes names, dates of birth, Social Security numbers and driver's license numbers for "a subset of current and former postpay customers and prospective T-Mobile customers."
• Story By: Brian Fung, CNN
11. TD Bank Fails to End U.S. Credit Card Class Action

A U.S. judge rejected a request by Toronto-Dominion Bank to dismiss a proposed class action brought in December by customers who said it had failed to honor its agreement to give them regular credit cards.
Customers who obtained credit cards secured by deposits between 2016 and 2019 accused TD of reneging on its promise to let them automatically "graduate" to unsecured cards if they avoided defaulting on payments for seven months. The plaintiffs are seeking damages of at least $5 million from the Canadian bank, claiming that it refused to give them unsecured credit cards even after they had gone between 15 and 37 months without defaulting.
• Story By: Nichola Saminather and Jonathan Stempel, Reuters
12. Why Fintechs Are Buying Up Legacy Financial Services Companies

Oh, how the tables have turned. It used to be that if you were a fintech startup or, for lack of a better term, a digitally native financial services business, you might be eyeing an acquisition from an incumbent in the industry. But lately, fintech upstarts are the ones doing the acquiring. 
• Story By: Ryan Lawler, TechCrunch
Advertiser Disclosure
CardRates.com is a free online resource that offers valuable content and comparison services to users. To keep this resource 100% free, we receive compensation for referrals for many of the offers listed on the site. Along with key review factors, this compensation may impact how and where products appear across CardRates.com (including, for example, the order in which they appear). CardRates.com does not include the entire universe of available offers. Editorial opinions expressed on the site are strictly our own and are not provided, endorsed, or approved by advertisers.