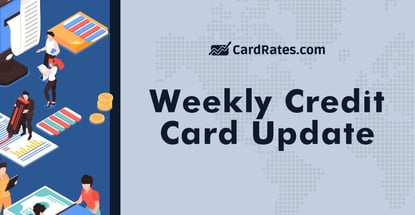 For media inquiries on these stories and more, contact credit card expert and industry analyst Bill Hardekopf at (205) 985-9725 or billh@cardrates.com.
1. In New Credit Card Wars, Consumers Emerge as Big Winners

An all-out war is about to break out among credit card issuers as they battle for the chance to finance Americans' post-pandemic splurges, experts predict. The real winners, though, will be consumers, as companies roll out competitive new cards and sweeten current offerings with heftier bonuses, enhanced rewards and longer zero-interest financing, all in an effort to capture as much of the anticipated surge in spending as possible.
2. Fed Pencils in Earlier Interest Rate Increase

Federal Reserve officials signaled they expect to raise interest rates by late 2023, sooner than they anticipated in March, as the economy recovers rapidly from the effects of the pandemic and inflation heats up.
Their median projection showed they see lifting their benchmark rate to 0.6% from near zero by the end of 2023. In March, they had expected to hold it steady through that year.
3. AmEx Debuts First Checking Account in Push Beyond Business Cards

American Express debuted its first-ever checking account as the card giant hopes to win over more U.S. small businesses. The firm's new checking account, which comes with an annual percentage yield of 1.1%, will target small enterprises across the United States.
The firm also will begin offering as much as $150,000 in lines of credit to existing customers. AmEx is already a giant in the world of small business, counting itself as the top card issuer for those companies, and says that its portfolio is larger than those of its five closest competitors combined.
4. Bank of America CEO Brian Moynihan Says Consumer Spending is 20% Higher This Year than 2019

American consumers are spending more freely as the economy opens up further, Bank of America CEO Brian Moynihan said Monday. Transaction volumes on customers' credit and debit cards and over the Zelle payment network have grown by 20% so far in 2021 compared to this point in 2019.
The comparison excludes 2020, an abnormal year in many respects because the onset of the pandemic led to widespread stay-at-home orders. Nearly all spending categories have recovered with the exception of travel, which is still as much as 15% lower than in 2019.
5. Digital Banking Still Banking Method of Choice by Consumers
As businesses begin to return to normal, the results of a survey by Provident Bank help shed light on the current banking preferences of consumers. The majority of respondents surveyed (91%) stated they conduct banking through digital channels.
More than half of those consumers (53%) said they switched to digital banking as a result of the pandemic. Although respondents surveyed currently prefer online banking to traditional in-branch banking, there is still an impressive number of consumers (58%) visiting their local bank in person. 44% of those respondents said they only visit traditional branches in person to handle a transaction that cannot be completed online; however, 25% said they visit the branch because they prefer face-to-face interaction.
6. One-Third of All POS Transactions via Mobile Wallet by 2024

The shift towards becoming a cashless society is gathering momentum. New data shows that by 2024, mobile wallets will be responsible for one-third of all POS transactions globally. Even prior to the pandemic, small business owners were looking at cashless payments as a way of driving bottom line.
Since the health crisis reared its head, cashless payments have become even more prevalent, deemed as a safer and more convenient way of managing money. For small businesses, offering this progressively more popular, safe and convenient way for customers to pay for goods and services, is a shrewd way to meet consumer demand and ultimately be more profitable.
7. Forget Plastic. The World's Most Exclusive Credit Cards Are Now Made with Metal and Sometimes Gold

Admit it, you've done it, too. Tossed a metal credit card nonchalantly onto the silver tray at meal's end and listened. That reassuring sound, so much noisier than traditional plastic, confers cachet that cash could never match, and that's just how Composecure likes it.
The company has an elite niche: it is the world's largest manufacturer of luxury credit cards. Nilson, the market research firm, expects there to be 150 million metal credit cards in use worldwide by the end of 2021; each year, Composecure produces more than 20 million of them.
8. Capital One Snags Credit Card Partnership with Williams-Sonoma

Capital One has landed a credit card partnership with Williams-Sonoma, becoming the home furnishings retailer's exclusive issuer and reaching a deal to buy its existing card portfolio. The McLean, Virginia, company signed a long-term agreement to offer co-branded and private-label credit cards.
Williams-Sonoma's brands include Pottery Barn, West Elm and Mark & Graham. Capital One's deal to buy the retailer's existing card portfolio ends a years-long partnership between  Williams-Sonoma and Alliance Data Systems, the parent company of Comenity Bank.
9. The Pros and Cons of Buy Now, Pay Later Financing for Travel

After a year of staying home, many Americans want to travel this summer. The book-now-and-pay-for-your trip-over-time option can help with cash flow, and it's an easy work-around for those who don't have credit cards.
But as with all financing options, it's important to read the fine print. Buy Now Pay Later financing differs from paying with a credit card in three significant ways: the payments are the same amount each month, you know upfront how many payments it takes to pay off the balance, and the balance never grows.
10. Save an Extra $40 during Amazon Prime Day with Targeted Discover Credit Cards

If you're a Discover credit card holder and you're getting ready for Amazon Prime Day, you might be in luck. That's because in addition to all the great Prime Day deals we're expecting to see on June 21 and 22, Amazon also has a promotion right now that can help you save even more money on many products sold by the online retailer when you use cash back from select Discover cards.
Depending on which offer you're targeted for, you can score as much as 30% off on most products sold directly by Amazon with a maximum discount of $30, or 40% off up to a maximum of $40.
11. Is that Credit Card Sign-Up Bonus Worth it? Here's How to Find Out

From thousands of points to generous cash-back offers, credit cards are always angling to entice new customers to sign up for their product. For some consumers, these bonuses may as well be free money. But for others, they may be less lucrative than they appear.
When evaluating whether a credit card sign-up bonus is worth it, you need to take two key factors into consideration: the value of the bonus and your average credit card spending.
12. Startup Launches Digital-First Expense Management Mastercard

As companies prepare their plans and employees for return-to-office and resumption of business travel, two keys to good traveler experiences are stronger 'duty of care' infrastructure, as well as making the experience friction-free, to the extent possible.
That experience is made much easier with automated expense management, tied directly to mobile phones and using virtual instead of physical cards where possible.
• Story By: Steve Murphy, Payments Journal
Advertiser Disclosure
CardRates.com is a free online resource that offers valuable content and comparison services to users. To keep this resource 100% free, we receive compensation for referrals for many of the offers listed on the site. Along with key review factors, this compensation may impact how and where products appear across CardRates.com (including, for example, the order in which they appear). CardRates.com does not include the entire universe of available offers. Editorial opinions expressed on the site are strictly our own and are not provided, endorsed, or approved by advertisers.