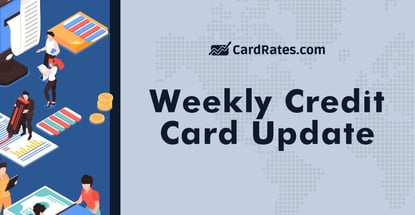 For media inquiries on these stories and more, contact credit card expert and industry analyst Bill Hardekopf at (205) 985-9725 or billh@cardrates.com.
1. Wells Fargo Goes on the Offensive with New No-Fee, 2% Cash-Back Credit Card

Wells Fargo CEO Charlie Scharf is embarking on his biggest push to expand a major business line since taking over, launching a roster of credit cards aimed at competing with popular products from larger rivals.
The first volley is the Active Cash card, offering a flat 2% cash-back rate on all spending for no annual fee, a challenge to Citi's Double Cash product and a card offered jointly by Synchrony Financial and PayPal. Wells Fargo will introduce a low-interest-rate card in coming months and a new rewards card line next year. The firm is unusually lopsided among U.S. card issuers. It ranks No. 2 in debit cards but languishes at No. 8 in credit cards.
• Story By: Hannah Levitt and Jennifer Surane, Bloomberg
2. The New Citi Custom Cash Credit Card Just Launched with a $200 Bonus and Up to 5% Back in Your Top Spending Category

It's not often a major card issuer introduces a brand-new credit card, and even less common to see a new card with a completely novel rewards structure. Citi has just launched the no-annual-fee Citi Custom Cash Card, and it's out to give other 5% cash-back cards some stiff competition.
It's got a solid welcome bonus: $200 in cash back, fulfilled as 20,000 ThankYou Points, after you spend $750 on purchases in the first 3 months of account opening. You'll earn 5% cash back (5x Citi ThankYou points) on the eligible category you spend the most in each billing cycle, on up to $500 in total spending (then 1%), and 1% back (1x Citi ThankYou points) on all other purchases.
• Story By: Jasmin Baron, Business Insider
3. New Customers Can Get a $1,250 Bonus with This Travel Credit Card

For new Chase Sapphire Preferred cardholders, the issuer introduced a whopping 100,000-point bonus when you spend $4,000 within the first three months. For a bit of perspective, that number was at 60,000 points last year.
That rewards offer translates to a $1,000 statement credit. Even better, it's worth $1,250 when you book travel through Chase Ultimate Rewards, as an automatic 25% boost applies anytime you're planning a trip via the issuer's portal.
• Story By: Sarah Hagman, USA Today
4. There's Great News About Americans' Credit Card Debt

According to the Federal Reserve's data, credit card balances fell by a whopping $49 billion in the first quarter of 2021. This is a huge amount of debt paid down. In fact, this quarterly decline was the second largest ever recorded since the Federal Reserve began tracking the metric in 1999.
The impressive debt reduction continues a recent trend: since the end of 2019, Americans have dropped their collective credit card balances by an amazing $157 billion.
• Story By: Christy Bieber, The Motley Fool
5. Amazon Explores Replacing JPMorgan in Credit Card Tie-Up

Amazon is fielding bids to replace JPMorgan Chase as the issuer on its popular co-brand credit card as a fresh wave of competition for new card customers emerges. American Express and Synchrony Financial are among those bidding on the portfolio.
JPMorgan is willing to part with the Amazon portfolio, according to some of the people familiar with the matter. Banks in recent years have loaded up their cards with rich perks, making it harder for lenders to turn a profit, especially in the world of co-brand cards where revenue is often shared with the merchant partner.
• Story By: Gillian Tan and Jennifer Surane, Bloomberg
6. PayPal Leads Mobile Wallet Race with Half of Online Transactions

At its peak this spring, PayPal's mobile wallet has powered 28% of in-store mobile transactions, while its nearest competitor, Apple Pay, never did better than 15%. And online — PayPal's home court, so to speak — the difference is even more pronounced, as its mobile wallet peaked just short of a full half of all online transactions at 48%, while Apple and Google Pay struggled to reach and stay above 11%.
As of yet, the only competitor getting close to PayPal is Apple Pay, and that's only in a single (but valuable) demographic category: affluent consumers.
• Story In: PYMNTS
7. National Banks Rank High for Mobile App Satisfaction
With a record number of retail bank customers using mobile apps during the past year, national banks saw increased customer satisfaction with these apps, while satisfaction with regional bank apps declined, according to a series of recent studies by J.D. Power.
Two-thirds of U.S. retail bank customers used their bank's mobile app during the past year, which J.D. Power said was a record number of users and an increase of 7 percentage points from 2020. The studies also found that a record 41% of bank customers were classified as digital-only, and 31% used digital to resolve a problem. Customer satisfaction with bank websites over the past year was flat. Bank of America had the highest ranking for banking mobile app satisfaction among national banks, followed by Chase and Capital One.
• Story In: Banker and Tradesman
8. What Booming Debit Card Spending Means for the Payments Industry

More than a year into the Covid-19 crisis, debit volumes are still surging while credit growth, while improved, is basically flat. Visa saw 24% worldwide growth in debit volumes during the March quarter versus flat performance for credit, while Mastercard saw 27% growth in debit and a 1% decline in credit.
Several pandemic-related factors are playing into these spending patterns. Debit volumes have been boosted by recent stimulus disbursements, while restrictions on travel and events have dampened credit spending. And the crisis has sped up a shift away from cash amid concerns about the cleanliness of paper money, and in an increasingly remote world, people moved more everyday spending online, and to debit cards, with surging growth for services like grocery delivery.
• Story By: Emily Bary, MarketWatch
9. Pandemic Drove Increase in Mobile Banking, Decline in Branch Traffic

A recent survey of mobile banking customers by S&P Global Market Intelligence found that about 51% of respondents said that they were visiting bank branches less frequently due to the pandemic. Of those, more than 65% said they were also using mobile apps more frequently.
That trend is expected to continue, with about 88% of survey respondents who reported using their mobile apps more frequently during Covid-19 saying that they anticipate continuing or increasing current usage levels once the pandemic officially ends. The most popular mobile app feature for new users was photo check deposit, followed by account-to-account money transfer, bill payment and peer-to-peer payments.
• Story In: ABA Banking Journal
10. Downsizing: A Sneaky Way to Raise Prices Without Upsetting Customers

Most shoppers know when the price of milk, eggs, or bread goes up. But many don't notice when packaged goods are downsized ever so slightly. This inconspicuous shrinkage—fewer sheets on a roll of toilet paper, skinnier paper towels, and less coffee in the can—has been going on for decades.
And there's no end in sight. When production costs go up, manufacturers have three choices: reformulate products using cheaper ingredients, raise prices, or downsize containers—keep prices the same, but give customers a little less for their money.
• Story By: Herb Weisbaum, Consumers' Checkbook
11. 35% of Small Businesses Risk Financial Failure This Summer

Despite expedited Covid vaccinations, eased restrictions in many states, and accelerated re-openings of several different industries across the U.S., Alignable's June Revenue Poll shows that 35% of all small business owners are still at risk of closing permanently by the end of this summer.
The poll results reflect cumulative negative effects of Covid, inflationary pressures including the rising prices of gas, supplies and employees, as well as increasing labor shortages. In fact, 55% of those polled said they're having trouble finding employees, up 5% from last month. Several polltakers reported that they are still not fully open. Some say they've had to take a second job to keep their small business afloat long enough to see if it actually has a chance to recover after Covid subsides.
• Story In: CPA Practice Advisor
12. Issuers Use Crypto-Enabled Debit Cards to Reach New Consumers, Markets

Cryptocurrency has recently entered the financial mainstream, with increasing interest from consumers looking to invest in and pay with the digital assets. PYMNTS' recent Cryptocurrency Payments Report found that almost 16% of United States consumers either currently own or previously owned some form of cryptocurrency, and 29% say they are likely to purchase cryptocurrency in the future.
This shift in the payments landscape is altering the debit space as well, as consumers look to use mobile wallets tied to their digital assets as well as cryptocurrency debit cards. Debit networks that help meet this new demand with tools that can enable consumers to purchase and spend their cryptocurrencies are likely to position themselves as preferred providers for crypto enthusiasts.
• Story In: PYMNTS
Advertiser Disclosure
CardRates.com is a free online resource that offers valuable content and comparison services to users. To keep this resource 100% free, we receive compensation for referrals for many of the offers listed on the site. Along with key review factors, this compensation may impact how and where products appear across CardRates.com (including, for example, the order in which they appear). CardRates.com does not include the entire universe of available offers. Editorial opinions expressed on the site are strictly our own and are not provided, endorsed, or approved by advertisers.