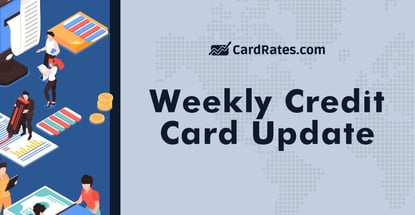 For media inquiries on these stories and more, contact credit card expert and industry analyst Bill Hardekopf at (205) 985-9725 or billh@cardrates.com.
1. PayPal Wants to Be Far More Than an Online Checkout Button

PayPal is eyeing life beyond the checkout button. In the coming months, the firm is planning to debut a bevy of new services, which could include high-yield savings accounts, check-cashing services, and stock-investing capabilities. It's all being done in the hopes of PayPal becoming the world's next "super app," akin to China's Alipay or WeChat, India's Paytm, or Singapore's Grab.
The stakes are high: If PayPal pulls it off, the company could become a bigger part of U.S. consumers' lives than Amazon, Google, or Facebook. But, in the U.S., there is no shortage of banking giants and technology firms that have tried and failed to accomplish what PayPal wants to do.
• Story By: Jennifer Surane, Bloomberg
2. Many Americans Struggle With Debt. Social Media Doesn't Help.

Erin's compulsive shopping, she says, is tied inextricably to her social media use, particularly Instagram, and her habits probably look familiar. Confined to our homes, clad in sweats, millions of Americans mindlessly scroll through their social feeds and find escape in the lives of influencers who, miraculously, seem to have escaped the pandemic with a smile and better skin.
Even if you haven't stepped into the bear trap of social media shopping, you almost certainly know someone who has. Which is exactly what these platforms and creators are aiming for. With each "like" and purchase, the bank accounts of social media companies, brands, and influencers rise, and those of their audience fall.
• Story by: Emily Glaser, Vox
3. Credit Card Delinquency: Metrics Continue to Improve

The headline grabber for risk managers, however, is in the delinquency decrease. Accounts 90 days or more delinquent tumbled from 5.31% to 3.78% in Q1 2021. With this in mind, consumers and retailers should expect to see loosened credit underwriting to enable credit card issuers to rebuild their portfolios.
Chase's credit card delinquency volumes increased substantially, with a decline to 0.78% in April from 0.89% in March. The exact time last year was 1.27%. Improvements in charge-offs continued at Chase, from 2.03% to 1.97%. Discover experienced similar improvements, as did Capital One. Discover delinquencies fell in April from 1.85% to 1.69%, with charge-offs declining to 2.55% from 2.71%. At Capital One, delinquencies fell to 1.92% from 2.24.
• Story By: Brian Riley, Payments Journal
4. TransUnion Predicts Return to Credit

Consumers were carrying the lowest credit card balances in March ever recorded by TransUnion, but it expects balances will begin rising this year as consumers become more confident in the economic recovery, according to a TransUnion report. Consumer borrowing via credit cards, unsecured personal loans, and automobiles fell precipitously after COVID-19 was declared a pandemic in March 2020.
Credit cards and personal loans are still low, but credit inquiries and economic indicators are signaling a stronger spending in the months ahead. Delinquencies have remained surprisingly low, and TransUnion is becoming more confident that credit quality will remain high even after lender accommodations fall away.
• Story By: Jim DuPlessis, Credit Union Times
5. Pandemic Puts Branch-Based Bank Jobs at Risk

The post-pandemic shift to digital banking could put up to 200,000 jobs at risk across the industry, according to a Wells Fargo analyst. He expected digitization and consolidation of branch networks to drive the job cuts over the next decade.
Call center and branch-based jobs were the most at risk. A survey found that 44% of people were extremely comfortable with digital banking tools, while 75% of Americans confirmed they would use digital tools to conduct 'some or all' financial transactions post-pandemic.
• Story in: Banking Exchange
6. Twitter Introduces Tip Jar, Allowing Users to Send Money to Their Favorite Tweeters

Twitter introduced Tip Jar, a new feature that makes it easy for users to send money to their favorite creators on the micro-blogging service. Users will be able to connect their Twitter accounts with Tip Jar to Bandcamp, Cash App, Patreon, PayPal, or Venmo.
Twitter will take no cut of money sent through the feature. The new feature comes as part of a broader effort by the company to build more features at a faster clip in a push to grow Twitter's user base to 315 million daily active users by the end of 2023.
• Story By: Salvador Rodriguez, CNBC
7. Keep Your Cardholders: Compete With Buy Now, Pay Later Popularity

The buy now, pay later market is expected to grow 181% by 2024 and will account for 13% of all global e-commerce payments that same year, according to a report by FIS. These post-purchase installment programs aren't a new concept, but the ease of use, flexibility, and mutual benefit they bring to various phases of the value chain have made them one of the fastest-growing segments in payments.
To compete with alternative point of sale installment loan providers like Affirm, Klarna, and Afterpay, and direct competitors like Chase, Citi, and American Express, which all offer flexible repayment plans, credit and debit issuers must respond. Here's a closer look at what's driving BNPL popularity.
• Story By: Anita Lemaire, Digital Transactions
8. Apple Card Grows to 6.4 Million Cardholders Thanks to Women

In March 2020, there were a reported 3.1 million Apple Card credit cardholders in the US, based on a January 2020 consumer survey from Cornerstone Advisors. How did the card, which was launched in August 2019, do throughout 2020? Pretty well, it turns out.
According to a Cornerstone Advisors survey from December 2020, the number of Apple Card customers more than doubled over the course of the year. Cornerstone now estimates that 6.4 million Americans are Apple Card holders.
• Story By: Ron Shevlin, Forbes
9. Bank Fees Slam Low Income Households

Hefty banking fees are hurting low-income households, especially families of color, according to consumer advocates. Hispanic and Black households paid a total of $3.1 billion and $1.4 billion, respectively, in overdraft fees alone last year, according to a recent report from the Financial Health Network.
The report also found that Black Americans forked over $800 million last year on fees for checking account maintenance, money orders, and check cashing, while Hispanic families spent $1.1 billion on those services. Such fees are driving many people of color away from banking altogether, some experts said in calling on federal regulators to limit fee amounts.
• Story By: Khristopher J. Brooks, CBS News
10. Stripe Acquires Bouncer, Will Integrate Its Card Authentication into the Radar Fraud Detection Tool

On the heels of a $600 million fundraise earlier this year, Stripe has been on an acquisition march to continue building out its business. In the latest development, the company has acquired Bouncer, a startup based in Oakland that has built a platform to automatically run card authentications and detect fraud in card-based online transactions.
Its technology is tailored for mobile transactions and includes a flow to help users authenticate themselves if they are mistakenly flagged, to come back into an app legitimately (hence the name).
• Story By: Ingrid Lunden, TechCrunch
11. Bank of America Reaches $75 Million Settlement Over Excessive Fees

Bank of America agreed to pay $75 million to settle a lawsuit accusing the second-largest U.S. bank of extracting overdraft fees it didn't earn from customers with savings and checking accounts.
Customers said Bank of America often charged multiple $35 fees for insufficient funds or overdrafts on a single transaction, sometimes reflecting the bank's repeated attempts to process it at a merchant's request.
• Story By: Jonathan Stempel, Reuters
12. Atlanta Men and Others Used Stolen Credit Cards to Buy $1.7 Million Worth of Cigarettes

Two Atlanta men and others were sentenced to federal prison for buying millions of dollars' worth of cigarettes with stolen credit cards. The four men obtained Sam's Club membership cards in their names and aliases.
From September 2018 through November 2018, the defendants used dozens of stolen credit cards to buy $1.7 million worth of cigarettes at multiple Sam's Clubs throughout metro Atlanta.
• Story By: Terrance Kelly, CBS46
Advertiser Disclosure
CardRates.com is a free online resource that offers valuable content and comparison services to users. To keep this resource 100% free, we receive compensation for referrals for many of the offers listed on the site. Along with key review factors, this compensation may impact how and where products appear across CardRates.com (including, for example, the order in which they appear). CardRates.com does not include the entire universe of available offers. Editorial opinions expressed on the site are strictly our own and are not provided, endorsed, or approved by advertisers.