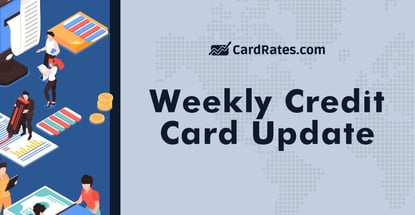 Editor's note: For more than 10 years, credit card expert Bill Hardekopf has published his Weekly Credit Card Update on LowCards.com. Recently, LowCards became part of CardRates.com, where Bill joins a team of leading experts as the site's Senior Industry Analyst. Check back every Friday for Bill's weekly industry update — now exclusively at CardRates.com.
For media inquiries on these stories and more, contact credit card expert and industry analyst Bill Hardekopf at (205) 985-9725.
1. Pandemic Led to U.S. Housing Boom, Reduced Credit Card Debt

The coronavirus pandemic changed the way U.S. consumers use credit, as lower interest rates spurred a boom in home buying and refinancing and virus-related shutdowns led to a drop in credit card use and an increase in paying off debt, according to a report released on Wednesday by the New York Federal Reserve.
Credit card balances increased by $12 billion in the fourth quarter but balances were still $108 billion lower from a year earlier, the largest yearly decline since the report was launched in 1999.
• Story By: Jonnelle Marte, Reuters
2. A Pandemic Paradox: Americans' Credit Scores Continue to Rise as Economy Struggles

While millions of Americans were laid off or furloughed from their jobs, lost their employer-based health insurance, and skipped debt payments, their credit scores rose to record levels.
It makes sense when you consider government stimulus programs and relief measures, coupled with the reality that consumers have cut back on spending partly because of coronavirus restrictions and business shutdowns. At the start of 2020, the average FICO credit score was 703. By October, the average FICO credit score had increased to 711, according to Experian FICO credit score data.
• Story By: Elisabeth Buchwald, MarketWatch
3. Citibank Can't Get Back $500 Million It Wired by Mistake, Judge Rules

After committing one of the "biggest blunders in banking history," Citibank won't be allowed to recover the almost half a billion dollars it accidentally wired to Revlon's lenders, a U.S. District Court judge ruled.
Citibank, which was acting as Revlon's loan agent, meant to send about $8 million in interest payments to the cosmetic company's lenders. Instead, Citibank accidentally wired $900 million to Revlon's lenders. Some lenders did return the money, but others did not. Citibank filed a lawsuit in August seeking the return of its funds, but it still has not received $500 million from 10 investment advisory firms after the accidental transfer.
• Story By: Ramishah Maruf, CNN
4. Venmo Expands General Availability of Credit Card

Venmo is introducing a Visa-powered credit card released in conjunction with Synchrony. The Venmo credit card launched in beta mode for select customers in October, and all Venmo users can now fill out an application. The Venmo credit card can be used everywhere Visa is accepted.
Users can track real-time use of the card by category. They can also use the Venmo app to split and share payments, view cashback rewards, schedule payments, and more, all from the app. Spending trends are available in intervals of 30, 60, and 90 days, with visual indicators to help people cut back on spending. Cash back rewards are automatically added to a cardholder's Venmo balance.
• Story In: PYMNTS
5. PayPal is Now Worth More Than Mastercard. Why It May Extend Its Lead.

Investors can't get enough of PayPal Holdings, pushing its market value past Mastercard's. Shares of PayPal have rocketed 31% this year, including a 2.7% gain on Tuesday, to around $306. PayPal's market value is now $359 billion.
Mastercard's equity, meanwhile, was worth $339 billion at recent prices of around $341.
• Story By: Daren Fonda, Barron's
6. How Apple Pay Helps 'Cheat' Banks Out of $250 Billion in Payments

A new study from Cornerstone Advisors found that 75% of Americans are turning to Big Tech companies like Apple, Google, and Amazon and fintechs like PayPal and Credit Karma to do their banking, make payments, and manage their finances.
Big Tech and fintech companies have impacted the payments landscape in a number of ways: mobile payments, merchant mobile apps (or merchant wallets), buy now pay later, and even cryptocurrencies. The result is a huge loss in payments volume and interchange revenue for many banks and credit card providers.
• Story By: Ron Shevlin, Forbes
7. Healthcare Data Breaches Spiked 55% in 2020

Data breaches in healthcare are becoming more common and more expensive. Last year, healthcare data breaches totaled 599, up 55.1% from 2019, according to a new Bitglass report. These breaches affected more than 26 million people.
Further, the average cost of a breach in healthcare has increased 10.5% from 2019 to 2020, the new report shows. The cost per breached record also rose to $499 last year from $429 the year prior, a 16.3% jump. The report shows that hacking and IT incidents led to 67.3% of all healthcare breaches in 2020
• Story By: Anuja Vaidya, Med City News
8. Fintech Marqeta Expands into Credit Card Space Days After Filing for an IPO

Marqeta is expanding into the consumer credit card space to help other brands launch credit card programs. The move comes just days after the payment card issuing company reportedly filed confidentially for an initial public offering, making it the latest fintech to make a move to the public markets.
The company, which provides the tools for financial services platforms of all stripes to provide cards, wallets, and other payment mechanisms, counts Cash App, Affirm, DoorDash, and Instacart among its customers. The value of the IPO is expected to be around $10 billion.
• Story By: Mary Ann Azevedo, TechCrunch
9. Where Credit Cards Meet Cryptocurrency

As cryptocurrencies like Bitcoin become more mainstream, they are beginning to interact with credit cards. Some exchanges allow you to buy cryptocurrency with a credit card, including at some Bitcoin ATMs.
A recently launched credit card offers rewards in the form of Bitcoin, and other such cards seem likely to follow.
• Story By: Dan Miller, Investopedia
10. Here's How to Save $10 at Amazon When Using Your Capital One Credit Card

If you're an Amazon shopper and you have a Capital One credit card, you may be in luck. Capital One credit cards earn miles or cash back that can be redeemed in many ways. One of those options is to pay for items at Amazon through its "Shop with Points" program.
Eligible Capital One credit card holders can save $10 on a purchase of $40 or more when using your Capital One miles or cash back at Amazon through March 31.
• Story By: Jennifer Yellin, CNN
11. Shopify Adds Shop Pay to Facebook, Instagram

As social commerce accelerates, Shopify is integrating Shop Pay into Instagram and Facebook. The move allows consumers to pay Shopify merchants using Shop Pay on those platforms. Shop Pay automatically fills in consumers' details and allows them to pay without leaving Facebook or Instagram.
Users will also be able to track orders after purchase and see carbon emissions offsets from their purchases, among other things.
• Story In: Mobile Payments Today
Advertiser Disclosure
CardRates.com is a free online resource that offers valuable content and comparison services to users. To keep this resource 100% free, we receive compensation for referrals for many of the offers listed on the site. Along with key review factors, this compensation may impact how and where products appear across CardRates.com (including, for example, the order in which they appear). CardRates.com does not include the entire universe of available offers. Editorial opinions expressed on the site are strictly our own and are not provided, endorsed, or approved by advertisers.