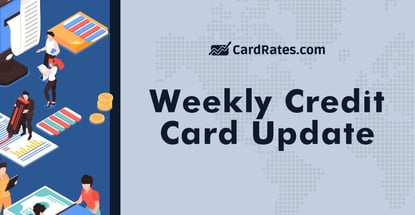 Editor's note: For more than 10 years, credit card expert Bill Hardekopf has published his Weekly Credit Card Update on LowCards.com. Recently, LowCards became part of CardRates.com, where Bill joins a team of leading experts as the site's Senior Industry Analyst. Check back every Friday for Bill's weekly industry update — now exclusively at CardRates.com.
For media inquiries on these stories and more, contact credit card expert and industry analyst Bill Hardekopf at (205) 985-9725.
1. After Over 40 Years, the Way We Use Credit Cards is About to Fundamentally Change

Credit card users may soon find their horizontal cards replaced by vertical ones as tap-to-pay continues to gain popularity. Last week, PayPal joined several other banks in releasing credit and debit cards with vertical designs for its Venmo app.
The vertical cards will make for a smoother user experience, as they will mimic how customers typically handle their cards when they either tap to pay or dip the card into the chip reader vertically.
• Story By: Grace Kay, Business Insider
2. Southwest Credit Cards Offering Rare Opportunity to Earn a Valuable Companion Pass

Three of Southwest Airlines' Rapid Rewards credit cards have just launched impressive introductory offers that include the chance to earn an ultra-valuable Companion Pass good through February 28, 2022.
Earning one usually involves either taking 125 qualifying one-way flights or racking up 125,000 qualifying points — through flying and credit card spending among other options — within a calendar year. But with these offers, you can simply spend your way to a Companion Pass, and earn 30,000 Rapid Rewards points that you can redeem for travel to boot. All you have to do is make $5,000 in purchases within the first three months.
• Story By: Eric Rosen, Afar
3. Wells Fargo Decides to Keep Its Private-Label Credit Card Unit

Wells Fargo is opting to keep its private-label credit card unit after reaching out to potential buyers last year, according to a person with knowledge of the matter. Spending on private-label credit cards slowed last year as many retailers were forced to temporarily shut their stores to stem the spread of the coronavirus, and consumers sought to pay down debt rather than make purchases.
Even before the pandemic, Wells Fargo didn't rank among the top five firms in the space, according to Nilson Report.
• Story By: Hannah Levitt, Bloomberg
4. Americans Take to 'Buy Now, Pay Later' Shopping during Pandemic, But Can They Afford It?
Buy now, pay later services — offered by providers such as Affirm, Klarna, Afterpay, and PayPal — have blossomed across retail websites during the coronavirus pandemic as people have turned more to shopping online.
Yet the ease with which many shoppers can make purchases is worrying some regulators around the world, who fear consumers may be spending more than they can afford. Nearly 40% of U.S. consumers who used "buy now, pay later" have missed more than one payment, and 72% of those consumers saw their credit score decline, according to a study by Credit Karma.
• Story By: Anna Irrera, Reuters
5. Mastercard to Let Merchants Accept Some Cryptocurrencies Directly Later This Year

Mastercard said it would begin allowing merchants to accept some cryptocurrencies on its network later this year, marking the latest embrace of digital coins by a traditional payments player. By moving to support some crypto assets directly, Mastercard will "cut out inefficiencies, letting both consumers and merchants avoid having to convert back and forth between crypto and traditional to make purchases," according to a Mastercard spokesman.
The company plans to be selective about which cryptocurrencies it allows as it embarks on its plan.
• Story By: Emily Bary, MarketWatch
6. Inside the Billion-Dollar Plan to Kill Credit Cards

Affirm's interest rates aren't low, necessarily: they run from 0% to 30% a year, depending on the borrower's creditworthiness and whether a merchant is subsidizing interest-free payments. But Affirm never charges late fees and shows buyers the total interest they'll pay for a specific purchase upfront, with fixed payments typically lasting from three to 12 months — or, for large purchases, up to four years.
By contrast, once a cardholder carries a balance on a standard revolving credit card, every new purchase — even a $4 latte — typically incurs interest.
• Story By: Jeff Kauflin, Forbes
7. 54% of Americans Say They Have More Emergency Savings than Credit Card Debt

The Covid-19 pandemic and its economic fallout have provided a stark reminder of the importance of building an emergency fund to help keep your finances afloat when the unexpected happens. Bankrate's February Financial Security Poll finds that 54% of Americans have more emergency savings than credit card debt.
Despite the tough economy, this is 5 percentage points higher than in last year's pre-pandemic survey and the highest percentage since 2018.
• Story By: Matthew Goldberg, Bankrate
8. The Riskiest Places to Swipe Your Credit Card

Credit card fraud has become a constant and pervasive threat, and debit cards aren't immune to being stolen either. The FTC reported 157,688 instances of credit card fraud in 2018, which was nearly a three-fold increase since 2014, and represented the largest category of reported identity theft.
This is why it's so important to know where the risks are, so you can better protect yourself from those looking to steal your information.
• Story By: Scott M. Brodie, Yahoo Finance
9. TomoCredit Raises $7 Million to Help the Cash Rich and Credit Poor
It's difficult to get credit if you don't have credit. That's the problem that startup TomoCredit is trying to solve. Co-founder and CEO Kristy Kim, who immigrated to the U.S. from South Korea with her family as a child, was disappointed that her lack of a credit history proved to be such an obstacle despite the fact she had a job and positive cash flow.
So she teamed up with Dmitry Kashlev, a Russian immigrant, in January of 2019 to create a solution for other foreign-born individuals and young adults facing similar credit challenges. The startup, short for Tomorrow's Credit, offers a credit card aimed at helping first-time borrowers build a credit history, based on their cash flow, rather than on their FICO or credit report ratings.
• Story By: Mary Ann Azevedo, TechCrunch
10. Save up to $23 on Tax Filing Software with These Credit Cards

Filing taxes on your own can be cheaper than hiring an accountant, but the costs of online tax filing software can still add up. The best programs cost up to $170 for federal filing, plus $50 per state.
Thankfully, many credit card issuers are offering discounts on popular tax software programs that can save you $5 to $20 when you pay with an eligible card. These discounts are a great way to reduce the cost of filing taxes, especially if you wind up owing tax money.
• Story By: Alexandria White, CNBC
11. Local Business Offers Incentives to Use Cash, Stop Using Credit Cards

This music store has a message for local shoppers: If you want to help local businesses, stop using your credit card. To that effect, the music store has started a new reward program for folks who buy with cash by returning 2.5% of that purchase back to the customer.
"It's a rebate, but we're really calling it a reward because it is rewarding them for acting fiscally responsible," said owner David Bozich. "We want to reward people for keeping money locally, instead of sending it off to the big banks and the credit card companies."
• Story By: Ray Miller-Still, The Courier-Herald
Advertiser Disclosure
CardRates.com is a free online resource that offers valuable content and comparison services to users. To keep this resource 100% free, we receive compensation for referrals for many of the offers listed on the site. Along with key review factors, this compensation may impact how and where products appear across CardRates.com (including, for example, the order in which they appear). CardRates.com does not include the entire universe of available offers. Editorial opinions expressed on the site are strictly our own and are not provided, endorsed, or approved by advertisers.