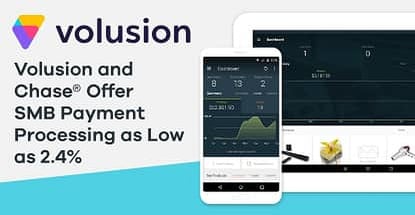 In a Nutshell: Today's entrepreneurs must focus as much on customer experience as they do on the products and services they deliver if they want to grow and thrive. Online retailers are dependent on positive reviews from customers, even if they have minimal interaction with them. A beautiful website design that is secure and easy to checkout increases your chances of success in a growing online marketplace. The numbers tell the story. Digital sales accounted for $1 in every $7 of discretionary spending in the third quarter of 2016 — an 11% increase from the same quarter in 2015. With this in mind, Volusion leads the industry in storefront designs, easy-to-use shopping carts, and affordable payment processing services that make setting up an online shop easy. In December 2017, the company partnered with integrated payment provider WePay and financial giant Chase to unveil Volusion Payments powered by Chase option, which offers transaction fees as low as 2.4% and next-day settlements. //
I recently sat at a loved one's business school graduation ceremony while waiting for the rest of my family to arrive. As I sat alone, I listened to a group of graduates talk about their future plans (eavesdropping is a nasty habit — but as a journalist, it's hard to turn it off).
Each new grad had ambitions to start a new business venture. The group talked about its plans for future websites and mobile applications and marketing strategies. Nearly 25 minutes had passed and, interestingly enough, no one had mentioned the product or service their business would offer.
That approach is common among today's entrepreneurs. Anything you want to sell online is likely being offered by dozens of other e-tailers. To make your business stand out in the crowd, you have to focus less on the product or service and more on the customer experience. With so many options available to shoppers, the seller who gives customers the best vibe will often be the one who makes the sale.
Consumers have many ways they can find your website — search engines, social media, and word-of-mouth referrals are most common — but if the customer chooses to make a purchase on your website, there's only one path they can take. If your checkout doesn't look modern, secure, and intuitive, web surfers will hit the back button and erase you from their memories.
Every day, Volusion helps thousands of SMBs process payments easily and securely. The company, which has processed more than $28 billion in online payments, has earned a reputation as a safe, affordable option for businesses that aren't typically targeted by bigger processing companies.

"Volusion is the only e-commerce platform that specifically focuses on small businesses," said Volusion CEO Kevin Sproles. "We offer the technology to build your online store and all the tools you need to grow your business and be successful."
Total digital commerce in the third quarter of 2016 accounted for more than one in every seven discretionary dollars spent by consumers — an 11% increase from the same quarter one year earlier.
Volusion's storefront and payment processing services are helping its clients expand, and as a result, the company is experiencing tremendous growth of its own. Its focus on the small- and medium-sized business market — once considered unattractive to larger merchant services firms — has earned the company its latest achievement.
In December 2017, Volusion announced it had partnered with integrated payment provider WePay and financial giant Chase to offer the Volusion Payments powered by Chase.
"It's a new and integrated payment solution," Kevin said. "There are so many benefits of having it integrated versus just setting up a merchant account that is completely disconnected."
The service's interface includes everything merchants need to accept, process, and organize payments as well as fight chargebacks and receive quick resolutions to technical problems.
Partnerships with WePay and Chase Enable Next-Day Settlement of Transaction Funds
Volusion Payments is designed to eliminate some of the biggest problems entrepreneurs and SMBs deal with at checkout — namely secure and seamless transmission credit card data.
"We've got a really great set of features on our platform that drive growth for our merchants," Kevin said. "Our merchants are often more successful than the competition because of the tools we offer them."
Many leading online credit card processors charge, on average, 2.9% of the transaction total plus $0.30 for each charge that is processed through their system. Volusion Payments plans to start its lowest tier of merchants with similar rates, with higher tiers earning improved rates as low at 2.4%.
In addition to the lower transaction fees, Kevin said Volusion is also focused on getting money to their clients faster.
"A key concern for many small businesses is cash flow," he said. "Merchants want their money deposited in their account as soon as possible. With Volusion Payments powered by Chase, we're able to offer a next-day settlement."
Volusion also enables fast resolution when chargebacks cost SMB owners both money and time. Many business owners spend large chunks of time on the phone with customer service when a chargeback occurs. Volusion Payments makes the process easier.
"One of the biggest hassles in a traditional merchant account is fighting chargebacks from fraud," Kevin said. "With Volusion Payments, it'll be integrated right in the interface. WePay makes all of that possible."
Members Get Access to Marketing and Site-Design Resources to Boost Sales
Kevin said the company has "extremely high" approval rates for merchants who sign up for Volusion's storefront services. The easy-to-use shopping cart and back-end interface make setting up and maintaining your online store simple with any level of experience.
New customers can take advantage of a 14-day free trial that includes the full suite of services, including a profession storefront and secure checkout technology. The short signup process instant activation, which lets entrepreneurs begin accepting payments right away, requires no credit card.
Volusion Payments is being offered to merchants based in the US. However, Volusion also connects to more than 30 gateways for international transactions.
Clients can choose from several professionally designed themes for their storefront. Some are free and others require a licensing fee for use of the design. All store designs are equipped with everything an e-tailer needs to host, display, and sell any volume of products and services.
Pricing plans for storefront hosting start as low as $15 a month for up to 100 products and 1GB of bandwidth. Major sellers will benefit from the top-tier premium plan which offers unlimited products and 35GB of bandwidth, as well as priority support and a dedicated account manager, for $135 a month.
All plans feature secured checkout technology to keep your customers confident in the process of buying from you.
The company also offers services to help design customized themes or market your existing business on social media, search engines, and marketplaces.
"Our goal is to be a one-stop shop for all small- and medium-sized business owners who want to grow their businesses and still save money," Kevin said.
Volusion Gives Founders Tools Needed to Grow and Succeed
New entrepreneurs entering the market today will never know the hurdles once faced by their predecessors. It used to be that the biggest adversary new storefronts faced were larger, more established businesses. Getting the word out about your business in the pre-internet vacuum crushed the future of many SMBs.
Now the playing field is as even as it's ever been as today's consumers look to support small businesses and take pride in buying from "the little guy."
E-tailers that sell nearly any product have the technology available to them today, through merchant services companies like Volusion, to keep their doors open and cash registers ringing.
"Not every merchant account provider is able to accept every merchant," Kevin said. "Typical rejections are because some of the items being sold are questionable or aren't legal to be sold online. At Volusion, we have a history of being very accepting of a lot of the higher-risk merchants. We hope to continue to push that envelope with this new offering."
Volusion offers a wide array of services and products — including design and marketing assistance — that allow SMBs to focus on running their business.
Collecting payments is the most important part of a business owner's job. The key to guaranteeing that happens is having a system in place that makes customers feel secure with the transaction while offering quick redemption of funds for the business.
Volusion Payments powered by Chase has the WePay technology and Chase's name recognition that give SMB owners the leverage they need to compete in the e-retailing industry today. Add to that transaction fees as low as 2.4%, and few companies in the space can compete with the offering.
Advertiser Disclosure
CardRates.com is a free online resource that offers valuable content and comparison services to users. To keep this resource 100% free, we receive compensation for referrals for many of the offers listed on the site. Along with key review factors, this compensation may impact how and where products appear across CardRates.com (including, for example, the order in which they appear). CardRates.com does not include the entire universe of available offers. Editorial opinions expressed on the site are strictly our own and are not provided, endorsed, or approved by advertisers.