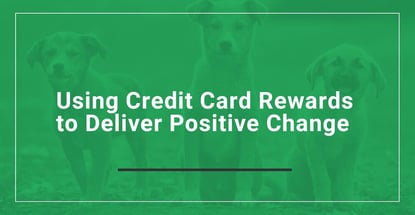 In a Nutshell: Credit card rewards are a great way to grab discounts and earn cash back. But they can also be used to fuel positive change in the world via reward donations or cash equivalents. Care2 is an organization that helps drive positive change by connecting people and organizations with passionate audiences via online platforms. With Care2, anyone can launch a petition at no cost to help raise awareness and garner monetary support for progressive causes and charities. While some people have voiced skepticism about whether online activism translates to real-world change, the campaigns facilitated by Care2 have proven that passion in the digital realm can certainly bring about positive changes in the real world.
We have written often about the benefits that can accompany the responsible use of credit cards. Being able to access a line of credit at a moment's notice is invaluable when it comes to financing large purchases or covering unexpected expenses as long as your budget allows you to pay down the balance in a timely manner.
But credit cards come with a number of other benefits, namely rewards. As credit card enthusiasts, reward programs are one of our favorite components of the card ecosystem. Over the years, card issuers have sought to gain a competitive edge over their peers and one of the results is a wealth of great credit card rewards programs.
It's true that we often fantasize about how we can use our rewards to get travel discounts, eat at pricey restaurants at a fraction of the cost, or score a deep discount at a fancy hotel.
But we also like to explore ways in which credit card rewards can be used for more altruistic purposes.
Many card companies facilitate reward donations by transferring points or travel miles to the partner charity of the cardholder's choice. Other times, the rewards may be converted to cash before they reach the nonprofit.
Even when those options aren't available, cardholders can still turn their rewards into charitable contributions, in a sense. Depending on the rewards program, cardholders may be able to apply their rewards toward a statement credit, then apply the cash they saved toward the charity of their choice.
And there are many great causes and charities out there worthy of support.
We were interested in learning more about how some of these organizations raise awareness and gain support, and we learned about Care2.
Care2 is a platform dedicated to supporting progressive causes by using technology to connect people to nonprofits and mission-based brands that are close to their hearts.
Care2 Leverages Technology to Help Charities and Nonprofits Gain Support
Care2 is a social good community of about 50 million members worldwide, Director Claire Kerr told us.
"Anyone can create a petition or an online action to mobilize their friends or people on the internet around a cause of social good, provided that it's progressive," Kerr said.
Care2 members are often passionate about topics like climate change and social justice issues.
In fact, Care2 states its position clearly on the organization's website.
"Care2 stands against: bigots, racists, bullies, science deniers, misogynists, gun lobbyists, xenophobes, the willfully ignorant, animal abusers, frackers, and other mean people. If you find yourself aligning with any of those folks, you can move along, nothing to see here," according to the organization.
Instead, the company stands with humanitarians, animal lovers, feminists, rabble-rousers, nature-buffs, creatives, the naturally curious, and people who love to do the right thing, the website states.
Care2 uses its platform and technology to connect these kinds of people with charitable causes and organizations that support progressive goals. It amplifies messages and helps individuals and companies launch petitions that garner even more support as well as funding.
"Care2 is a social enterprise, using business as a force for good," according to the company. "We work with over 2,700 nonprofits and mission-based brands. We partner with them to grow their communities faster and deliver on their brand promise more efficiently, by connecting them to supporters who are passionate about the causes they support."
The company has had a hand in launching more than 450,000 petitions and has more than 58 million members and counting.
"With nearly one billion petition signatures to date, we've been involved in significant change on every scale, from pushing Netflix to declare new policies that guarantee men and women are paid equally for equal roles to ending the trapping and killing of urban foxes in London's Paddington Station," according to Care2. "We secured medicine for an 8-year-old girl suffering from epilepsy and convinced Westfield Malls to end their holiday practice of keeping captive reindeer."
How the COVID-19 Pandemic Impacted Charitable Giving
Since March 2020, businesses, charities, and individuals around the world have been significantly impacted by the COVID-19 pandemic in one way or another. With financial uncertainty on many people's minds, we were curious how charitable donations were impacted by the pandemic.
Kerr explained that, when it comes to fundraising in the U.S., research shows that numbers were down overall due to a drop in major gifts and corporate giving, as well as the millions of in-person events that raise money each year.
"If you think about all the in-person things that were canceled — run-walk-rides, door-to-door campaigns, people on the street with clipboards, point-of-sale campaigns — people would normally give a little to support these efforts," she said.
While donations were down as a whole, online giving and individual giving in the U.S. actually rose during the pandemic."That shows that individual Americans were very generous during the pandemic," Kerr said. "Many reports have come out that have shown that not only were they generous, they were responding to charities that were putting out appeals during the pandemic — they were also choosing to give online."
This evidence only further supports the impact that online campaigns can have. And cardholders who may be longtime supporters of a particular cause via reward donations and are interested in taking their support to the next level can easily do so with confidence.
"If they would like to do more and get all their friends active on an issue that matters or support a particular charity, they can create a Care2 campaign for free," Kerr said. "Some of these can really take off."
One Care2 team member in the U.K. started a campaign to close a legal loophole that allowed people to take inappropriate photographs of unknowing victims on public transit. The campaign received enough support and attention that the issue went to Parliament where it became a bill that was passed into law.
"If you've made a decision on your favorite charity and you've supported them with a credit card donation, you can always follow up and create a campaign for them," Kerr said. "It's another way to extend that support."
Translating Online Activism to Real-World Impact
Kerr also discussed the skepticism some people have over whether online and social media campaigns can translate to positive change in the real world.
"Maybe a few years ago, some folks were a bit cynical — they would use terms like slacktivism to say that when there's pressure on social media, it doesn't actually translate into real-world action," she said. "We've had so many examples, especially in the last year, that show that that is not true at all."
People who are active in supporting causes online tend to be active via other channels as well, Kerr explained.
"You wouldn't say that because somebody bought a T-shirt at a brick-and-mortar store, they will never buy a T-shirt through any other method," she said.
Kerr points to examples like the ban on whale and dolphin captivity in Canada that was largely attributed to public pressure on lawmakers.
"People typically think of the internet as an organizing tool, but you can also use it to boycott a retailer that you think is doing harm to the world," she said. People can also use online campaigns to raise funds to support medical costs, which has very real impacts for the individuals involved.
While Care2 doesn't facilitate medical fundraising campaigns, Kerr said it's just another example of how raising awareness online translates to real-world impacts.
Even more evidence can be seen on Care2's website.
"You can see in our victories section that a lot of those victories are because of the pressure that's been put on (entities) by the community," Kerr said. "The platform, and people coming together to use it, is the tool. But the real power is the action. If no one was using these tools or if we didn't have the ability to reach those stakeholders and decision-makers, they wouldn't be effective."
Advertiser Disclosure
CardRates.com is a free online resource that offers valuable content and comparison services to users. To keep this resource 100% free, we receive compensation for referrals for many of the offers listed on the site. Along with key review factors, this compensation may impact how and where products appear across CardRates.com (including, for example, the order in which they appear). CardRates.com does not include the entire universe of available offers. Editorial opinions expressed on the site are strictly our own and are not provided, endorsed, or approved by advertisers.