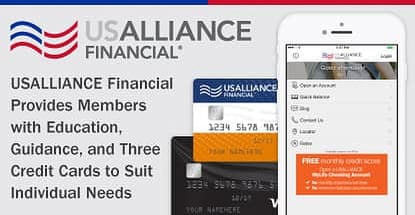 In a Nutshell: While USALLIANCE Financial got its start in 1966 as IBM's credit union, it has grown and diversified into a multifaceted $1.6 billion institution with more than 110,000 members. But people remain at the heart of it all, and the professionals at USALLIANCE are dedicated to serving the needs of its members, wherever they are in their financial journey. That's why USALLIANCE developed three different credit card offers to serve its members at every step of that journey. And, because the institution is committed to financial wellness, it also provides personalized service and education to help all its members move forward financially, no matter where they start.  //
Whether you're just opening a checking account for your first job or you're seeking investment products to help you save for retirement, it pays to work with financial services professionals who see you first as the person you are, not as the customer they want you to be.
That's what you get when you work with USALLIANCE Financial, a New York-based cooperative serving more than 110,000 members, including organizations, individuals, and families, from all walks of life and with unique financial priorities.
"We have such a broad membership — everybody from students and young families to local union members and CEOs," said Terri Rath-Massey, AVP of Consumer Lending at USALLIANCE.
"But no matter who applies with us, they can always count on personalized service designed to suit their individual needs."
Because USALLIANCE is designated as a low-income credit union, meaning that at least 50% of its members meet an income threshold defined by the National Credit Union Administration, it's able to tailor a portion of its product portfolio to members looking to establish or rebuild credit.
Many of those members come to USALLIANCE without having had the advantage of a steady banking relationship. USALLIANCE responds with a strong focus on financial wellness, counseling, and education so those members can take advantage of the bank's services and make financial progress.
"We have a good rapport with our members, really good relationships," Rath-Massey said. "We'll have people only qualify for a secured card. They'll start using it, they'll make on-time payments with us, and work on building good credit. In Six months or so, the representative they've been working with will have another conversation with them, and we'll see that those good credit habits have paid off and their credit quality has significantly increased. We love it when those success stories happen."
Credit Card Personality Quiz Helps Find What's Right for You
The cooperative's broad membership base means it offers credit cards to fit a variety of needs. In keeping with its personalized approach, USALLIANCE even offers a personality quiz to help members determine which card is right for them.
All USALLIANCE credit cards come with security and convenience features, including chip-enabled security, 24/7 fraud protection, account alerts, and support for online payment services Apple Pay, Samsung Pay, and Android Pay.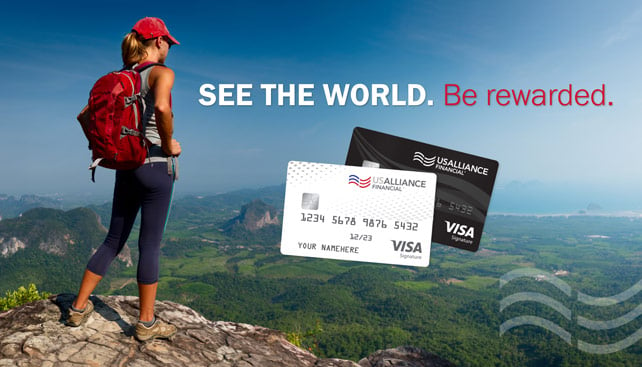 In addition, rates are always competitive, there are no annual or monthly fees, and you won't be saddled with a penalty APR if you ever get out of sync with your payments. USALLIANCE also provides free supplementary cards that are great for a spouse or a child off at college.
VISA Signature Boasts Customizable Rewards
Members who are satisfied with their credit scores tend to choose the flagship USALLIANCE VISA Signature card, which boasts impressive rewards.
The customizable USALLIANCE rewards program includes 2,000 introductory points and earns one point for every dollar spent on qualifying purchases. Additional cardholder benefits include concierge services, cell phone protection, personal identity theft protection, price protection, and vacation cancellation and interruption benefits.
"Members can redeem their reward points for cash, but we also offer a selection of popular gift card options," Rath-Massey said. "These are based on our many partnerships with merchants and retailers that offer products and services our members want and need. Another cool thing about the VISA Signature Card is we have a low introductory rate for six months, which is great for balance transfers."
VISA Classic Offers Rates as Low as 10.49%
Members who prefer lower rates choose the USALLIANCE VISA Classic card, which offers an APR as low as 10.49%. With a minimum balance requirement of just $500, the card is not out of reach for most consumers.
"Our VISA Classic is our most popular card," Rath-Massey said. "It's a no-frills card for people who are rate-conscious and tend to carry a balance. Our rates are some of the lowest everyday rates you'll find anywhere."
Secured VISA Helps Rebuild or Establish Credit
The USALLIANCE Secured VISA works just like a traditional credit card but carries a minimum $500 security deposit, which is placed in a USALLIANCE savings account and earns interest. And the Secured VISA shares the same security and convenience benefits that come standard with the unsecured USALLIANCE cards
"Our Secured VISA is a great card for our members who are looking either to build or reestablish credit," Rath-Massey said. "Maybe you're a student who's entering the workforce or you're someone who's coming out of a tough financial time and rebuilding credit. Our Secured VISA card is for you."
On-The-Go Account Management Available via Mobile App
It's fitting that a cooperative that got its start as IBM's credit union places a high priority on delivering technology-enabled services to its members. In fact, the USALLIANCE mobile app has been recognized as one of the top banking apps in the industry.
Whether you're on Android or iOS, you'll have access to all USALLIANCE online banking features directly from the app — a handy perk if you don't have regular access to a laptop or desktop computer.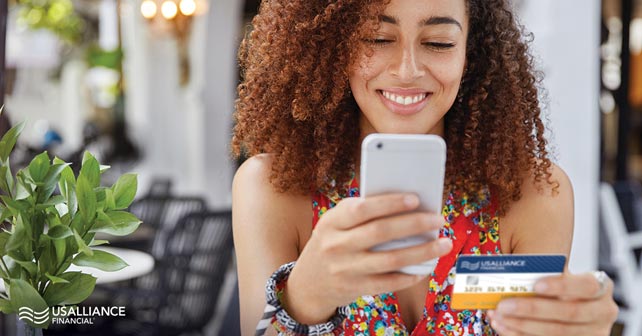 "You can fully manage your card account from the mobile app — you can even initiate balance transfers and get cash advances," Rath-Massey said. "Benefits extend to setting up travel notifications through the mobile app, freezing your card, and scheduling a customer service callback."
The USALLIANCE app's Quick Balance feature allows you to check your balance before you even log on. When you do enter your credentials, you can view pending transactions on your account, pay bills and view your transaction history, view and pay your credit card bill, and deposit checks from wherever you are.
Empowering Members to Live Their Best Financial Lives
The USALLIANCE mobile app also allows you to access your credit score each month for free — a service that extends to all USALLIANCE credit customers and is delivered automatically via your online account and app. That, coupled with the copious financial wellness and education information found on the USALLIANCE website, can make the difference between treading water financially and leveraging your banking relationship to improve your standing.
"Our members can log in to our online education portal and learn through different modules — information about mortgages, credit scores, budgeting — a whole range of subjects to help you become more familiar with fundamentals and strategies for financial success," Rath-Massey said.
USALLIANCE is happy to assist members personally with their own financial planning and makes financial tools, like a monthly household budgeting planner and a guide to building credit, available to anyone who wants them via download.
It all adds up to a package that bases the success of the institution on the success of its members. When you bank at USALLIANCE , you work with professionals who will help you understand exactly where you are so you can learn how to get to where you want to be — another success story for another satisfied USALLIANCE member.
Advertiser Disclosure
CardRates.com is a free online resource that offers valuable content and comparison services to users. To keep this resource 100% free, we receive compensation for referrals for many of the offers listed on the site. Along with key review factors, this compensation may impact how and where products appear across CardRates.com (including, for example, the order in which they appear). CardRates.com does not include the entire universe of available offers. Editorial opinions expressed on the site are strictly our own and are not provided, endorsed, or approved by advertisers.