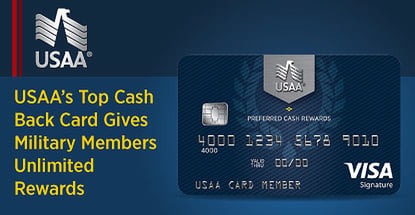 In a Nutshell: Active and former military members understand the meaning of the word sacrifice, having put their own safety on the line for their country. USAA understands this sacrifice and honors the service of these heroes by providing banking products that offer value, security, and peace of mind. The institution's savings and loan products offer competitive rates and perks for deployed military members, and an array of Visa and American Express credit card options provide competitive perks for members of all backgrounds. We've found the USAA Preferred Cash Rewards Visa Signature® Card to be one of 2018's top cash back rewards cards because of its flat 1.5% unlimited cash back rate that doesn't expire, as well as its low interest rates and no annual fee. //
Members of the US military give their all every day to protect their country and the hundreds of millions of people who call it home. Many spend months, or even years, away from their families to do their jobs — a sacrifice that deserves recognition and reward.
USAA recognizes this sacrifice and strives to reward its core membership of active-duty military members and their families by providing some of the best banking products in the industry. Along with its competitive savings and loan interest rates, USAA also offers nine distinct credit cards, issued by Visa and American Express, that have added perks designed specifically to meet the financial needs of military members.
The standout among these offerings is the USAA Preferred Cash Rewards Visa Signature® Card. With a flat, unlimited 1.5% cash back rewards rate — which has no categories to track or activate — and a low regular APR, the card is one of the top cash back rewards cards of 2018.
"This is one of our newer cards, though it's not totally new for us," said Russell Mackaron, General Manager of USAA Card Experiences. "We started testing this card out in 2014 and brought it to market in 2015."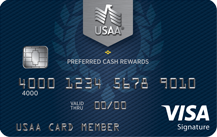 A unique aspect of the card is a lower interest rate for deployed military members. These cardholders pay only 4.00% APR on all balances for up to 12 months during deployments or permanent change of station (PCS). The rate continues on that existing balance until one year after the completion of active duty.
"At USAA, our mission is serving the military community and the families of military members," Mackaron said. "To do that, we offer low rates across all of our cards."
The card also comes with other cost-saving perks, including charging no annual fee or foreign transaction fees, the latter of which can be a big deal when serving overseas. USAA doesn't inflict a penalty APR for late payments, which can be a boon if members miss a payment.
Delivering the Quality & Value Members Expect
Like most rewards credit cards, the interest rate on the Preferred Cash Rewards Visa Signature® Card is a little higher than some of USAA's non-rewards offerings. But Mackaron said the rate is still competitive with rates of similar cards on the market.
"The interest rate on this card is higher because of the richer rewards that it comes with," he said. "But when you look at the rest of the industry, the interest rate is a lot lower than what we see on other cards out there."
Mackaron said USAA's goal is to provide more rewards, lower interest, and give its members the value they're looking for when they sign up for an account. The bank's card offerings are ample evidence of that drive, as all nine cards provide competitive value to cardholders.
"We want to make sure our members get that perceived value they expect to get when they join us — whether that's rewards or interest," he said. "We're big on making sure we have competitive interest rates. We've recognized that a lot of people still care about interest rates even though many people haven't been as concerned about them over the last few years during the surge of rewards cards flooding the market."
That value also comes with a level of transparency that allows members to know exactly what they're getting before they sign up for it.
"We want to put our customers in the right card, which I think is a different approach to what others are doing," Mackaron said. "Our feeling is, if we explain to our members the value they'll get and be totally honest with them, we'll build that trust and have a long-term relationship with them."
Those explanations can come from USAA representatives or via the institution's website, which hosts a variety of informational articles and tools, including easy-to-use, interactive quizzes that help members decide which card (or banking product) is right for them.
"We have a product recommendation tool on our website that is very unique in that we actually tell members exactly what value we're going to deliver to them," Mackaron said. "We'll tell them — based on their spending behavior and payment history — how much value they'll get on a card when they factor in the rewards they'd earn and the interest they'd pay."
Redeem Your Cash Back for More than Just Cash
Although the USAA Preferred Cash Rewards Visa Signature® Card is one of 2018's top cash back credit cards, cardholders aren't restricted to just cash back as a reward. USAA offers an array of redemption options that Mackaron said "makes sure the perceived value to members is real and tangible, and they can use that value in any way they want to use it."
"The amount of rewards you earn doesn't change depending on what you're buying," he said. "We tell members exactly how much their cash back is worth and even give them other options for redeeming it if they want to. You can redeem your cash back for gift cards, merchandise, travel, or other options, depending on what you're looking for."
That redemption flexibility is what makes the Preferred Cash Rewards card a popular choice among the 8 million current and former military members and their families who depend on USAA for their banking needs.
Completely Manage Your Card through the Mobile App
Many of the millions of former and active members of our military depend on USAA to help them manage their unique financial needs — needs that the bank works hard to meet with products and services that offer quality and value.
And that drive extends to more than just their financial products.
For example, although USAA's home base is in San Antonio, Texas, its members reside all over the globe, and are often called upon to relocate at a moment's notice.
To accommodate members wherever they are, the bank constructed a best-in-class mobile application that allows members to conduct all of their banking transactions from their mobile devices from anywhere in the world.
"USAA is primarily a digital bank," Mackaron said. "We see a majority of our members accessing their cards and accounts through mobile, and those numbers are only growing. That said, we have to make sure we have a mobile experience that is industry-leading."
While USAA continues to offer an advanced desktop interface for customers who prefer a non-mobile banking experience, the bank has pushed the limits of app technology to be certain its mobile-only customers aren't left behind.
"We continue to focus on customer service and making sure there isn't a disparity between our mobile experience and our desktop experience," Mackaron said. "A majority of the features that we have on the desktop interface are also available on our mobile app."
Advertiser Disclosure
CardRates.com is a free online resource that offers valuable content and comparison services to users. To keep this resource 100% free, we receive compensation for referrals for many of the offers listed on the site. Along with key review factors, this compensation may impact how and where products appear across CardRates.com (including, for example, the order in which they appear). CardRates.com does not include the entire universe of available offers. Editorial opinions expressed on the site are strictly our own and are not provided, endorsed, or approved by advertisers.