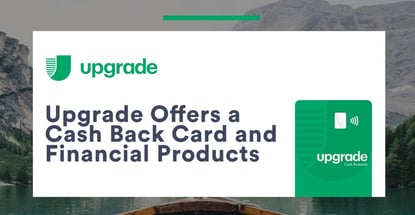 In a Nutshell: Many fintech banks that are vying for market share chase success by appealing to niche consumers. However, Upgrade aims to attract mainstream consumers with a wide range of beneficial financial products. It offers personal loans with low fixed rates, a cash back credit card with an innovative payment structure, and a fee-free checking product that pays 2% rewards on everyday expenses. Upgrade's ultimate goal is to provide products that help lower costs and solve financial challenges in ways that work better for consumers.
While many fintech companies focus their products on niche markets, one American company has decided that serving mainstream consumers can lead to more inclusion. That company, Upgrade, has seen widespread adoption and its customer base has more than doubled over the past year.
Upgrade CEO Renaud Laplanche attributes the company's success to its understanding that reinventing the wheel isn't the best way to convince bank customers to switch their accounts. Instead, Upgrade meets customers where they are and presents them with an approach and product line that not only look familiar — but that simply work better.
"From the outset, our idea was to create a neobank for mainstream consumers," Laplanche said. "We think we can offer a better experience and a better value than what they're getting from their traditional bank."
Upgrade has also charted its own innovative course on the way to success. Improving on the products and services of traditional providers has meant rethinking financial services every step of the way.
"We thought, 'Let's start with the credit side of things,'" Laplanche said. "That's different from what a lot of U.S. neobanks have done. They typically start with a bank account and debit card."
Upgrade's approach makes more sense because credit products account for about 70% of the average bank's revenue, and credit is often the primary reason consumers seek a banking relationship.
"It's a slightly different path, but it's something that's been done elsewhere very successfully," Laplanche said. "We've always wanted to offer attractive products for everyday people."
Flexible Loan Products Help Consumers Meet Goals
Price and flexibility distinguish Upgrade's personal loan products from those of many other providers. It offers a fixed interest rate far lower than the average rate offered by traditional card platforms. Upgrade's personal loan also uses an amortized repayment structure that works to the benefit of the consumer, not the company.
In other words, the repayment amount never changes until the borrower pays off the loan.
"It's a product that our customers typically use for refinancing existing credit card balances at a lower rate and with a more responsible payment schedule," Laplanche said. "It's been very successful — we've done more than $4 billion in loans so far."
Upgrade is able to charge lower costs and fees associated with the product by reducing operational expenses and the cost of capital.
As a pure fintech, Upgrade requires less overhead because there's no branch network to maintain. Instead, the company relies on automation and a modern technology stack that operates more efficiently.
"All that is really helpful to drive down costs for consumers," Laplanche said.
Watch on
Upgrade also partners with not-for-profit, tax-exempt credit unions to fund its balances and help reduce costs.
"There's a lot of hard work to do with credit unions because most are small, and you need to build a broad network to get good coverage," Laplanche said. "We've spent the last four years doing that, and so now we can benefit from that lower cost of capital."
However, it's the amortized repayment schedule where Upgrade shines.  That is one of the most influential factors in consumers moving to the company.
"The biggest problem with credit cards is that the balance doesn't amortize down," Laplanche said. "A conventional credit card is basically designed to keep you in debt indefinitely."
Cards Mesh with Household Budgets and Earn Cash Back
The amortization strategy also applies to Upgrade's successor product, the affordable cash back Upgrade Card, introduced in 2020. It is designed to meet customers at the point of sale, and allows them to earn unlimited 1.5% cash back on all purchases once they are paid off.
"We saw an opportunity to move upstream and help our customers directly with more affordable and more responsible credit that they would never have to refinance," Laplanche said.
The card extends the low-cost ethos established by the original personal loan product with APRs that start at 6.9% and no prepayment fees. As with the personal loan product, however, what sets it apart is amortization.
The Upgrade Card turns each end-of-month balance into an installment loan that the customer elects to pay back over a specified period. Because it's amortized, the payment amount doesn't change over time and applies to the principal and the interest.
"Because you know what to expect, you can budget for it," Laplanche said. "It carries the sort of forced discipline of an installment loan, but it's embedded into a credit card."
That stands in stark contrast to the minimum monthly payment approach of a conventional card. Consumers who make only the minimum monthly payments can extend their credit card debt for years and end up paying far more than the credit they used.
Upgrade's monthly charges go into separate installments, which are then bundled for repayment.
"Essentially, it creates a series of staggered loans," Laplanche said. "You can click on your monthly payment, and you can see the months where it comes from — which part is the January span, which part is the February span, and so on."
Users can also adjust the payback period for each installment. For example, repaying $1,000 for a laptop may be doable over one year. However, the customer is free to stipulate a longer period to repay something like a $4,000 investment in new furniture. Amortization makes the Upgrade Card suitable for carrying those types of large installment paybacks.
Upgrade: Rewards and Tools for Real-Time Credit Health
Upgrade offers consumers the same convenience as traditional banking products, but with the efficiencies and cost-savings of a fintech. It recently expanded its impact by introducing a rewards checking and debit card product to handle everyday expenses. The product also allowed Upgrade to rethink the conventional approach to rewards to incentivize its customers to use it.
"Conventional card programs give the wrong incentives — credit cards often have higher rewards than debit cards because interchange rates are higher for credit card issuers, and they can afford it," Laplanche said.
Upgrade offers 2% cash back on its checking product, an even higher rate than the Upgrade Card's 1.5%.
"That's the way it should be," Laplanche said. "We try to organize our rewards program to shape behavior."
Now customers can use Upgrade's checking and debit card at the grocery store,  make major purchases with the amortized Upgrade Card, and eliminate existing debt through a personal loan.
Consumers can use tools from Upgrade's Credit Health service to learn how to maximize their credit and increase their scores. The Credit Health credit score simulator provides real-time insight into the impact of any financial decisions people might make in the future.
"In everything we do, we want to encourage our customers to do the right thing and to reward them for doing something that's fundamentally good for them," Laplanche said. "Not only do they get to a better place, but we build more customer and brand loyalty."
Advertiser Disclosure
CardRates.com is a free online resource that offers valuable content and comparison services to users. To keep this resource 100% free, we receive compensation for referrals for many of the offers listed on the site. Along with key review factors, this compensation may impact how and where products appear across CardRates.com (including, for example, the order in which they appear). CardRates.com does not include the entire universe of available offers. Editorial opinions expressed on the site are strictly our own and are not provided, endorsed, or approved by advertisers.