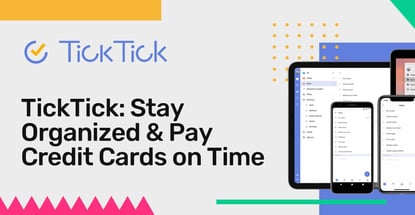 In a Nutshell: Nearly everyone in the U.S. is juggling multiple bills each month from internet services to credit cards. And, if you're like me, occasionally a bill slips past you, and you forget to pay it. TickTick helps to eliminate these occasional flubs and keeps the rest of your to-do items, appointments, and reminders in one convenient place. The app shines with its powerful calendar and scheduling features and generally helps people stay more organized and free to focus on other things. The company also values input from its users and makes it a priority to continually refine and improve the TickTick experience.
Between credit cards, utility bills, a mortgage, streaming services, and other monthly bills, it can be challenging to keep up with due dates and payment amounts. Sure, many companies offer automatic payment options, but personally, I prefer to make the payment myself to have a better understanding of where my funds are going each month.
The consequences of missing a payment can vary widely. A missed cellphone payment may result in a $5 late fee; no big deal. But a missed credit card payment can end up costing the cardholder access to special interest rates and eventually even impact credit scores.
That's why an app like TickTick can be extremely useful when it comes time to pay those bills.
TickTick is like the ultimate digital planner, with a number of valuable features that we'll dive into below. But first, a bit of background information on the company itself.
"The predecessor of TickTick is an app called GTasks," according to the company. "This was something that happened 10 years ago. As early as 2010, TickTick's founding team has been dedicated to the field of time."
GTasks is an Android app that syncs with Google Tasks. At the time, the app was listed as one of the best to-do list apps in the Google Play Store.
"In 2013, we officially launched TickTick. This new app derives from GTasks, but has a lot more functionalities and can sync across multiple platforms," according to the company.
A To-Do List and Powerful Scheduling App
A TickTick representative recently spoke with us about the value of the scheduling app and how it is so much more.
"The market need is the underlying power to push us forward," according to TickTick. "We aim to lucubrate in the realm of time, empowering everyone the ability and peacefulness to stay organized, stay creative."
The app is one of the first to-do list apps that creatively integrates features such as Calendar, Pomodoro Timer, Habit, and Markdown into one functional app, the company stated.
"The Calendar feature is among the ones that are most popular among TickTick users," according to the company. "It is common that we combine tasks, to-dos together with calendar events to arrange schedules. TickTick is more than a to-do list, but also a powerful scheduling app to help us take control of the calendar."
The company provided a rundown of some of the key functions of the Calendar.
"Five calendar views: List, Month, and three timeline views, i.e. day, 3 day, week," according to TickTick. "You can also zoom to adjust for a better view or adjust to hide a certain time slot, such as 12 a.m. to 4 a.m."
Calendar also uses natural language processing to add and edit schedules more efficiently.
"Third, Plan Your Day is a combination of calendar and the list of Today to quickly plan the day out," according to the company. "Fourth, arrange undated tasks: swipe to unfold the Arrange Tasks area. Quickly sort the undated ones by List, Tag, or Priority. Simply drag and drop the task onto the date in the calendar."
Finally, Calendar subscriptions allow users to display events from or add events to local calendars or other third-party calendars.
Never miss a credit card payment again.
The Importance of Staying Organized
"On the official website of TickTick, we wrote 'stay organized, stay creative,'" according to the company representative. "This is exactly the reason why we think it's important to stay organized. An organized plan can free our mind from remembering things, but leaving the space to let us focus on things that really matter."
The idea is that, by not having to spend mental energy on remembering due dates, appointments, and the like, our brains can ultimately be more productive.
"When things are getting done as planned, we can leave more time to explore things we're interested in and also to spend more time with our family and friends," according to the company. "The balance between work and life can in turn give us the energy to discover the beauty of things around us, and have a creative mind."
The company describes its app as an all-in-one task management tool with a focus on simplicity.
"The app is available for more than 10 platforms, including Android, iOS, Web, Mac, Windows, Apple Watch, Android watches, etc.," according to the company. "Time is at the heart of TickTick. And it is lightweight. The app's workflows are carefully designed and optimized."
For example, users can start by adding tasks and setting reminders. Later, they can use the Pomodoro timer to help them stay focused as they work on those same tasks, or they could punch in daily to develop a task into a habit, according to TickTick.
"TickTick puts you in full control letting you choose to show or hide each of these features in the Tab Bar so you always have exactly what you need, no more, no less," the company stated.
Another essential part of the app, according to the company, is TickTick's simple clean-cut design.
"From List to Subtask, each interface is clean and tidy. Unlike to-do apps that are littered with checkboxes, TickTick makes managing tasks a breeze that feels as natural as note-taking," the company stated.
All-in-one is not only about features, but also the seamless sync across multiple platforms, including mobile and desktop apps, Mac and Apple Watch. TickTick's R&D team develops each and every application to fit its many platforms.
"Getting things done on every platform you work on has never been so easy," according to TickTick.
Prioritizing the User Experience and Making TickTick Even More Efficient
"We value our users' experience, and continuously develop innovative features to make the app ever more stable and smooth," the company told us. "Users are at our heart, and the inexhaustible source of power to make TickTick grow."
The TickTick team collects feedback from tickets it receives through the app, as well as through support emails, the TickTick forum, app stores, and social media communities, according to the company.
"We hear feedback about current feature improvement and new features suggested by our users," the company stated.
And TickTick takes user suggestions and feedback to heart, making sure their ideas are given consideration and included in the company's development road map.
"In the future, we want to make TickTick smarter. We aim to offer intelligent suggestions to let our users use TickTick even more efficiently. For example, we want to be able to automatically generate available time slots for interviewees and have that shared with interviewers more conveniently." — TickTick
The folks behind TickTick also value its global audience.
"There will also be internationalization support to better serve our users spreading across the world," according to the company. "For example, We will enable quick add voice input with different languages. We're also working on adding more ready-made templates, such as meeting agenda, travel plan, fitness plan, etc."
Whether you're scheduling a meeting or you just need a little help remembering to pay that monthly credit card bill, TickTick offers a convenient, simple way to do both and much more.
Advertiser Disclosure
CardRates.com is a free online resource that offers valuable content and comparison services to users. To keep this resource 100% free, we receive compensation for referrals for many of the offers listed on the site. Along with key review factors, this compensation may impact how and where products appear across CardRates.com (including, for example, the order in which they appear). CardRates.com does not include the entire universe of available offers. Editorial opinions expressed on the site are strictly our own and are not provided, endorsed, or approved by advertisers.