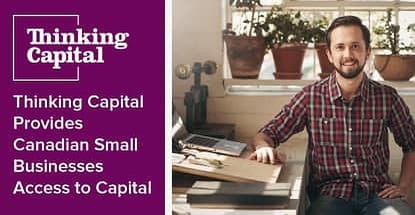 In a Nutshell: Small businesses face many threats to their survival, but none are as daunting as a lack of funding. While many Canadian small businesses have struggled to find affordable business loans, Thinking Capital has grown out its technology-driven lending platform that uses key operational data points — instead of the business owner's personal credit information — to determine creditworthiness. More than 14,000 SMBs have acquired funding through Thinking Capital since 2006 and taken advantage of the lender's flexible and fixed financing terms that include repayment plans with small daily installments. //
Borrowing money has become a way of life for most consumers. Loans are readily available to most people who want to buy a car, a home, or to finance an education. If there's something you want, there's likely a business somewhere that specializes in lending money to acquire it.
Yet, for some reason, small businesses still struggle to get the capital they need to stay afloat. Many lenders promote themselves as small-business friendly, but, in reality, only approve applications from larger companies with extensive history and financial backing.
The growth of technology in the lending space should make it easier for SMBs to find lenders. After all, the data these lenders often require to process an application is readily available through online bank statements and payment processing data. Still, SMB lending lacks the growth that is occurring in other financial sectors.
Thinking Capital sees that lack of expansion as an opportunity to add value to the operations of small businesses throughout Canada. The company has grown since its 2006 launch to become a top business lender in the country, with more than 14,000 small business owners using the easy online application process to acquire loans ranging from $5,000 to $300,000.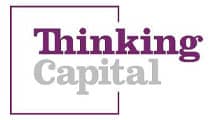 "Borrowing as a business has historically been a very difficult process where very few applicants are approved," said Jeff Mitelman, Co-Founder and CEO of Thinking Capital. "As such, business owners have had to bootstrap and use nontraditional means to get access to capital. That often leads to the maxing out of personal credit cards or taking out a home equity line of credit to support a business."
Thinking Capital's technology-driven lending practices look beyond the creditworthiness of the business owner to examine the sustainability and success of the business requesting a loan. The company's success came so quickly that it caught the attention of Purpose Financial, which acquired Thinking Capital in March 2018.
"Purpose Financial is a very successful asset manager under the large Canadian pension fund, OMERS," Mitelman said. "Through them, we have access to much more low-cost capital that allows us to continue to do what we're doing."
Under Purpose Financial, Thinking Capital will continue to look for new ways to leverage technology to help SMB owners access affordable capital to stay operational and stimulate growth.
"Our approach says there is enough digital information available to enable customers to borrow in the way that best suits their business, as opposed to how the lender wants to lend to them," Mitelman said.
Fixed and Flexible Financing Terms Available
Thinking Capital provides multiple repayment options for business owners. Fixed financing offers 6-, 9-, or 12-month terms with a set interest rate built into a fixed daily payment (for a total of either 124, 186, or 248 equal payments).
Flexible financing has no fixed time period for repayment and requires no collateral. Instead, Thinking Capital collects a small percentage of the business's daily credit and debit card sales as repayment.
Applicants must show at least six months of transaction history and an average of $7,000 a month in sales to qualify for a loan.
"It's really about the data footprint," Mitelman said. "We look at transactional sources — like bank accounts and payment processing — that give us a really good indication of how a business benchmarks against other businesses like it. It's not so much about having strict criteria, but rather about us having enough data to make a decision."
That decision is contrary to the stance often taken by banks and credit unions — institutions that typically scour every detail of the business owner's personal credit history to determine the business' creditworthiness.
"We want to change the lens on what creditworthy means," Mitelman said. "Technology now allows us to look at how the business is doing and not just how the business owner is doing. That's an important distinction because there's a reason why the local pizza shop has lasted through three generations and for 50 years."
An Intentionally Fast and Easy Application Process
Thinking Capital designed its application process to be fast and intuitive for business owners. Many applicants appreciate the online experience because it allows them to apply during their free time — which Mitelman said is most often during the middle of the night.
"We make the process intentionally simple," he said. "Business owners have everything they need to apply as long as they're in front of their computer. They need the ability to provide digital consent to access key data. When most people think about borrowing money, they think about bringing a whole bunch of papers into a bank branch for an appointment with a loan officer. We do away with that."
Mitelman pointed out that, while many small businesses meet Thinking Capital's lending criteria, some companies that lack a data footprint do not.
"We couldn't help someone like a heavy equipment vendor that sells one very expensive truck every month because there wouldn't be enough transactions to qualify," he said. "On the other extreme, we'd be tremendously helpful to a grocery store that transacts many times a day."
Translating the Language of Credit
When Thinking Capital approves a business owner for a loan, that owner not only receives the capital vital to everyday business operations, they also receive an education in building and maintaining credit.
Thinking Capital works with individual applicants to help them understand their credit score, the amount of borrowing it can yield, and how much the loan they qualify for will cost. The company also provides information on ways to improve a credit score or, if it's already strong, how to keep it at its current level.
"The evolution of our business is something we call the Language of Credit," Mitelman said. "The way we add value to the market, beyond making funding available to small businesses, is by creating an education around what their credit score really looks like and what being creditworthy means."
Since 2006, more than 14,000 small business owners throughout Canada have turned to Thinking Capital to fill the funding gap created by many banks and credit unions. The company's goal is to make small business loan funding as readily available and commonplace as loans for homes, cars, and education expenses.
Advertiser Disclosure
CardRates.com is a free online resource that offers valuable content and comparison services to users. To keep this resource 100% free, we receive compensation for referrals for many of the offers listed on the site. Along with key review factors, this compensation may impact how and where products appear across CardRates.com (including, for example, the order in which they appear). CardRates.com does not include the entire universe of available offers. Editorial opinions expressed on the site are strictly our own and are not provided, endorsed, or approved by advertisers.