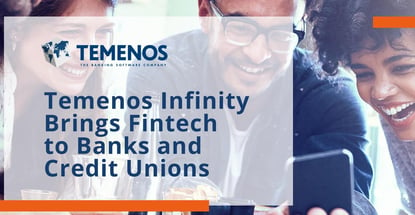 In a Nutshell: The Temenos Infinity platform provides out-of-the-box digital banking solutions for financial institutions looking to innovate quickly. Infinity offers a wide range of features to meet common online banking needs, and it provides the flexibility to modify them to the needs of each institution. Its built-in Explainable AI (XAI) helps drive user engagement, helping institutions improve their market performance and provide even greater value to customers and members.
The financial services industry has seen a digital revolution over the last two decades. Banking was once an exclusively in-branch activity, but banks and credit unions have expanded to allow members to monitor their accounts, apply for loans, and access other products through digital platforms.
Those tools are also vital for institutions that want to attract millennial and Gen Z customers who have grown up with mobile devices.

If digital banking was a convenience in the early 21st century, it became a necessity in 2020 as the COVID-19 pandemic forced businesses to limit access — if not suspend in-person transactions entirely. And when institutions needed to transform their operations quickly, many turned to Temenos Infinity to launch digital services.
"We are the world's No. 1 banking software company. That's all we do," said Luis Landivar, Vice President, Temenos Infinity Business Solutions Group — Americas. "We have more than 3,000 customers in more than 150 countries, and about 1.3 billion people rely on our technology for their day-to-day banking services."
The Temenos Infinity platform enables institutions to quickly deploy digital banking services that provide value to customers or members. Infinity's flexible and feature-rich solutions include a cutting-edge AI that allows banks and credit unions to forge more meaningful relationships with their clients. That benefits customers, members, and the institutions themselves.
"Based on the benchmarks we run with our clients pre- and post-implementation of our software, the best performing financial institutions and those with the best cost-to-income ratios tend to be the ones that use our software," Landivar said.
Giving Institutions the Flexibility to Meet Customer Needs
When consumers engage with online banking platforms, they expect an easy and convenient experience. But putting that infrastructure in place is anything but simple — and it can also be costly.
Prominent national and multinational banks have the capital to develop and implement online banking platforms. But smaller institutions, including local banks and credit unions, often lack those resources.
"It became very difficult for smaller financial institutions, like credit unions and regional banks, to provide the same type of experiences that tier-one institutions and some fintechs offered," Landivar said.
Many small institutions turned to prepackaged, white-label solutions. However, not all of those products met the institutions' needs or those of their customers or members.
Watch on
That's why the Temenos Infinity platform emphasizes versatility as the foundation of a pre-packaged offering. As a result, it creates more value and convenience for institutions and their customers by meeting their specific needs.
"We're providing great experiences," Landivar said. "We're not talking about something flashy necessarily; we're talking about the ability to open an account at home in five minutes. I can validate my ID, open a checking or savings account, and make a transfer into that account without having to mail a check or visit a branch."
But Infinity's flexibility doesn't only offer convenience. It also allows institutions to grow and change to keep pace with consumer expectations.
"They come to us for a flexible differentiated experience that combines technology with a human touch and gives them control over where they want to take that strategy," Landivar said.
Control the User Experience With 150 Features
Infinity comes with 150+ different features ready to use. But banks and credit unions aren't bound to those features. They can implement them as is, re-configure them, or extend them to fit customer needs.
"For example, if they wanted to use a particular loyalty reward system, our banking platform includes the technology they need to integrate with that third party. They can even customize a user interface to bring it all together as a seamless user experience," Landivar said. "They have absolute control over their experience and future capabilities."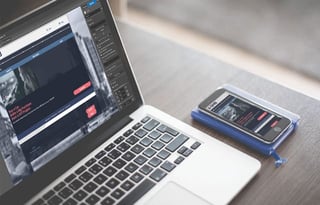 Another example from recent years that Landivar cited is Touch ID, which leverages biometrics, including fingerprint scans or facial recognition, for identity verification. Biometrics are difficult to replicate, so they represent a strong way to protect financial security.
However, not every digital banking solution can accommodate those advances in technology in a fast manner. Many consumers still manually enter their usernames and passwords or are force to go through two-factor authentication every time to access their accounts. But that's not the case with Infinity.
"People are expecting these things," Landivar said. "Thanks to the underlying platform, that feature is automatically available to our customers to incorporate into their solution on day one." Another more recent example is Payment APIs and the ability to add cards to their mobile wallet, be it Apple Pay, Google Pay or Samsung Pay.
Intuitive AI Facilitates Consumer Engagement
Providing innovative financial products and features to consumers is only half the battle. The other half is motivating consumers to acquire and use them. Infinity uses advanced analytics software called Explainable AI to accomplish that goal.
"We've brought together things like analytics, AI, and what we call Real Time Engagement, into the digital banking experience to help our clients deepen the relationship with their customers," Landivar said.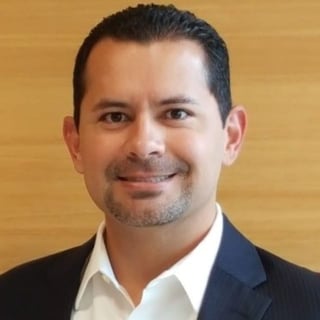 Banks and credit unions can learn a lot about their customers and members from the financial relationship established through their digital channels. But that information is not always accessible or – when accessible – is not always used innovatively beyond traditional reporting, so institutions are not fully leveraging their potential.
Temenos Explainable AI (XAI) powers Temenos Infinity's Real Time Engagement capabilities and uses that information to identify behaviors and trends based on both, complex and basic attributes that offer a transparent view into the AI's decisioning and recommendations.
Hundreds of attributes, including how many accounts a customer has, their account balances, transaction history, and many others including demographics and behaviors based on "other customers like them", work together toward a purpose such as reducing customer attrition, or increasing cross-selling effectiveness by offering a "next best product" tailored for a particular customer segment, or to offer products that will help customers address a (potential) insolvency or conversely, a funds surplus.
"Other practical use case include, for example, customers having high credit card balances, and they also have a savings account that has more than they would need based on their transaction history, income, and their monthly bills," Landivar said. "XAI can suggest paying down the card balance, opening a new credit card with 0% interest rate, or making a balance transfer on that credit card. Those are the types of offers that are meaningful to the customers, and that's what our real-time engagement is all about."
Temenos: Innovating to Support Banks and Credit Unions
Temenos engages closely with its clients to continue developing the best possible features for Infinity. It collects that feedback through forums, conferences, business review meetings, and focus groups.
"When we build our products and solutions, we're not the only ones making decisions for our product," Landivar said. "We are the product experts. We understand banking, but that's thanks to our interactions with our customers."
Feedback gathered through the solutions and other specialized reporting, such as very detailed new account opening conversion reports, enables Temenos' customers to ensure their investments in our solutions are helping them meet or exceed their goals. If it doesn't, the team can identify obstructions to banking customer adoption, whether it's in the online applications, mobile apps, account opening and origination, or other areas.
"We are accountable for ensuring our products enable our clients to execute on their strategy," Landivar said. "If a journey needs adjusting, we can help them quickly understand where changes need to be made, to continue improving."
Landivar said financial institutions using legacy core banking software can take up to five months to launch a new banking product. But with Infinity and Temenos Transact (Temenos' Core Banking product), that same financial product can be launched in under a month. That faster time to market can provide a competitive edge in a highly competitive market.
"It's really not about us," Landivar said. "It's about our customers — the banks and credit unions we serve. We want them to provide their members or customers with the best experience."
Advertiser Disclosure
CardRates.com is a free online resource that offers valuable content and comparison services to users. To keep this resource 100% free, we receive compensation for referrals for many of the offers listed on the site. Along with key review factors, this compensation may impact how and where products appear across CardRates.com (including, for example, the order in which they appear). CardRates.com does not include the entire universe of available offers. Editorial opinions expressed on the site are strictly our own and are not provided, endorsed, or approved by advertisers.