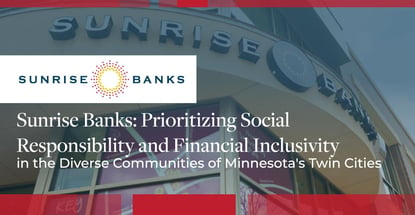 In a Nutshell: Sunrise Banks CEO David Reiling believes that banking and community success go hand in hand. Since 1986, Sunrise has served Minnesota's Twin Cities while donating corporate resources, building community partnerships, and providing financial education and inclusion programs. Through its social impact affiliations, including membership in the Global Alliance for Banking on Values and B Corp certification, Sunrise prioritizes social responsibility and sustainability. For that dedication to its Minnesota service areas, Sunrise Banks earns our Editor's Choice™ Award for Community Commitment.
The immigrant experience is central to the pride of modern Minnesota. In recent decades the state has welcomed hundreds of thousands of people from Latin American countries, the Middle East, Africa, and Asia — including the Hmong people of China, Vietnam, and Laos.
These newer Minnesotans add to the eclectic mix of Germans, Scandanavians, Italians, and Poles who also populate the region. And t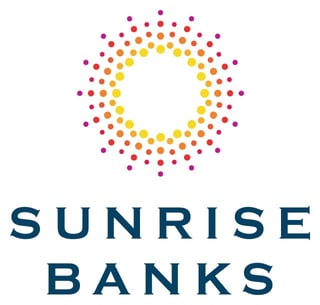 hat diversity adds to Minnesota's growing reputation for prosperity, education, and overall quality of life.
But as Minnesota grows more diverse, community challenges can become more complex. That's where established institutions like Sunrise Banks step in to help. Sunrise is a federally chartered community bank founded in 1986 by current CEO David Reiling and his father, William Reiling. Today, it manages more than $1 billion in assets and operates six branches in the Twin Cities of Minneapolis-St. Paul. But the bank's mission extends beyond providing financial services.
"Our CEO describes us as a social enterprise that just happens to be a bank," said Amanda Swoverland, Chief Risk Officer at Sunrise. "Our journey has been focused on serving the communities within our urban core and in developing products and services that help broaden trust in us as a financial institution."
Through programs for corporate giving, financial education, technology partnerships, and social impact affiliations, Sunrise has structured itself with a singular goal in mind.
"The well-being of our community drives everything," Swoverland said.
For that dedication, Sunrise Banks earns our Editor's Choice™ Award for Community Commitment.
Programs and Partnerships Extend the Welcoming Tradition of the Twin Cities
Sunrise demonstrates its commitment to social impact with a multitiered approach to community involvement.
As an institution, the bank donates a minimum of 2% of its annual net income, which translates to needed support for hundreds of nonprofit charitable organizations. That includes those dedicated to assisting the homeless, strengthening educational and cultural institutions, revitalizing local infrastructure, and positively impacting the environment. And the institution prioritizes funding for affordable housing and shelters, narrowing the achievement gap, and increasing diversity and inclusion.
In partnership with Lutheran Social Service of Minnesota, for example, Sunrise encourages inclusiveness through a program called Financial Choice.
"Through the Financial Choice program, we offer free financial counseling and budgeting tools and financial education to bank customers and employees," Swoverland said.
At the operational level, Sunrise is dedicated to making homeownership more inclusive. That includes supporting immigrants in their quest to secure a house.
"We're one of the few community banks that offer mortgages to people with an individual tax identification number rather than a Social Security number," Swoverland said.
Sunrise also encourages volunteerism at an individual level. Through North4Good, Sunrise connects individuals across the Twin Cities with volunteer opportunities that have global not just local outreach. North4Good partners include the American Red Cross, a furniture bank called Bridging that serves the Twin Cities, Fraser, an autism services provider, and the family-focused shelter People Serving People.
Another North4Good partner is the Minneapolis-St. Paul food bank Second Harvest Heartland — which is also a focus of volunteer activity for Sunrise associates. And each Sunrise employee receives 40 paid hours of paid time per year to spend on helping the community.
"It is open to whatever the employee wants to do," Swoverland said. "Second Harvest Heartland is one where we've spent a lot of time."
Technology Makes Financial Services More Accessible
David Reiling's concept for Sunrise helping others extends beyond direct community involvement. As the author of the book Fintech4Good, Reiling advocates for the power of technology to link the fiduciary responsibilities of financial institutions with larger goals of achieving broader financial wellness and equality.
As a technology-focused financial provider, Sunrise manifests those responsibilities through fintech partnerships that extend the reach and impact of its services.
One such partnership is with Self, a technology company that works with banks like Sunrise to help thousands of people looking to build credit or rebound from financial setbacks. The Self platform offers quick approval on credit-builder loans that link to certificates of deposit held by its partners.
"They get a loan, but that loan funds a certificate of deposit," Swoverland said. "They make payments — let's say over a year — and at the end, the money in the CD plus the interest they've earned is transferred into a savings account. Not only do they now have a savings account, but they've also built a trade line that gets reported to the credit bureaus."
Meanwhile, another Sunrise partnership — with TrueConnect — provides small, short-term loans through employers.
"Employees can get loans from anywhere from $1,000 to $3,000 — they can go in and apply for the loan in a matter of minutes," Swoverland said. "And, because we integrate through the employer, we don't pull credit scores on the employee. It opens up availability and provides a longer period to repay the loan."
In times of emergency, that liquidity can go a long way.
"It helps combat the payday lending epidemic when people have those needs," Swoverland said.
Sunrise Banks: Focused on People, Planet, and Prosperity
Sunrise is committed to community involvement and technology partnerships, but the institution goes a step further. It operates in accordance with guidelines from social impact affiliates and demonstrates its accountability.
The bank is a Certified B Corporation, which means it has completed a rigorous process for proving responsible corporate governance and environmental stewardship while also holding itself accountable. B Corp certification demonstrates that a portion of Sunrise profits positively impact employees, communities, and the environment.
Sunrise is also a Certified Community Development Financial Institution (CDFI). As the only CDFI-certified bank in Minnesota, Sunrise connects to a U.S. Department of the Treasury fund to expand access to investment capital and financial services to underserved people and communities.
Support from the CDFI fund makes New Markets Tax Credits available through Sunrise. That helps boost private investment in needed community projects, incentivize development, and economic growth.
Sunrise is also a member of the Global Alliance for Banking on Values (GABV), an independent network of financial institutions committed to improving transparency in banking. David Reiling himself is a leader in GABV, serving as a Board Director and head of the organization's North American chapter.
For Swoverland, Sunrise's GABV connection highlights the bank's role as a "social engine for good" because it demonstrates the mutual interdependence of what she calls the "triple bottom line" — people, planet, and prosperity.
"I think it's incredibly rare within the global financial spectrum for banks to take our approach," she said.
And, as Minnesota continues to evolve and welcome new people, Sunrise's mission will continue to inspire its actions.
"As our CEO has said, it shouldn't be just about the financial bottom line for the shareholders," Swoverland said. "Instead, we have to think about the communities we're serving."
Advertiser Disclosure
CardRates.com is a free online resource that offers valuable content and comparison services to users. To keep this resource 100% free, we receive compensation for referrals for many of the offers listed on the site. Along with key review factors, this compensation may impact how and where products appear across CardRates.com (including, for example, the order in which they appear). CardRates.com does not include the entire universe of available offers. Editorial opinions expressed on the site are strictly our own and are not provided, endorsed, or approved by advertisers.