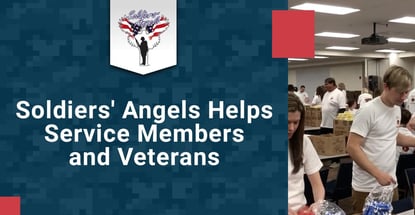 In a Nutshell: When Patti Patton-Bader began sending care packages to her son deployed in Iraq, she learned he was giving most of the supplies away to service members who weren't so lucky. That sparked her idea for Soldiers' Angels, a care package charity that has grown into a massive support network for military members. Active duty service members, veterans, and families can register on the Soldiers' Angels site and connect with volunteers and services in the U.S. and abroad. And card rewards donations can help Soldiers' Angels extend its essential mission of care.
Patti Patton-Bader comes from a unique military family. She's the great-great grandniece of Gen. George S. Patton, revered for his command of U.S. Army forces in World War II. Patton-Bader's father, Lt. Col. David Patton, served in Korea and Vietnam.
So when her son, Staff Sgt. Brandon Varn, was deployed in Iraq in 2003, Patton-Bader drew on an old family tradition and started sending him care packages from home.
What she learned from that experience led her to create Soldiers' Angels, a nonprofit with a mission to provide aid, comfort, and resources to all military service members, veterans, and families.
From her father, Patton-Bader learned the ins and outs of packing as many supplies and goodies as possible into shoeboxes that she mailed to her son every day. But because communication was spotty, she didn't know whether her son was receiving them.
When she finally contacted her son in Iraq, she learned he was one of the few soldiers in his platoon who received care packages from home. Most spouses and families didn't have the awareness and knowledge they needed to successfully send packages — and the military chain of communication didn't help.
And, as it turned out, her son was sharing most of what she sent with his fellow platoon members. That illustrated a clear need that Patton-Bader designed Soldiers' Angels to fill.
"She decided at that moment to turn this into her life's work," said Michelle Julazadeh Chavarin, Director of Marketing and Communications at Soldiers' Angels. "We started as a care package and letter writing organization with a focus on deployments, and, since 2003, we have blossomed into multiple facets of support."
Supporting All Active Military, Veterans, and Families
Soldiers' Angels dispensed assistance to almost 770,000 service members, veterans, and family members in 2020 alone. Since 2003, the organization has distributed more than $205 million in aid, and Soldiers' Angels provides multiple ways to donate and volunteer.
Credit card rewards enthusiasts can also choose to help by cashing in their rewards points and donating the money to the organization.
At first, Patton-Bader rallied friends, church members, and community members to collect and send items to individual service members. Word spread, and as more soldiers, combat hospitals, and families expressed needs, her platform for matching soldiers with providers quickly grew.
In 2004, Soldiers' Angels reorganized as a 501(c)(3) nonprofit, and by 2008, as Iraq deployments began to draw down, it began expanding its focus.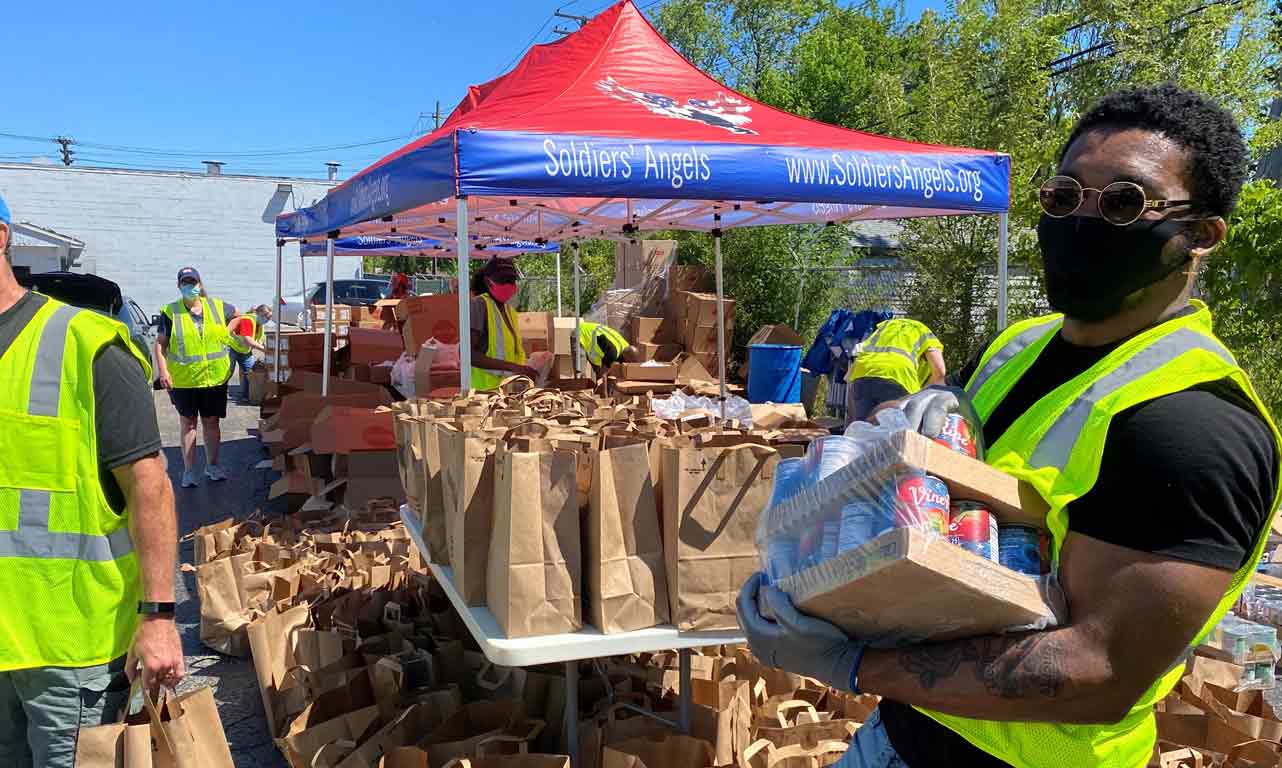 "We made a very conscious decision to assist veterans of all eras, not just the post-9/11 generation," Julazadeh Chavarin said.
Support now falls into four main categories supported by individual and corporate donations, including card rewards, organized into program teams.
The Deployed Support Program includes the original care package and letter writing mission and connects with women service members and special forces. Family Support assists families with members on deployment as well as those who have experienced military losses.
Wounded Support assists wounded, ill, and injured service members directly at Landstuhl Regional Medical Center in Germany and through the Valor-IT adaptive laptop program. The organization's Veteran Support program helps veterans in VA hospitals as well as homeless and low-income veterans.
"Thousands of Angel volunteers in all 50 states and more than 25 countries go out of their way to support the military community and do everything they can to make service members, veterans, and their families feel supported and cared for," Julazadeh Chavarin said.
Volunteers and Donations Power Network of Giving
In 2020, Soldiers' Angels provided food assistance for more than 40,000 veterans and donated over 250,000 items to veterans at VA facilities. It also provided nearly 6,500 adaptive laptops to wounded service members.
Deployed service members and others with connections to Soldiers' Angels initiatives can register to receive services.
Card rewards and other donations are crucial to powering the volunteer programs, and Soldiers' Angels has welcomed assistance from many corporate partners. Some companies offer gift matching, and Soldiers' Angels also participates in the Combined Federal Campaign connecting federal employees with verified charities.
Individual donations take many forms, with direct online giving the fastest, easiest, and most secure way to get involved.
But it's the volunteers who ultimately make it all happen, and opportunities abound for people anywhere in the world to contribute their time and effort.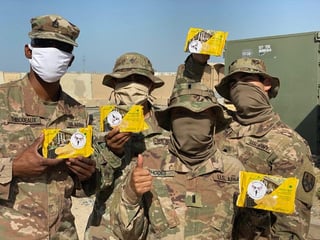 The Angel Bakers Team contributes one-time care packages of baked goods for deployed personnel, and the Chaplain Support Team sends out care packages to chaplains.
Patton-Bader's original adoption mission continues through the Deployed Adoptions Team, and the Ladies of Liberty Team contributes care packages for women soldiers.
The Letter Writing Team fosters connections, while the Special Operations Forces Team, a group of specially vetted volunteers, addresses the needs of individuals on remote and sensitive deployments.
The Adopt-a-Family Team is a holiday mainstay for families with members on deployment, and the Baby Brigade supports expectant spouses. Its Living Legends Team helps families that have lost loved ones, and the Women of Valor Team supports caregivers of post-9/11 wounded, ill, and injured service members and veterans.
"We always say volunteers are the heartbeat of Soldier's Angels," Julazadeh Chavarin said.
Soldiers' Angels: May No Soldier Go Unloved
Soldiers' Angels staff, volunteers, and donors perpetuate a special mission in everything they do, and it is evident in the organization's motto:
May no soldier go unloved,
May no soldier walk alone,
May no soldier be forgotten,
Until they all come home.
Wounded, ill, and injured service members receive an even higher level of support. Volunteers are on hand to address the needs of every soldier who comes in for treatment at the Landstuhl Regional Medical Center in Landstuhl, Germany. On a different scale, the gift of an adaptive laptop through the Valor-IT program can go a long way toward reconnecting a severely wounded or injured service member with loved ones.
Meanwhile, as U.S. military deployments continue to draw down, Soldiers' Angels emphasizes veteran support in the U.S. During and after COVID-19 shutdowns, for example, Soldiers' Angels sent even more food aid to hundreds of homeless and low-income veterans in six major cities.
"Low-income veterans were able to drive off with enough to get a family of four through two to three weeks of meals," Julazadeh Chavarin said.
VA hospital support provides blankets, hygiene kits, box lunches, and recreational items to veterans under care. And both deployed service members and veterans enjoy benefits from special volunteer campaigns.
Card donations can help keep the steady flow of support moving. Patti Patton-Bader has honored her family's legacy in building Soldiers' Angels into what it is today.
On the site, the Angel Blog is full of stories of the considerable impact Soldiers' Angels has on the lives of individuals — including one about a soldier undergoing a kidney transplant who received a computer tablet.
"We helped him stay connected while he was away from his family during his recovery," Julazadeh Chavarin said.
Advertiser Disclosure
CardRates.com is a free online resource that offers valuable content and comparison services to users. To keep this resource 100% free, we receive compensation for referrals for many of the offers listed on the site. Along with key review factors, this compensation may impact how and where products appear across CardRates.com (including, for example, the order in which they appear). CardRates.com does not include the entire universe of available offers. Editorial opinions expressed on the site are strictly our own and are not provided, endorsed, or approved by advertisers.