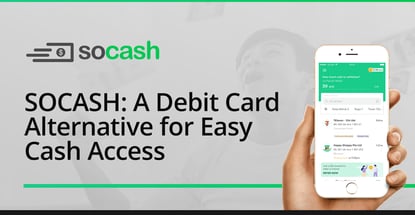 In a Nutshell: As many consumers gravitate to cards and contactless payment systems, cash remains king in many markets around the world. One problem for cash users is that they have to withdraw money at a bank branch or ATM. In several Asia-Pacific markets, consumers can use SOCASH to withdraw funds at merchant locations rather than ATMs. The service offers the convenience of a debit card with the benefits of cash. The businesses that partner with SOCASH also earn money instead of paying interchange fees.
Financial services corporations are focused on digital transformation. That's why cards and contactless payment systems have emerged as more secure and convenient payment methods.
However, in certain parts of the world, including many Asian countries, many consumers and businesses still prefer cash. That may include consumers visiting an out-of-the-way bank branch or an expensive out-of-network ATM to get it.
SOCASH has emerged as a bridge between those markets in Singapore, Indonesia, and Malaysia. Its cardless, contactless mobile app provides consumers the benefits of technology with the convenience of cash.

SOCASH partners with merchants and real-time payment (RTP) processors to transform retail store locations into banks. Consumers use an onscreen SOCASH barcode or QR code — not a debit card — to withdraw cash from their accounts at a merchant's register.
Despite data everywhere showing the rise of cards and contactless payments, the amount of cash in circulation is growing, not shrinking. According to SOCASH, anywhere between 60% and 85% of transactions in its markets are in cash.
In addition to the convenience for users, the SOCASH system works because it solves several problems for banks and merchants.
"Cash management, including setting up and replenishing ATMs, turns out to be expensive for banks," said SOCASH CEO Hari Sivan. "In the U.S., J.P. Morgan spends close to $1 billion a year running ATMs and moving cash around its branches. And a pizza shop, at the end of the day, will have excess cash it needs to deposit into a bank account."
The SOCASH model reduces friction by paying the merchant to dispense cash to consumers — and save everyone money.
A Digital ATM that Works Everywhere Cash is Accepted
Sivan and the rest of the SOCASH founding team members have extensive fintech backgrounds and are committed to digital transformation. Singapore, where SOCASH launched, presented a unique opportunity for the team to put its experience to work on a product designed to mesh with existing cash use patterns.
"Singapore has this unique advantage in that it is smaller than Chicago, and by the time we started in 2017, it already had real-time payments," Sivan said. "And it was perfect because 65% of the market was cash."
Those payment networks were the key. After obtaining seed funding from the Monetary Authority of Singapore, studies confirmed that trust issues would prevent a purely peer-to-peer solution from scaling. The system needed to include merchants to present users with secure public venues for cash exchange.
Watch on
"Rather than an Uber or Zelle model where all of us could become like walking ATMs, we borrowed the cash back model, but we removed the need for purchase," Sivan said.
Merchants that join the SOCASH network can act as digital ATMs.
"Let's say a pizza shop has $500 to deposit," he said. "If we can match five people who need $100 each, then almost a person-to-person transaction happens."
The arrangement establishes a winning scenario for all three parties. The merchant earns a small fee for participating in the service; the bank saves on ATM replenishment and costs associated with managing cash; and the consumer obtains more convenient access.
"In effect, we're monetizing the inefficiency of cash circulation," Sivan said.
Marketing and Processing Integrations Incentivize Bank and Business Use
SOCASH moved into neighboring Indonesia and Malaysia — much larger markets — after establishing itself in Singapore in 2018 and 2019. And the service's funding model changed in those new venues.
"In Singapore, it's a bank-funded model. The banks pay a fee to use the platform and process money," Sivan said. "But in our larger markets, Indonesia and Malaysia, it's the users who pay the fee because getting cash through us is significantly cheaper for them than using an ATM."
It works because the majority of customers in these markets lack access to significant amounts of credit. Merchants also expect them to present cash for transactions.
"We typically offer rates 30% to 40% cheaper than ATMs, depending on what the merchant charges," Sivan said.
SOCASH charges higher rates where competing merchant cashpoints, or cash machines, are few and far between and demand for the service is higher. But in areas where competition is strong, rates are lower.
"The marketplace manages the cost efficiently," Sivan said.
Meanwhile, merchants gain additional opportunities to drive business by offering customers rewards, cash back, and deals on top of their already lower ATM rates. When users start withdrawing cash on the app, it reveals relevant deals at nearby cashpoints.
A SOCASH-enabled pizza shop, for example, may run a discount to attract customers during off-peak hours. Users also gain access to promo codes, collect points for completing transactions at certain times, and earn rewards for referring friends to the service.
"We inhabit that space which sits between cash and digital," Sivan said. "We can build an entire ecosystem using the demand for cash."
A Platform for Encouraging Cash Use with Global Expansion Potential
The SOCASH business model sets the company up as an alternative to credit networks. SOCASH eliminates traditional usage distinctions between cash and credit wherever RTP networks exist. And with SOCASH removing the need for a debit card, the cost-benefit model changes.
"When we enter a new market, we work through the banking system to access these RTP networks, and that space is evolving," Sivan said.
SOCASH currently confines its expansion strategy to Asia. In Japan, for example, SOCASH integrates with the JCB card system, which claims more than 100 million users and enjoys worldwide acceptance — except for in the U.S.
"When Japanese people travel overseas, there's a huge language barrier, and because many merchants only accept cash on the cards, fraud is very high," Sivan said. "With our platform, people don't have to haggle with a money changer — they can use the JCB infrastructure and cash out."
SOCASH is in discussions with potential partners, including in South America, where cash use is prevalent. It is even in talks to enter the legacy-dominated U.S. market, where the Federal Reserve's FedNow service is scheduled to begin operations alongside the existing private-sector Clearing House RTP service by 2024.
"These banking partnerships are critically important because you need the right technology," Sivan said.
As RTP continues to evolve, SOCASH aims to provide solutions that enable consumers to circumvent credit networks without compromising convenience. Everywhere contactless debit card alternatives work like credit cards, from the consumer standpoint, SOCASH sees opportunity.
"In the credit industry, the issuer makes money, but in the RTP world, the acquirer makes more money," Sivan said. "So there's an incentive to digitize practically any business."
Advertiser Disclosure
CardRates.com is a free online resource that offers valuable content and comparison services to users. To keep this resource 100% free, we receive compensation for referrals for many of the offers listed on the site. Along with key review factors, this compensation may impact how and where products appear across CardRates.com (including, for example, the order in which they appear). CardRates.com does not include the entire universe of available offers. Editorial opinions expressed on the site are strictly our own and are not provided, endorsed, or approved by advertisers.