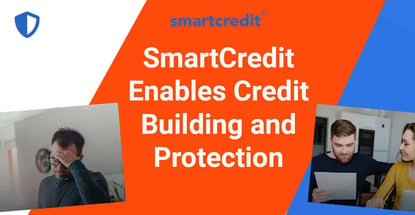 Our experts and industry insiders blog the latest news, studies and current events from inside the credit card industry. Our articles follow strict editorial guidelines.
In a Nutshell: As the threat of identity theft persists, it is more important than ever to monitor credit health and create added layers of protection. SmartCredit allows customers to both build credit and protect it through a number of features. The platform also lets customers save money and learn how to improve credit scores in one location using innovative tools that monitor all accounts.
In the current economic ecosystem, there are all kinds of ways our credit can get disrupted, whether it be through predatory lending practices or even outright identity theft. One thing's for sure: It's a jungle out there, and lines of credit are the most sought after prey.
Of course, that doesn't mean we need to fend for ourselves all alone. There are now many commercial institutions that offer tools to help people protect and build up their credit if some unfortunate events occur.

One of the most reliable and well-established credit platforms is SmartCredit. Starting in 2003, SmartCredit's parent company, ConsumerDirect, has helped countless people gain control of their credit and privacy. Before starting the company, ConsumerDirect's Founder and CEO, David B. Coulter, had learned that his credit report prevented him from buying his first home. That event prompted Coulter to develop a passion for helping people get the most out of their credit scores, and he formed ConsumerDirect as a result.
Steve Reger, ConsumerDirect's Executive Vice President of Sales & B2B Marketing, said that, while banks have most of the leverage, the company believes that power should go back to the consumer.
He said ConsumerDirect wants to help give people control over their credit and, in a sense, give them control over their destiny. "Their fate is not predetermined, but instead can be decided by how somebody tackles their credit," said Reger.
Offering Several Credit Subproducts
ConsumerDirect and its subsidiary platform, SmartCredit, have formed alliances with thousands of businesses and individual consumers to forge trusted credit monitoring relationships.
SmartCredit primarily operates as a b2b2c business, wherein businesses that integrate its technology promote SmartCredit as a tool. About 15% of the platform's business is organic and achieved through word of mouth. "That's one of the beauties of our business model. We don't have to invest much in marketing," said Reger.
After lenders send a borrower over to use SmartCredit, the platform then gives feedback to the lender confirming that the borrower is enrolled. As the borrower's credit score evolves, SmartCredit will continue providing insights and recommendations. Once borrowers hit a specified credit score, they are in a more favorable position for lenders to offer them loans.
To assist customers on their credit journey, SmartCredit provides a large suite of features. The platform's three main tools are ScoreTracker, ScoreBuilder®, and ScoreBoost™.
ScoreTracker enables consumers to track their score month to month, and it also records their credit score history as it changes over time, which can help consumers get a better understanding of their credit profile.
ScoreBuilder is focused on helping consumers tackle the negative items on their credit reports. ScoreBuilder identifies the negative items that are dragging down the consumer's credit score and then provides a 120-day plan to improve their standing.
ScoreBoost allows consumers to interact with the balances on their credit card by showing them the optimal time to pay their credit card bills and by how much to improve their credit score. As consumers pay down their debt and see their credit scores rise, they position themselves to apply for — and receive approval — for a credit card, auto loan, mortgage or other credit.
SmartCredit also makes use of what it refers to as action buttons. Reger described these action buttons as the platform's proprietary highway connecting consumers to data furnishers and allowing them to communicate electronically.
"So you tackle your negative by working directly with the furnishers and then when they correct their records of any adverse information, it then gets applied to the credit bureaus and then raises your score as well," said Reger.
SmartCredit also has several other features, such as Money Manager, privacy and fraud insurance, and a customizable alert function.
As part of its fraud insurance plan, SmartCredit provides up to $1 million of coverage for entire households. So those who live with a SmartCredit member can receive coverage too.
The platform's privacy feature is called PrivacyMaster®. Because many companies sell and have access to large amounts of personal information, it is very difficult to track down who is collecting your personal information. However, PrivacyMaster will find and instruct websites to remove a customer's online information, and then report the results back to the customer.
Membership Plans To Suit Different Needs
SmartCredit's two types of membership plans are the Basic and Premium versions.
The Premium plan is suitable for people looking to build their credit, while people who want to focus on protecting their credit may prefer the Basic plan.
On the build side, consumers get a three-bureau credit report each month and can then see their credit scores for all three bureaus, which can be updated each month.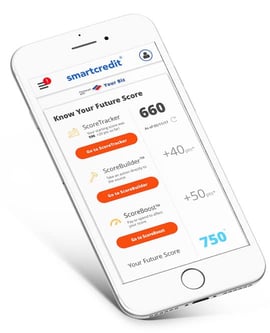 On the protection side, SmartCredit has a feature called Restore. It provides full identity theft restoration services that are similar in function to LifeLock identity theft protection. "You get that hand-holding white glove service if you've actually had an identity theft," said Reger.
SmartCredit has another protective membership feature called Scam Assist that is available in the event a member believes they may have been a victim of some sort of scam whether it be from a suspicious email, text, phone call, or other strange contacts.
"Before you click on that or respond to it, you can essentially reach out to our Scam Assist and then either talk through what happened or even send or upload the email or the message that you got into a quarantine secure server environment, and then we'll analyze it and tell you whether this is legit or not legit," said Reger.
Building A Foundation of Customer Trust
To best assist its customer base, ConsumerDirect works with advocacy groups that enable the company to communicate directly with consumers and business partners so ConsumerDirect can understand the most important issues people are concerned about.
Reger said consumers can call or email the company and share feedback at any time and that the customer service team is available seven days a week.
"It certainly drives our thinking," said Reger. "That's one of the reasons why we built our PrivacyMaster feature. We heard people are increasingly concerned about their privacy. We've heard about identity theft for decades. And it's still a problem and it's something that people should be concerned about."
Based on additional feedback, Reger said that it is important for people to understand why using a score builder can affect their savings in drastic ways. If it means getting a better loan for a car or a house, becoming a member of SmartCredit could potentially save thousands or even hundreds of thousands of dollars in the long run.
"It's not a guarantee, but based on our experience, and what we've seen from other people in similar scenarios, you can grow your credit score by 50, 60, 70 or 80 [points]," said Reger. "The average person who uses SmartCredit sees an increase of around 71 points over six months."
However, Reger said that he wouldn't want people to use SmartCredit for six months and then leave because there's still the aspect of protection that people need to consider. And he said it's just like forming any kind of good habits in life, like getting into shape. Maintaining good credit scores requires staying on top of credit payments and not overspending.
"That has to be a habit for life, if you want to be able to maintain that new weight," said Reger. "Same thing with your credit."