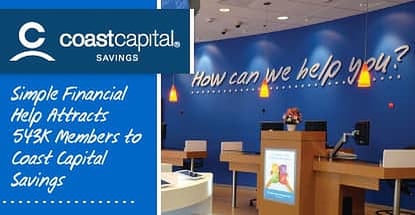 In a Nutshell: Coast Capital Savings is Canada's largest credit union by membership, currently serving 543,000 members in the Metro Vancouver, Fraser Valley, Vancouver Island, and Okanagan regions of British Columbia. The Imagine Canada Caring company donates 7% of its pre-tax earnings —totaling $5.6 million in 2017 — into the communities it serves. The credit union's line of five Visa credit cards meet the needs of a diverse membership base, offering low rates, no fees, rewards points, and cash back through its BONUSDOLLARS program. //
The best option for approaching many of life's biggest decisions is to keep your solution simple. Overthinking leads to overreacting — and that's where most problems start.
Consumers often think they have to take a complex approach to managing their finances. Faced with the frustration of difficult terms and strategies, many Canadians turn to financial advisors who sometimes value their commissions over customer returns.
Financial institutions — like banks and credit unions — across Canada are ramping up their efforts to provide products, advice, and education that is both timely and free from the complexities that cause frustration for customers.
Coast Capital Savings is Canada's largest credit union by total membership, serving 543,000 members in the Metro Vancouver, Fraser Valley, Vancouver Island, and Okanagan regions of British Columbia. For the last 77 years, the institution has attracted new members with simple financial help that delivers results.
Coast Capital is an Imagine Canada Caring Company, meaning it invests a minimum of 1% of its pre-tax profits back into the communities it serves. On average, the company's contributions extend to 7% of its pre-tax earnings — which in 2017 represented a total of $5.6 million donated to programs focused on empowering and engaging youth.
The company's 52 branches provide financial products and services designed to be both useful and simple to members — including Canada's first free checking account provided by a full-service financial institution.

Despite a member base that's larger than the entire population of the Province of Newfoundland and Labrador, the credit union has never strayed from the standard it was founded on in 1940 — keeping things simple.
"Our commitment to improving our members' financial well-being sets us apart from other financial institutions; we are member-centric and focused on genuinely helping the people we serve," said Don Coulter, Coast Capital's President and CEO in a 2017 press release.
Credit Card Options with No Fees, Low Rates, and Rewards
Coast Capital's array of savings and credit products are designed to meet the varying needs of its member base — from consumers looking to build a credit history to established cardholders who want rewards for their purchases.
Five Visa credit cards are offered through a partnership with Desjardins, the largest financial cooperative group in Canada.
No-Fee Elegance® Gold Card
This no-fee card offers a 19.9 annual interest rate and 0.5% of your purchase totals back in BONUSDOLLARS® rewards credits.
Cardholders have the options of paying a $30 per year fee to decrease the card's interest rate to 12.9%. An additional $30 each year can increase BONUSDOLLARS gains to 1%.
Low-Rate Modulo® Gold Card
Sporting a very low 10.9% annual interest rate, this card offers 3-day complimentary travel insurance and a 1% return on BONUSDOLLARS for a $50 annual fee.
Travel Odyssey® Gold Card
Designed for the avid traveler, the card increases travel insurance up to 60 days, with 1% back in BONUSDOLLARS for a $110 annual fee.
The card's 19.9% interest rate can be cut to 12.9% for an extra $30 each year.
Exclusive Rewards Platinum Card
This card represents the top tier of Coast Capital's credit offerings and provides cardholders with a 9.9% interest rate, 1% back in BONUSDOLLARS, and an additional 1% cash back on purchases up to $20,000 per year.
The card sports a $169 annual fee, which is manageable if you tend to carry a balance and need access to the low rate the card offers. Cards are issued by invitation only. Interested members should ask a credit union representative for more information.
No-Fee Student Card
This card is designed for young consumers who are looking to establish a positive credit history. The 19.9% interest rate can be lowered to 12.9% for a $30 fee each year.
The card also offers free coverage up to $1,000 in the event your cellphone, smartphone or tablet is lost, stolen, accidentally damaged, or experiences mechanical failure.
Where You're At Money Chat® Breaks Members' Goals into 4 Attainable Quadrants
Another way that Coast Capital works to simplify complicated money matters is through its Where You're At Money Chats.
Available only to Coast Capital members, a chat with one of the company's financial experts creates a snapshot of the member's overall personal or business financial standing with the goal of improving it.
The chats are designed to help members create a budget, make a plan for paying down debt, grow the money they have, or discover insurance options — also known as the four quadrants of Save, Grow, Manage, and Protect.
"Coast Capital is committed to helping empower our members to achieve what is important in their lives," said Erin McKinley, Communications and Media Relations Manager at Coast Capital. "To do that, we need to understand exactly what their goals and dreams are and what they need to do to achieve them."
Giving Youth New Opportunities to Lead, Learn, and Succeed
Coast Capital offers more than simple advice and competitive savings and credit products. A strong company culture supports the institution's desire to invest in — and help further — community causes.
Each year, the credit union invests 7% of its pre-tax earnings into the communities it serves, with a focus on helping youth. In 2017, that equaled $5.6 million in total investments.
"Coast Capital Savings has made a promise to help build a richer future for youth in the communities that we serve," Erin said.
The company's contributions helped to promote Pink Shirt Day, which supports youth bullying prevention programs. Coast Capital also hired 20 11- and 12-grade students as Youth Get It interns and donated $135,000 to Cops for Cancer to help youth living with different forms of cancer.
Working Toward Becoming the First British Columbia-Based Federal Credit Union
Coast Capital saw an opportunity when the Canadian government amended the Banking Act in 2012 to allow credit unions to be federally regulated pending approval of the Office of the Superintendent of Financial Institutions and the Federal Minister of Finance.
In 2016, nearly 80,000 members backed the decision for Coast Capital to become a federal credit union. Now, the company is in the final stages of preparation to expand across Canada. Approval will make the institution the first British Columbia-based Federal Credit Union.
Future plans also include expanding the company's already robust digital capabilities to foster growth beyond its provincial borders. All that adds up to a not-so-simple task for a company that prides itself on helping members make simple financial decisions.
For more than 77 years, Coast Capital Savings has helped the largest base of credit union members in Canada grow their savings and meet their individual goals with competitive savings, credit, and loan products. The company provides millions in funding each year to community causes that support the development of youth through a variety of platforms.
The member-owned institution was named a BC Top Employer in 2017 and is a member of Canada's Best Managed Companies Platinum Club. That type of corporate culture makes it easy for thousands of Canadians to turn to Coast Capital for their banking needs each year.
Advertiser Disclosure
CardRates.com is a free online resource that offers valuable content and comparison services to users. To keep this resource 100% free, we receive compensation for referrals for many of the offers listed on the site. Along with key review factors, this compensation may impact how and where products appear across CardRates.com (including, for example, the order in which they appear). CardRates.com does not include the entire universe of available offers. Editorial opinions expressed on the site are strictly our own and are not provided, endorsed, or approved by advertisers.