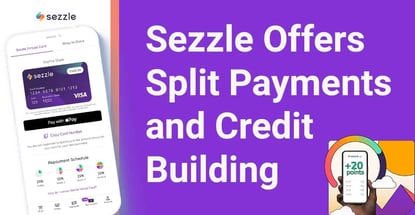 Our experts and industry insiders blog the latest news, studies and current events from inside the credit card industry. Our articles follow strict editorial guidelines.
In a Nutshell: Sezzle is a fintech company that offers Buy Now Pay Later (BNPL) and credit-building options. Its main offering is a split payment plan that enables consumers to pay for purchases in four interest-free installments over a six-week period. Sezzle Up is the fintech's credit-building feature that reports payment history to the major credit bureaus and offers rewards to consumers for making on-time payments. Sezzle also works in direct partnership with retailers to help expand marketing campaigns.
The current state of the Buy Now Pay Later (BNPL) market is looking strong, and growth is accelerating rapidly with both consumers and retailers. While there has been debate regarding late fees and the borrowing practices of some BNPL lenders, 2022 was a good year for the market, valued at over $6 billion globally.
Since its launch in 2017, Sezzle has become one of the top market leaders in the BNPL industry thanks to the fintech company's innovative features. But, unknown to most, Sezzle started its operations with a completely different product.

The company initially began as an ACH-lowering cost processing service for retailers. Partly inspired by Afterpay, a BNPL company that performed well in Australia, Sezzle's Co-Founders, Charlie Youakim and Paul Paradis, decided to restructure the product offerings and tap into the relatively bare US market.
"The investor base in Australia was very familiar with BNPL well before the US due to Afterpay and other BNPL companies in the ASX which is why we IPO'd in Australia," said Amin Sabzivand, Chief Operating Officer at Sezzle.
The Co-Founders saw an obvious lack of access to credit for young people and, along with investors in Australia, brought the BNPL space to the US. "There was an opportunity to offer a product to consumers that they were missing that had no interest and did not create a debt spiral," said Sabzivand.
Sabzivand said this lack of access to credit for young people was the foundation of Sezzle. There has been much development of credit regulations over the past 20 years within banking and financial institutions , and it created a wide market in which people needed a stepping stone to credit without the fear and the instability of debt.
Sezzle has two main features. The company offers a point-of-sale payment offering that enables consumers to pay for purchases in four interest-free installments over a six-week period.
The company also offers an opt-in credit-building program called Sezzle Up, which reports shoppers' payment history to the major credit bureaus and rewards consumers for making on-time payments.
While its features cater to anyone who requires credit-building or a payment installment plan, the company's typical end users tend to be millennials and Gen Z as they are more likely to be in college and need more assistance with payments and those who may be new to the need for better credit.
"Using our core Sezzle product is like credit with training wheels for consumers," said Sabzivand.
Sezzle is also a certified B Corp, which means that it is extra committed to being environmentally and socially conscious. The company achieves this in a number of ways, including by remaining fully carbon neutral and planting a tree for every new user who onboards with Sezzle.
While it can be challenging to determine the exact correlation and causation between traditional purchases versus BNPL purchases, Sezzle hopes that helping people put more thought into their purchases and using products more effectively, rather than wasting purchasing value, can also contribute to a greener society.
Building Credit with Sezzle Up
The company's credit-building feature, Sezzle Up, is appealing in a number of ways. The product is unique in that Sezzle is the only BNPL in the space to offer credit-building, and it is completely opt-in for the consumer.
It's a great way for consumers to keep track of their progress and see how their credit scores improve over time.
"If you think you're going to be able to make your payments on time and not have late payments, it can be a great option to get your payment history reported to the credit bureaus," said Sabzivand.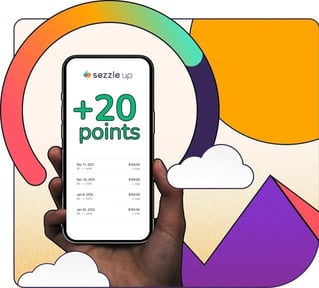 Sabzivand said that offering credit-building also helps serve as both an establishment of credit for some consumers and a form of financial education as well. Having this type of program gives people the chance to really assess themselves and determine whether they should opt in and commit to making the payments on time, which can positively impact their credit scores.
That way, it's not just about payments, but also creating an opportunity for upward mobility. Sabzivand said that Sezzle Up actually feeds into safeguarding consumers from predatory lending.
He said having that feature really helps Sezzle act as a guardrail for shoppers, rather than acting as a tool for irresponsible lending.
Offering Interest-Free Split Payments
Concern over predatory lending among many BNPLs has been a growing narrative within the media. Unlike some of its competitors, Sezzle stands out as a company that encourages safe lending practices.
Unfortunately, many lenders in the BNPL industry actually make a decent amount of their profit from late fees and other types of added charges.
That's a key differentiating factor for Sezzle because shoppers can split their purchases into four interest-free payments over a period of six weeks. With zero interest and zero fees for this service, customers can feel more assured that Sezzle is working for them.
When using a Sezzle payment offering, the first payment, typically 25% of the order total, is due at the time of purchase, and the remaining payments are due every two weeks afterward. Shoppers can use this payment system online through a growing number of retailers and eCommerce sites.
During checkout, consumers just select Sezzle as their payment method and provide some basic information for approval. There are no credit checks at that time, but, of course, shoppers can opt in to Sezzle Up if they want to build their credit scores.
The launch of the Sezzle virtual card was a major unlock for consumers to be able to leverage their flexible payment options at more retailers, like Target. Consumers can easily get a Sezzle virtual card through the Sezzle app and push it to Apple or Google pay to be used conveniently in store.
"Target is a valued merchant of ours," said Sabzivand. "So anyone that has a Sezzle virtual card on their mobile wallet can use it at Target anytime they shop [in-store] or online."
Shoppers can use their virtual card at a growing number of retailers while they expand their Premium program. In Sezzle Premium, consumers can use Sezzle at additional merchants, get exclusive deals and discounts, and unlock more payment flexibility.
Helping Retailers Improve Average Basket Size
Although Sezzle's payment and credit-building features are geared toward consumers, the company acts more as a B2B2C because it supports retailers in a number of ways.
Most notably, Sezzle can help drive sales by providing customers flexibility and convenience with their purchases. Being able to split purchases into four interest-free payments makes it easier for customers to make larger purchases upfront. That helps increase sales for retailers and attracts new customers who otherwise may not have been able to make a particular purchase.
Sezzle can also improve customer loyalty by offering an easy way to make purchases. There's less worry about upfront costs and customers who use Sezzle for their purchases are more likely to return to a retailer who offers Sezzle's "Pay in 4" as a payment option.
And, of course, using Sezzle can help retailers improve their cash flow by enabling them to receive payments upfront when customers make purchases. Sezzle pays the merchant in full and then collects the payments from the customers over a period of time.
That would be particularly beneficial to merchants who have limited cash flow because they can still receive payments for large purchases in advance without having to wait for customers to pay in full.

Sabzivand noted that another added benefit of partnering with Sezzle is that the company offers its own internal marketing agency. He said that the average order value (AOVs) and basket size increase with the use of Sezzle. Customers are able to split these payments, people tend to have higher order values and basket sizes.
"It's a symbiotic relationship," said Sabzivand. "We assist merchants with marketing to shoppers, provide shoppers more places to payment flexibility, resulting in more opportunities for shoppers and larger basket sizes for merchants. A win-win."
Since inception over 13 million consumers have signed up to use Sezzle. So Sezzle opens the door to those retailers and all the subscribers that join the service. Overall, Sezzle provides a number of benefits to retailers and can help them attract more customers while increasing sales and shopper satisfaction.