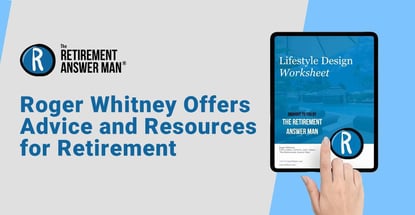 In a Nutshell: As the recent pandemic shows, life can turn on a dime — and that makes planning for retirement with any certainty a real challenge. So Roger Whitney, the Retirement Answer Man®, recommends building a plan that actually anticipates change while celebrating the life you're living today. He calls it Agile Retirement Management®, and it's just as much about introspection as it is about maxing out the numbers. Whitney's award-winning podcast, book, and free web resources help people at all stages in the journey to retirement.
You would expect someone known as the Retirement Answer Man to have all the answers about retirement, and Roger Whitney certainly does. Only they might not be the answers you expect.
As a Certified Financial Planner for more than 25 years, Whitney has seen too many clients mesmerize themselves with numbers and goals without any real sense of why they were doing what they were doing and what they were sacrificing in the process.

Whitney counsels his audience to prepare for a life of change while enjoying every step of the journey. His tools are his popular and award-winning podcast "The Retirement Answer Man Show," his book entitled "Rock Retirement," and the free resources on his jam-packed website.
"I call myself a classically trained financial planner — I got certified in financial planning and then started to teach it," Whitney said. "And what I found was that it didn't resonate well with most people because it was just too much work."
In the standard methodology, practitioners pry a ton of information out of their clients and memorialize it in a plan that perhaps gives everyone involved a sense of accomplishment when it's finished. What happens in real life is that the plan usually just ends up sitting on a shelf. The Retirement Answer Man takes a different approach.
"Instead, we adopted a more agile methodology from the project management world to make retirement planning more engaging," Whitney said. "We talk with our clients about acknowledging how much is outside their control and how to make lots of little adjustments along the way."
It's just as much about coaching as it is about investments, he said, and the objective is to identify risks and opportunities early and plan with intention while never forgetting that change is always a possibility.
"Because life is going to throw you some curveballs," Whitney said.
Asset-Liability Matching Incorporates Planning Flexibility
Agile Retirement Management, therefore, starts with a conversation, and communication is key. The goal for clients is to focus with discipline on their true life priorities — not an easy task — and then build with short- and long-term flexibility in mind. There's no one-size-fits-all solution.
"You have so many more options available to you if you can think more multidimensionally, but people have a hard time with that," Whitney said.
A core obstacle is getting people to understand that managing assets in retirement is very different than managing them during accumulation.
"Normally people just overlay a withdrawal strategy on top of what was already there," Whitney said. "Psychologically it doesn't put them in a strong position."
It's better to think of assets during retirement as a kind of pension fund and have a plan for allocating them differently at different stages, he explained. That's a heightened form of asset-liability matching, and Whitney uses what he calls a pie cake to help folks visualize it.
A pie cake is basically a stack of pies where each pie is a set of asset allocations appropriate for a specific time horizon. Because uncertainty builds as time progresses into the future, so to speak, the allocations in each pie in the cake stack are different.
For example, for the first five-year pie in a client's pie cake, Whitney may recommend building a bond ladder or some other highly stable cash-based instrument. A bit further into the future, the next five-year pie can hold riskier assets that can throw off dividends and grow. The next one, even further into the future, can have even more growth potential.
"Financially, you're setting every pie up for success from a time horizon volatility standpoint," Whitney said.
Sharing His Retirement Wisdom with Others
The pie cake serves up a share of psychological protection for clients as well. When the COVID-19 pandemic hit in spring 2020, anyone who cared to look could see financial uncertainty on the horizon. But folks already in retirement faced the biggest challenge, Whitney said.
"If you were in retirement, you had already lost your superpower — your ability to earn money," Whitney said. "But that's exactly what the pie cake helps with because I was able to counsel my clients that growth assets that were being damaged had plenty of time to rebound."
Transitioning from a full-time advisory practice to a career in mass communication actually helped Whitney crystallize his own thinking in these matters. "The Retirement Answer Man Show" podcast came first.
"I tried blogging, but I'm a natural teacher," Whitney said. "I would take a client issue I was dealing with and just start talking about it. And if you're teaching something, you have to be organized in your thinking, so it helped lead me to better solutions for my clients."
A YouTube channel, "Roger That!," now accompanies the podcast in Whitney's omnichannel communications portfolio. Among the extensive collection of free resources on the Roger Whitney website are a number of webinar replays in addition to worksheets and downloads. He's everywhere on social media as well.
Those interested in a more structured approach to Whitney's thinking will want his book, "Rock Retirement," in which he connects as a storyteller in a way that goes beyond the nuts and bolts.
"I wrote the book to be more about mindset than tactics because, if you can get the mindset part right, everything else becomes much easier," he said.
Professional Reputation is Currency for Career Building
Naturally, people tend to think more and plan more for retirement as they get older. But just as it's essentially never too late to start, it's never too early, either.
In fact, Whitney has advice for workers just starting their journey to retirement that can help them achieve it on their own terms. And it starts with credit scores.
"A credit score is essentially a measure of your ability to keep your promises on time," Whitney said. "So if you can figure out how to maintain a good score, whether it's by always paying off your card or maybe even by choosing to carry a mortgage when you don't have to, you're demonstrating that you can do that, which I think is a healthy thing."
Watch on
Of course, having a good credit score sets a person up to receive more and better credit in the future. In the same way, Whitney counsels that workers starting their careers should seek to build a sound professional reputation and skill set for themselves. Those qualities demonstrate a worker's desirability to future employers in a way that's analogous to how building a good score demonstrates a person's suitability for credit.
In other words, having a great professional reputation and skill set is like money in the bank.
"Whether it's a new job or a promotion, it's going to happen because of who you know, what you can do, and what your reputation is," Whitney said. "Anything you can do to position yourself in your profession, or in the profession you want to be in — whether it's through building your network or your skill set — it's just going to make you that much more desirable in the employment marketplace just like a good credit score makes you more desirable in the financial marketplace."
Advertiser Disclosure
CardRates.com is a free online resource that offers valuable content and comparison services to users. To keep this resource 100% free, we receive compensation for referrals for many of the offers listed on the site. Along with key review factors, this compensation may impact how and where products appear across CardRates.com (including, for example, the order in which they appear). CardRates.com does not include the entire universe of available offers. Editorial opinions expressed on the site are strictly our own and are not provided, endorsed, or approved by advertisers.