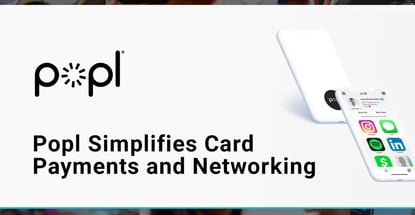 In a Nutshell: Popl is a company that offers digital business cards for networking and payments in today's increasingly digital world. Rather than handing over paper business cards with limited information, Popl's products allow people to easily transfer a bevy of information just by tapping a Popl to someone's smartphone. Users can easily relay contact information, social media accounts, and even make payments using Popl. The company offers a variety of products, including the original 35 millimeter Popl; Popl Flat, which fits under a phone case; Popl keychains; Popl wearables; and Popl XL, suited for small businesses.
Business cards have always been a convenient way to network with people and industries — a quick way to share your name, expertise or title, and contact information. But today, a person's professional identity is tied to much more than a name and title.
And people have many more resources than a phone number or email address with which to contact someone. Whether it be on Facebook, Instagram, LinkedIn, TikTok, or any other number of social media channels, the average person has a lot of information to share.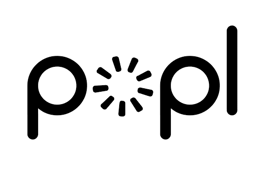 A simple business card could hardly contain all the information needed for movers and shakers in nearly any industry today.
Thankfully Popl has devised a way to leverage modern technology to create a digital business card suitable for people to network with others in today's wide world of business.
The company produces a variety of Popl products, but the core feature is a small device that can be tapped on a person's smartphone and automatically shares all the pertinent contact, social media, and even payment information the recipient may need.
Popl uses NFC or Near Field Communication technology to make the magic happen. NFC is a type of wireless technology used in other applications such as Samsung Pay and Apple Pay. It is able to quickly and easily transfer information from one device to another.
We spoke with Popl's CEO and Co-Founder Jason Alvarez-Cohen to learn more about the company and the many networking and payment applications the handy device can be used for.
Pivoting From a Gen Z to Professional, Enterprise Product
Alvarez-Cohen said that he and Co-Founder Nick Eischens — the two are best friends and were roommates at UCLA at the time — came across NFC technology at a party in 2020 and were intrigued.
With a background in software engineering and social media, Alvarez-Cohen said the technology lingered in his mind and ideas began to spring up around it.
"My first thought was what if we took this NFC technology from the back of a phone and allowed people to share information by tapping phones, which is a behavior that already exists," Alvarez-Cohen said.
He took the idea to Eischens, and it wasn't long before they fleshed out the idea and ordered prototype devices. Before the young company was barely off the ground it went viral on TikTok and Popl was getting orders from all over the world.
The friends and business partners were filling orders as fast as they could from their apartment. But eventually, the orders outpaced the inventory.
"That was a good sign to us. We knew we had something here," Alvarez-Cohen said.
The duo brought on a third partner, Jeremy Greenfield, who Alvarez-Cohen said helped the young company solidify its vision. Popl went through the Y Combinator startup accelerator program and was soon looking at pivoting to embrace a larger audience.
"We started to realize that even though we started off as a TikTok-Gen Z company with a product that's very oriented toward sharing social media, we realized a lot of people were using Popl for business use cases," the CEO explained.
Popl is now more oriented toward enterprise and professional use cases.
How Popl Facilitates Fast Payments via Apps and Cards
As a website focused on all things related to credit cards and payments, Popl's payment functionality grabbed our attention here at CardRates.
"Payments is a big one for us. We just added Popl Pay which allows you to create payment links right on your profile," Alvarez-Cohen said.
Popl is currently compatible with Cash App, Venmo, and PayPal, and is working on adding functionality for other payment apps as well, he said.
"How these work is, when you tap someone's phone and they tap, say Cash App, it pops right up to Cash App to a payment to your username," Alvarez-Cohen said. "It's really fast, really nice. Just one tap and then you put in the amount and you pay. It's the same concept with Venmo and PayPal."
Watch on
The CEO said this function is very popular with barbershops and other service-based small businesses.
Popl can also facilitate credit card payments for even more convenience and wider functionality.
"We partnered with Stripe for this transactional information," Alvarez-Cohen said. "The Popl user sets up their Stripe account through PayPal, and it's basically a connected account. So Stripe manages, as a third party, the connection between us and the Popl user to take them through the steps to set up their account."
Once this is finalized, paying via credit card is just a tap away.
"They can create these links on their profile. So then when you meet someone, and I have, say, a link for my haircut, someone can tap my Popl, tap the haircut link, make the payment, and then the money goes directly to the Popl user and their bank account that they set up," Alvarez-Cohen said.
Offering a Robust Product Suite to Suit a Variety of Networking Needs
Popl offers a wide range of devices to satisfy the needs of users in any number of different scenarios.
"We have many different form factors," Alvarez-Cohen said. "Popl is our main one. This is the back of the phone tag, and it's about 35 millimeters in diameter. This can go on your case, it can really go anywhere. It can go on your wallet if you want to put it there. I have two on my computer, and I have one in my car."
The company also offers the Popl Flat, which is similar to the original but has a flat design that is intended to fit under a phone case for maximum discreteness. The company offers Popls in a variety of colors and even has customizable options.
"We also have wearables," Alvarez-Cohen said. "It's a wearable silicone band that is also adjustable. They're very popular right now. You basically just wear it on your wrist. They're waterproof, of course. And you can wear it from casual to business situations."
The Popl XL is 4" x 4" and is great for business use cases because of its increased visibility. Alvarez-Cohen said this product is great to display on counters at businesses and in restaurants.
Users who want to take their Popl experience to the next level can access Popl Pro for $4.99 per month or $47.99 per year. The company also offers a 14-day free trial.
Popl Pro users gain access to a variety of valuable features for business use cases, including business analytics, the ability to add a business logo to a profile, the ability to manage up to two Popl profiles, and a Pop Map that shows the location of connections.
With its use of NFC technology, Popl is delivering important innovations to the world of business networking and payments.
Advertiser Disclosure
CardRates.com is a free online resource that offers valuable content and comparison services to users. To keep this resource 100% free, we receive compensation for referrals for many of the offers listed on the site. Along with key review factors, this compensation may impact how and where products appear across CardRates.com (including, for example, the order in which they appear). CardRates.com does not include the entire universe of available offers. Editorial opinions expressed on the site are strictly our own and are not provided, endorsed, or approved by advertisers.