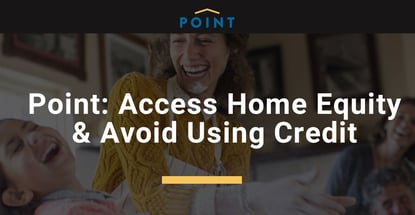 In a Nutshell: Homeownership is an ongoing investment. Homeowners must regularly work to make sure their homes are in good condition while others may invest funds to make improvements to the home that will add value down the line. Traditional methods of leveraging home equity to pay down debt or invest in home maintenance can lead to more financial strife for some homeowners. That's why Point offers a different approach. The company actually invests in your home through its Home Equity Investment solution so you can gain access to funds without taking on more monthly payments. The company has helped thousands of customers since its launch in 2015.
In my experience, owning a home is owning a work in progress. Something always needs attention whether it's a patch of weeds growing in the backyard or a deteriorating roof. And taking care of those necessary fixes can range from costing only time to costing thousands of dollars.
If you're in a comfortable position financially, using a credit card to pay for home repairs can be a win-win. Your home improvement project gets completed while you rack up some credit card rewards.

But people who are already struggling with their finances may not be in a position to throw a few thousand dollars (or even a few hundred dollars) on a credit card for home upkeep.
And personal or home equity loans may not be a simple solution either. Banks may not approve loans if you're already in a tight financial position. And, besides, adding another monthly payment won't exactly improve your credit or your finances.
Thankfully, Point offers a different approach to home equity. Rather than offering home equity loans, Point invests in your home so you can access the value of your home equity without the burden of another monthly payment. This frees up cash to pay down debt, consolidate debt, or make home improvements.
We recently spoke with Point Co-Founder Eoin Matthews to learn more about the innovative approach to home equity.
Helping Homeowners Unlock Cash with Its Home Equity Investment Solution
"Point's mission is to make homeownership more valuable for all homeowners — and we do that regardless of income constraints and financial hardships," Matthews said.
Since 2015, Point has helped thousands of homeowners unlock hundreds of millions of dollars with its Home Equity Investment solution. Those funds have been life-changing, the Co-Founder said.
"Our customers use their HEI funds to eliminate the daily stress of debt, build reserves to get through difficult times (like the ongoing pandemic), make important home renovations, and diversify the risk associated with a concentration of wealth in the home," Matthews said.
Traditional lending has been pretty much the same for millennia — it doesn't take financial hardship into account, he explained.
"Your monthly payment is there every month, whether you can pay it or not. The HEI is unique because it takes something that's existed in the business and venture space for years — equity financing — and makes it available to homeowners for the first time."
Point's approach to home equity works because the company actually invests in your home.
"Point will invest in a slice of your home equity, paying you cash today," according to the company. "You can get $35,000 to $350,000, depending on your home value and the amount of equity you own. Point is not added to the title of your property."
This approach allows homeowners to remain in their homes without having to disrupt their lives by taking on more debt through loans or credit cards.
Point homeowners can buy back their equity any time during the 30-year term, typically via a refinance, home loan, or sale. There is no pre-payment penalty, according to the company.
And Matthews said Point's relationship with its customers is a partnership.
"Because we're sharing in the increase of a property's value, we do well only when our homeowners do well," he said.
Point's model also allows homeowners to use their home equity as a convenient way to consolidate debt.
Gain Early Access to Equity with No Monthly Payments
Matthew said there are a few key features that make Point's HEI especially exciting for homeowners.
"With a Home Equity Investment, there are no monthly payments, and we offer a flexible 30-year term," he explained. "Having an opportunity to access home equity wealth without payments for up to 30 years is a game-changer for many homeowners."
Additionally, because there's no monthly payment, it's an ideal solution for homeowners going through a period of income constraint.
"It's refreshing for homeowners to use a solution that focuses on releasing the equity they have built up instead of focusing on the income they don't currently have," Matthew said. "This is a time when equity really wins over debt."
Home equity is the single largest asset most homeowners will ever own, according to Point.
"It's where most people's wealth lives, but it's been difficult to access when you need it," Matthew explained. "When it comes to dealing with major financial challenges, like credit card debt, being able to tap a piece of that home equity wealth is life-changing."
About 40% of the funds that Point provides to homeowners goes to credit card debt, specifically, according to Matthews.
"It's something we understand intimately, and we've helped thousands of homeowners get out from under the burden of high interest credit card debt," he said. "Our customers feel like they can breathe again."
In fact, homeowners who use a Home Equity Investment to pay down their existing debts increase their monthly cash flow by an average of $1,413, according to the Point website.
Listening to Feedback and Prioritizing Customer Needs
With its consumer-centric approach to home equity, it only makes sense that Point values customer feedback and prioritizes the needs of its customers.
"There are hundreds of customer reviews across independent review sites like TrustPilot and the Better Business Bureau," Matthews said. "We closely monitor activity there to ensure the customer experience is in line with our high expectations. These sites prove very important to homeowners who are in the research stage; folks want to know what others' experience has been like."
On a more personal note, he said the Point team receives numerous customer testimonials, from hand-written letters to video messages.
"All are touching in that they show the positive impact the Home Equity Investment solution has had on our customers' lives," Matthews said. "Recently, we had a customer join our company All-Hands meeting to share his experience working with Point — it's very motivating to our entire team to hear first-hand from customers what impact we've had on their lives."
Watch on
A common thread for a lot of Point homeowners is the relief that comes from using the HEI to pay off credit cards and personal loans, the Co-Founder said.
"A recent customer — a retired gentleman on a pension — was able to pay off his credit card debt and build a cash reserve," Matthews said. "He told us, 'My wife and I can breathe more easily with a comfortable financial cushion in case of emergencies.' This is consistent with what many homeowners have shared with us — the relief that comes from achieving financial freedom manifests itself in the form of significantly improved physical and mental well-being."
Nobody wants to lie awake at night thinking about bills, he said. And Point's mission is to help put an end to sleepless nights brought on by financial debt.
The company has seen many homeowners facing new financial challenges in the face of the COVID-19 pandemic. And Point's services have proved valuable through this difficult time.
"We're seeing lots of homeowners use Point's HEI to get out of a forbearance plan or to bring a delinquent mortgage or loan current," Matthews said. "This has become even more pressing at the horizon on those forbearance program approaches."
Whether you're looking to pay down debt or add a new roof to your home, Point's innovative approach to home equity may provide the perfect solution.
Advertiser Disclosure
CardRates.com is a free online resource that offers valuable content and comparison services to users. To keep this resource 100% free, we receive compensation for referrals for many of the offers listed on the site. Along with key review factors, this compensation may impact how and where products appear across CardRates.com (including, for example, the order in which they appear). CardRates.com does not include the entire universe of available offers. Editorial opinions expressed on the site are strictly our own and are not provided, endorsed, or approved by advertisers.