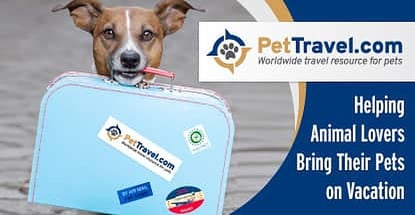 In A Nutshell: Looking out for your pet can be a difficult component of planning a vacation when you're using your credit card rewards. It's not a good idea to board an animal for long stretches, and trips can be more enjoyable when you bring your furry companion along for the adventure. Even as traveling with your pet has become easier and safer, knowing the laws that govern each destination where you plan to stay with your pet is important. PetTravel.com is a comprehensive resource for expenses, vaccinations, carriers, hotel pet policies, and anything else you need to know before traveling with your pet. Whether you're heading to Trinidad and Tobago or Timbuktu, check PetTravel.com well in advance to ensure your pet will be safe and comfortable. //
My cat Penelope is quite the seasoned traveler. She lived with me on a sailboat in the Caribbean for two years, and I loved having her to cuddle with at night and watching her roam the deck looking for birds. During our travels, I filled out the necessary paperwork to transport her to the Bahamas, and immigration agents in the Dominican Republic came aboard to inspect Penelope.
But when it came time for me to leave the Caribbean and fly from St. Thomas to Florida, I was a little worried because Penelope had never flown before. I had to research the type of carrier and how much it would cost to have her in the cabin with me during the flight.
I ended up carrying her in a mesh backpack that I wore on my chest. She was calm as we waited to board the airplane, and I ended up sitting next to a five-year-old boy who was very interested in Penelope during the flight. She did well — and the cost of her ticket was even covered by the travel rewards I'd earned through my credit card.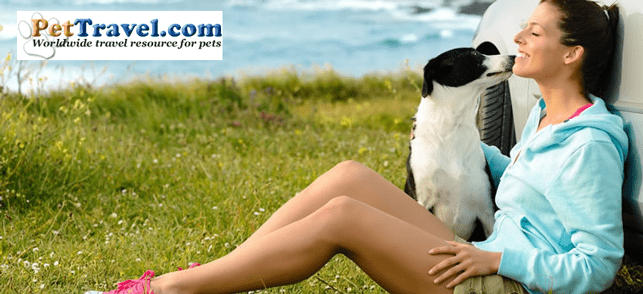 I know how fun it is to travel with your furry companion, but navigating the rules and requirements in different countries can be tricky. People who travel with their pets have come to rely on PetTravel.com to guide them through any of the challenges they might face.
PetTravel.com is a comprehensive resource for all animal-related travel questions, and its parent company, Pet Travel, Inc., has been around for more than three decades. Its mission is to help travelers keep their pets safe and comfortable throughout their journeys. The website also shares animal training tips, carrier recommendations, and much more for caring pet owners who like to travel the globe. That wisdom can avoid a major headache at the immigration counter.
"Consequences are real," said Susan H. Smith, President and CEO of Pet Travel, Inc. "If you're lucky, they'll return pets to the country of origin on your dime, which can still ruin your vacation. If it's neutral, they'll put your pet in quarantine until the pet conforms to regulations. But, if you're really unlucky, it could be a lot worse. There are places where pets don't have the status they enjoy in the US and the EU."
The First Online Resource Focused on Traveling with Animals
Traveling with pets started to gain popularity in the 1980s when airlines agreed to allow pets in the cabin under the seat. Today, many hotels — from budget to high-end — welcome animals accompanying baby boomers and millennials on vacation. Some hotels even provide beds for your pets, offer treats, and have concierge services that include dog walking.
"Pets are incredibly important to travelers; they're like children. They feed them the best food and get them groomed regularly. They spend a lot of money on their pets and like to travel with them," Susan said. "Pet product sales grow $2 billion a year, even through the recession. It goes to show how important pets have become and how industries who serve them have responded."
Of course, caring for your pets takes on new meaning when you start to travel internationally. Savvy travelers turn to PetTravel.com to ensure their animal is prepared for the trip with the necessary paperwork a store that provides all the necessary items for a safe and comfortable journey. For example, it is more difficult to travel with a pet to an island nation or state, like Australia, Japan, New Zealand, or Hawaii. Islands that are rabies-free want to keep it that way.

"Rabies kills close to 50,000 people a year, mostly in underdeveloped countries," Susan said. "Countries are going to have regulations on animals that can carry rabies — like dogs, cats, and ferrets, in particular. Some even require rabbits to have vaccinations, and they're very strict about it. "
How far in advance you need to start planning depends on the location, so head to PetTravel.com to check the laws in your destination.
"You should check the website as soon as you decide to take a trip and research the regulations," Susan said. "For some places you have to plan six months, other places you can give it eight weeks."
Does Your Dog Need a Passport? Know Pet Regulations Before Takeoff
One of the most popular sections on PetTravel.com is Pet Passport, which provides detailed regulations for taking pets to more than 200 countries. Reading the information in Pet Passport will make your experience with immigration officers — who may speak a different language — easier in many cases.
In some cases, PetTravel.com recommends hiring an agent to help you through the process.
"We work hard to ensure the rules are correct and up to date. We also try to simplify the rules and deliver them in plain English," Susan said. "We want people to understand if their pet needs a microchip or a rabies vaccination. I would suggest never traveling internationally without vaccinating your pet for rabies."
PetTravel.com connects travelers with pet-friendly hotels around the world and provides a complete list of airline policies. You can find the exact dimensions of the carrier that will fit underneath the seat on an airplane and even find a link to purchase the perfect one. The site offers plenty of tips for keeping your pet safe and calm when traveling in the cargo hold, and just about everything you need to get organized for your upcoming vacation.
Help Your Furry Friend Adjust Before and After Your Vacation
Even though I did my research and prepared all of the necessary paperwork for Penelope before my flight, I knew I couldn't just stuff her in a carrier and expect the trip to go smoothly. Getting the animal familiar with the process is a crucial part of the travel preparation.
Although my cat is usually a relaxed animal who has been socialized by staying with my friends and living on a sailboat, other animals may be more anxious. Susan said it could take up to three months to train an animal — and you'll find plenty of great tips on PetTravel.com.
"Nobody likes to put their pet in a carrier. It's going to take time. Dogs are den animals, they like being confined, and it's less space they have to rule. But not all animals like a crate," she said. "It takes time, bedding, treats, and there is information on our website on how best to acclimate your pet to a crate."
Once you have all the paperwork in order and your pet is ready to fly, you'll want to check that everything is ready to welcome you back when you return home. For Penelope, that meant a quiet couch and a nice nap after all the fun.
Advertiser Disclosure
CardRates.com is a free online resource that offers valuable content and comparison services to users. To keep this resource 100% free, we receive compensation for referrals for many of the offers listed on the site. Along with key review factors, this compensation may impact how and where products appear across CardRates.com (including, for example, the order in which they appear). CardRates.com does not include the entire universe of available offers. Editorial opinions expressed on the site are strictly our own and are not provided, endorsed, or approved by advertisers.