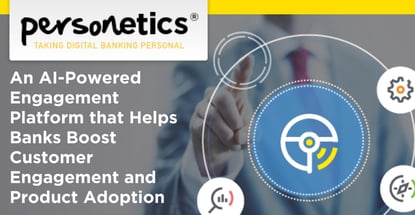 In a Nutshell: As the global financial industry navigates digital transformation, the problems of platform differentiation and customer engagement move to the forefront. That's why many institutions choose Personetics to handle those challenges efficiently. The AI-powered Personetics technology integrates cleanly and flexibly with financial platforms to offer insights, advice, and automation to help customers achieve their goals. And banks that work with Personetics can personalize customer experiences and increase conversions without needing to build their own platform.
Digital transformation in the financial industry is considered a good thing, but that's not to say banks don't encounter some growing pains. That's because they must continue to inform and guide customers while increasing digital engagement, customer satisfaction, and, ultimately, market share for the institution.
But many of those institutions don't have the resources to build their own digital engagement platforms. That means they must find a capable partner to help modernize their operations.
Personetics was founded to help those institutions drive interactions on their apps and websites through its AI-powered technology.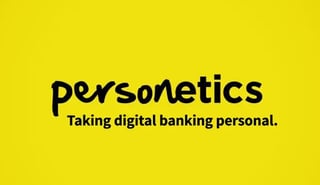 "Our technology helps banks stay relevant with their customers," said Michal Wachstock, Personetics Head of Global Marketing. "Since we started eight years ago, we've partnered with about 50 of the largest financial institutions in the world. We have a great presence in the U.S. and Europe, and we're growing our presence in Asia as well."
As banking moves online, banks are also challenged to differentiate their brand experiences in ways that replace in-person interactions with personalized digital approaches driven by data. Personetics helps them transform those outdated interactions into experiential platforms that know — and act on — individual customer needs.
"It's a struggle for banks to keep their customers engaged on the new digital platforms," Wachstock said. "We bring innovation to ensure they retain their competitive edge."
Personetics embeds transparently within the bank's branded mobile and web applications. And for each online channel of communication between the bank and its customers, Personetics offers push notifications that simplify the experience.
And it's all based on data the bank already has.
"Personetics analyzes transaction data along with other information the user has given the bank," Wachstock said. "What's going to make a customer come back and engage is knowing that the interactions we provide are fresh, relevant, and real."
Offering Insights, Automation, and Actionable Advice for Financial Institutions
According to Personetics, the road to what it calls Self-Driving Finance™ is not an all-or-nothing proposition but rather a continuum of capabilities." On top of a foundation of bank data, Personetics builds stages of guidance ranging from real-time insights to personalized recommendations and even automated money management.
The first stage in the process is the Personetics Engage solution that is based on more than 300 distinct insights. Real-time predictive analytics technology helps banks educate their customers, suggest and initiate steps for improving financial outcomes, and offer positive reinforcement.
"We're understanding the context of where customers are in their financial lives and ensuring they're comfortable with their financial performance and status," Wachstock said.
Personetics then takes insight a step further with an actionable financial guidance chatbot solution that's contextual and predictive based on the customer's record.
"We go in and analyze transactions and accounts and make recommendations for optimizing performance," Wachstock said. "We look at everything from shifting money to savings to securing better rates on products, ensuring they're not double-charged, and pointing out ways they can do better."
With insights and advice also comes automation tools, and Personetics helps customers handle the routines of their financial lives in two ways.
"Millennials, especially, trust technology — they want to know the algorithms are working for them, and they expect things to just work," Wachstock said. "They don't want to have to go in and make adjustments. They assume their bank knows more than they do, and once we've established that kind of trust, they can then put it on autopilot."
The Personetics automation solution also accompanies customers on their financial journeys. Based on changes surfacing in a customer's transaction record, Personetics can even recognize when someone graduates from college, moves to a new city, gets married, or becomes a parent, among other scenarios.
"We can actually take customers through multiple stops and conversion opportunities and eventually help them reach a successful endpoint," Wachstock said.
Helping Banks Act on the Data they Already Have
Personetics also works for small businesses, allowing them to use insights and data to optimize cash flow, flag payments and expenses, and identify products and strategies for driving liquidity and growth.
"Those insights look different," Wachstock said. "If all of a sudden we see a ton of Office Depot transactions in a personal account, for example, we'll recommend moving those to a corporate account. It's a different look and understanding of the different milestones in that experience."
In both scenarios, Personetics also helps banks learn things about their customers they might not know otherwise. Personetics enables internal teams to share that operational information and use it to hone branding or target marketing and promotions more precisely.
"Most of the time, bank marketing departments don't have access to the kinds of insights we give to end customers," Wachstock said. "That's why a customer will end up receiving a generic text message offering a loan when their account looks fine. Why are they even offering that?"
Personetics helps bank marketers respond deftly to changing business strategies and diverse customer needs by replacing disjointed, impersonal marketing with actionable data integration.
"With our CRM integration, we give those insights to the teams that are managing the relationships," Wachstock said. "It could be the marketing department; it could be the telephone operators or branch workers who interact with the customers. Everyone relevant to business growth gets a full, actionable view of the customer's life cycle."
Personetics: Improving Bottom Lines by Personalizing Customer Experiences
Personetics was built to make it easy for businesses and financial institutions to respond to digital transformation. It accomplishes that goal with seamless integration, data aggregation, and a powerful AI engine that can automate customer interactions.
And, through its Engagement Builder tool, the company allows banks to add to its collection of more than 300 insights. And the tool allows banks to manage, change, create, connect, and execute new insights
One of its blog posts chronicles how United Overseas Bank (UOB) of Singapore uses the Engagement Builder to interact with its customers. The bank created more than 100 insight cards for notifications, "addressing monthly cash flow, travel expenses, holiday spending, duplicate charge alerts, refund updates, and subscription fee tracking."
"But customers don't get the same notifications all the time — that's not interesting, right?" said Wachstock. "Instead, banks create their own timely offers for when there's a specific promotion they want to go after or a product they want to pitch."
Data collected from customer interactions with the apps and websites provide additional responsiveness.
"We're using AI to learn about the behaviors and preferences of customers and ensure the offers we're giving are in tune with those," Wachstock said.
And, when bank platforms enable customers to rate various facets of the online experience, as most do, Personetics takes those numbers into account as well. The bottom line for banks is that when they can improve their targeting, they see positive results.
"Our data shows that engagement and conversion rates are significantly higher for banks after they implement Personetics," Wachstock said. "Keeping content fresh and engagement high gives customers a reason to stay."
Advertiser Disclosure
CardRates.com is a free online resource that offers valuable content and comparison services to users. To keep this resource 100% free, we receive compensation for referrals for many of the offers listed on the site. Along with key review factors, this compensation may impact how and where products appear across CardRates.com (including, for example, the order in which they appear). CardRates.com does not include the entire universe of available offers. Editorial opinions expressed on the site are strictly our own and are not provided, endorsed, or approved by advertisers.