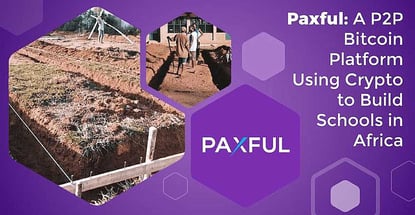 In a Nutshell: Bitcoin seems to pop up in news headlines on a daily basis in the U.S., almost exclusively about how much its value has risen or fallen. People are using Bitcoin in real-life scenarios in other parts of the world, and Paxful is helping to facilitate these uses. The company provides a P2P platform where users can buy and sell Bitcoin in an eBay-style marketplace. And, the company allows users to choose from 300 different forms of payment. Paxful also strives to support education with its Built With Bitcoin campaign, which aims to build 100 schools in Africa.
In the United States, anyone moderately engaged with the news cycle has likely read a story or two on Bitcoin. The price is up, the price is down, invest now, sell it all.
Most mainstream news stories here focus almost exclusively on Bitcoin's value as an investment, but Bitcoin's inventors never intended for Bitcoin to be bought and sold like stocks. From its inception, Bitcoin was meant to be a way to transfer money from person to person.
Paxful is an international company that focuses on Bitcoin's origins with its P2P platform where consumers can buy and sell Bitcoin directly between one another, said Jan Strandberg, Paxful's Vice President of Marketing and Chief Marketing Officer.
"We see a number of use cases for Bitcoin much more common outside of the U.S., particularly in Asia and Africa," he said. "In Third World countries, users are trading unused gift cards for Bitcoin, for example. They are able to use this to either preserve wealth or trade for fiat money."
Strandberg said Paxful has observed that countries with unstable currency — such as Venezuela — has a notable portion of its population procuring Bitcoin for practical uses.
We sat down with Strandberg to find out a bit more about how Paxful works, why it is appealing to certain regions around the world, and how the company is using Bitcoin to support education through its Built With Bitcoin campaign.
Buy and Sell Bitcoin in an eBay-Type Marketplace
Unlike platforms such as Coinbase or Kraken, Paxful is not a cryptocurrency exchange, Strandberg said, but rather it is an escrow service because the company does not actually buy or sell.
"Paxful is a marketplace similar to eBay, where our users are the buyers and sellers," he said. "People who want to sell Bitcoin put out an offer and a payment method, then we have buyers who can choose from a list of different payment methods."
Like eBay, Paxful also has 24/7 customer service so users can dispute a claim if there are any problems with their transaction.
Strandberg said Paxful offers 300 different ways for users to buy and sell Bitcoin. Visitors to Paxful's website are presented with a drop-down list from which users can select their preferred payment method, including other cryptocurrencies, ApplePay, and a plethora of gift cards from places like Amazon.com or Bed, Bath, and Beyond, to Spaghetti Warehouse.
Gift cards are the most popular method of exchange, Strandberg said, but bank transfers are becoming increasingly popular as well.
"You can basically turn your Bitcoin into any currency you want in our platform which is one the beautiful things about it," he said. "And you can choose how you want it. Maybe you don't want to sell your full stack and you just want 50% via bank transfers, or you want 20% in cash or gift cards. I haven't seen any other platforms that are doing that."
Strandberg said Paxful tries to educate its customers about security because when dealing with a decentralized currency like Bitcoin, there is no bank to protect a user's money. Paxful employs two-factor authentication, provides users with a free e-wallet, and offers educational materials on security in general and on how to use their wallet.
Paxful's Decentralized Structure Appeals to Many Users Outside the U.S. through Real-World Use Cases
"If you only look at the Western media, they always talk about the speculation in cryptocurrency trading, but they don't actually go deep into what its other uses are," Strandberg said.
He said the four main use cases Paxful has observed are the preservation of wealth, importing, exporting, and remittance.
Earlier this year, Nigerian debit card customers of Guaranty Trust Bank were limited to spending only $100 per month on their cards. Strandberg said he knows a lot of Nigerians who get around this limitation by using Bitcoin.
Additionally, Strandberg said, Paxful is appealing to populations outside the U.S. because they don't necessarily hold an implicit trust of centralized entities, like banks, the way Americans do.
"An exchange like Coinbase works well for Western countries but in other parts of the world people like to interact with each other to know who they're doing business with," Strandberg said. "Basically, everything goes through our chat feature, which is another way Paxful is unique as a use case."
Strandberg said the platform also builds trust among its users because it offers so many different exchange methods, and users can see their native language being used in the marketplace.
"You might go to Bitbase or Kraken but not see your native language being used there," he said. "But perhaps a Thai person comes to our website and they see Thai offers, they are more likely to trust it a bit more."
Like eBay, Paxful also provides social proof of a buyer's or seller's trustworthiness via customer feedback and reviews, Strandberg said.
Supporting Education by Constructing Schools in Africa Through Its Built With Bitcoin Campaign
Strandberg said he spent some time in African countries, including Nigeria and Rwanda, and the entrepreneurial spirit of the people he met was eye-opening.
"The people there are so hungry for something like Bitcoin because they don't have the same kinds of economic opportunities we have," he said. "Having access to — and knowledge of — cryptocurrencies is like a financial passport to the whole world."
This observation was one of the inspirations behind Paxful's Built With Bitcoin campaign — or #BuiltWithBitcoin on social media. The company started the initiative — which is funded entirely through Bitcoin donations — to demonstrate the power of cryptocurrency while providing education and resources for those in need.
So far, Paxful has built two schools in Rwanda through Built With Bitcoin funds.
The most recent school is a primary school for students under the age of 14, according to a CCN article, and Paxful plans to provide the students with smartphones and tablets. The curriculum will be centered on a basic liberal arts approach, but it will also incorporate lessons on blockchain technology and Bitcoin.
"Our goal is to build 100 schools in Africa," Strandberg said. "We would also love to get other people and organizations involved with the idea of spreading education in places like this."
Strandberg said that, for the immediate future, Paxful plans to continue giving back to the community and building schools through the Built With Bitcoin campaign. The company will also revamp its platform and announce some new products in 2019.
"In reality, there are so many use cases for Bitcoin and there's so much positivity behind crypto," he said. "I've seen a lot, and I'm really proud to be with Paxful because we're actually trying to change the world. We're not here to speculate about Bitcoin prices or anything else."
Advertiser Disclosure
CardRates.com is a free online resource that offers valuable content and comparison services to users. To keep this resource 100% free, we receive compensation for referrals for many of the offers listed on the site. Along with key review factors, this compensation may impact how and where products appear across CardRates.com (including, for example, the order in which they appear). CardRates.com does not include the entire universe of available offers. Editorial opinions expressed on the site are strictly our own and are not provided, endorsed, or approved by advertisers.