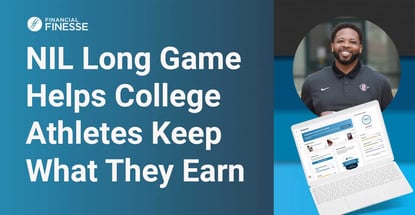 Our experts and industry insiders blog the latest news, studies and current events from inside the credit card industry. Our articles follow strict editorial guidelines.
In a Nutshell: The name, image, and likeness (NIL) era offers college athletes unprecedented opportunities to earn revenue and achieve financial independence. But athletes must understand how to avoid financial pitfalls to make NIL a lasting success. Financial coaching provider Financial Finesse helps student-athletes reach their potential in the NIL era through NIL Long Game, the first online financial literacy certification program for leveraging NIL rights. Financial Finesse has donated NIL Long Game to all college athletes to help them develop personal finance habits and behaviors to build sustainable wealth.
Everything changed financially for college athletes when the Supreme Court declared amateurism invalid in June 2021, ushering in the name, image, and likeness (NIL) era.
For the first time in the history of organized collegiate sports, athletes were free to earn compensation as independent entities through NIL deals with brands and businesses.
Those at the top, mainly in football and basketball, suddenly found themselves able to earn hundreds of thousands and even millions of dollars. But all student-athletes in the NIL era — more than 520,000 individuals as of Spring 2023 — have the potential to leverage their status on campus to earn potentially life-changing financial compensation.
But the devil is in the details because earning NIL money is one thing, and keeping it is another. Athletes must prepare to take advantage of the NIL policy by competently and compliantly managing their money, or they may lose more than they earn.

Fortunately for college athletes, there's a new tool to help. Financial Finesse, the leading provider of unbiased financial coaching for professional athletes, has created NIL Long Game, a financial literacy certification program to equip college athletes with skills to maximize endorsement deals and build their best financial futures.
Financial Finesse has donated NIL Long Game free of charge to all collegiate athletes and to all colleges, universities, and NIL collectives (non-academic organizations that help facilitate NIL deals for athletes).
In announcing the donation at a March 2023 press conference, Financial Finesse Founder and CEO Liz Davidson said NIL Long Game has arrived when student-athletes are at a crossroads.
"NIL has the potential to be one of the best things that ever happened to these student-athletes," Davidson said. "But if they spend down the money or don't pay their taxes, they could end up in a huge hole."
Equipping Athletes for Successful Futures
Because NIL allows student-athletes to pursue revenue, they become business operators no different from a local coffee shop or convenience store. Any business can get into trouble quickly when it doesn't do what it needs to do.
NIL Long Game takes athletes step by step from the process of building a NIL business to using the money to build an excellent financial future.
Athletic skill and good business sense need to be aligned for NIL to work to its fullest potential, said J.R. Tolver, former NFL Player, CEO of The Athlete LLC, Executive Director of the NIL collective at his alma mater San Diego State University, and a contributor to NIL Long Game.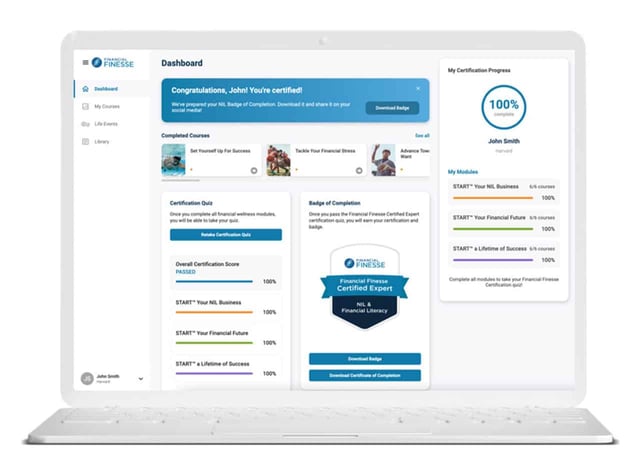 When that happens, student-athletes set themselves up as role models whose early start on sound money management through NIL Long Game could mean future financial leadership.
"Within 20 years, I think we'll see former NIL student-athletes creating some of the world's best companies and products because they got a chance to try their hand at entrepreneurship at a very early age," Tolver said.
Students like Rayquan Smith and Reagan Bridges may be among them. Smith is a two-sport Norfolk State University athlete known as the "King of NIL" with 70+ brand deals. Bridges is a soccer player at Florida International University with relatively little NIL experience. Both have completed NIL Long Game Certification.
"I had to learn fast once I started getting paid," Smith said. "Not only did NIL Long Game help me make smarter decisions, it gave me a competitive edge with brands who need to feel they can trust me to make their business pop."
"I've recognized the importance of managing my finances and marketing myself," Bridges added. "If I'm smart with my money, I can pursue bigger brand deals now and set myself up for success to reach my financial goals after college."
Changing the Trajectory of a Generation
Student-athletes must create a separation between personal and business earnings to make tracking and compliance easier.
Achieving certification has prepared Smith and Bridges to handle tax, legal, and record-keeping ramifications of NIL deals and protect and grow their earnings. NIL Long Game students hear directly from professional athletes turned entrepreneurs, financial coaches, NIL industry leaders, and college students with active NIL deals.
Davidson said Financial Finesse's donation exerts a potential multiplication effect on students.
"Imagine if every student-athlete used it, how different their futures would be," Davidson said. "And then imagine the ripple effect with student-athletes as role models for an entire generation."
To help achieve that goal, Financial Finesse has partnered with Athlete Licensing Company (ALC), a tech-enabled NIL firm providing transparency, royalty collection, rights protection, and brand management services for student-athletes.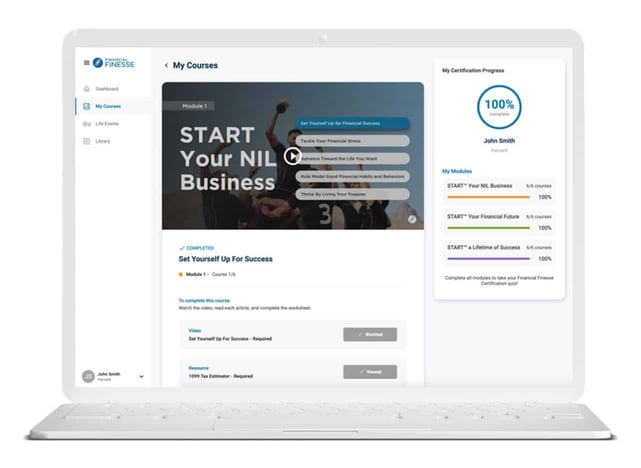 Through the partnership, ALC's collectives, and the student athletes they represent, will have unlimited access to on-demand financial coaching via Financial Finesse's financial coaching line, in addition to the NIL Long Game digital platform. CEO Adam Jaggers said ALC's goal is to provide the highest protection and acceleration for student-athlete NIL monetization. It needs financially literate clients to make that happen.
"ALC selected Financial Finesse because of their obvious track record with professional athletes," Jaggers said. "Equally important is the product they provide is coaching and mentoring, not investment portfolios — they're not trying to sell you some financial product, which might skew how they coach."
Jaggers said no other tool in the financial literacy space is as comprehensive as the NIL Long Game course. None are as tailored to the unique needs of student-athletes.
"This is going to be an invaluable resource to give all the student-athletes in our network a competitive edge for dealing with brands and achieving personal financial growth," Jaggers said.
Helping All Student-Athletes Achieve Positive Results
All athletes using NIL Long Game can access a certified financial coach through Financial Finesse and receive individual action plans to maximize their deals.
Financial Finesse is giving five years of personal financial coaching to 10 schools that have demonstrated an exceptional adherence to NIL education as part of its commitment to bridging the financial literacy gap among college athletes. All student-athletes and their families at the selected schools will have unlimited access to Financial Finesse's financial coaching line.
The NIL Long Game platform is highly user-friendly. By the time sports competitors reach the collegiate level, they must have learned exceptional time-management skills. Still, the NIL Long Game course structure places a manageable burden on students who must constantly juggle several priorities.
Davidson encourages colleges and universities to integrate NIL Long Game into required student-athlete curricula and assign a few courses weekly.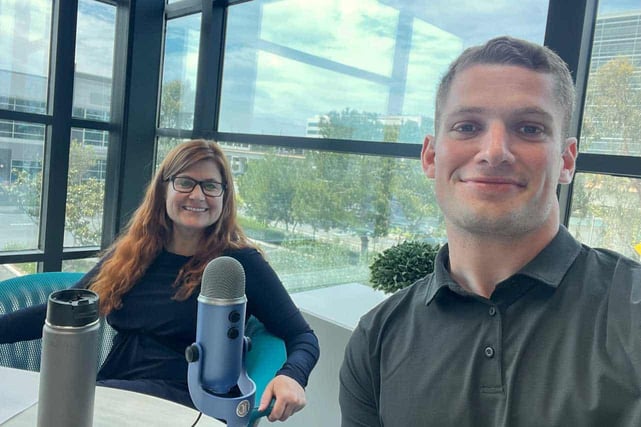 "If you want to sit down and dive in, you can, but we designed it to be self-paced," Davidson said. "It works nicely over a semester."
NFL Player, fintech entrepreneur, and Financial Finesse ambassador Carl Nassib said the abruptness of the court decision and the arrival of NIL left many colleges scrambling to make sense of the new environment.
Although top schools with celebrity athletes may have the resources to anticipate change in the new era, most student-athletes must improvise. That leads to undesirable consequences or leaves a lot of potential money on the table.
"I think many people agree that NIL arrived with little preparation for student-athletes to manage this prudently," Nassib said. "This is a great product that will fix that — a move in a positive direction."
Likewise, Davidson said she sees great things on the horizon. "Brands are looking for students certified in NIL and personal finance knowledge," she said. "It's equally applicable in schools where NIL may be much smaller or even for students who are not yet receiving NIL but want to understand how to make it work for them."