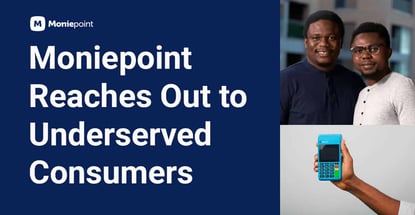 Our experts and industry insiders blog the latest news, studies and current events from inside the credit card industry. Our articles follow strict editorial guidelines.
In a Nutshell: Access to financial services is spotty outside Nigeria's urban centers, even as the country grows into an African economic powerhouse. In 2019, payment solutions provider Moniepoint began offering fast POS terminals to thousands of agency bankers — third-party providers performing cash-in/cash-out services for consumers on the outskirts. Then Moniepoint began offering merchant payment solutions as it quickly scaled and introduced banking and lending services in 2022. It's the partner of choice for more than 1.3 million Nigerian SMBs and processes about $12 billion monthly in TPV (current exchange rate).
Nigeria is growing into an economic powerhouse, with a 2021 GDP of $441.5 billion, the largest in Africa, according to Statista. But Nigerian economic growth is fractured. Poverty is endemic in the countryside, and infrastructure of all kinds, including banking infrastructure, is lacking outside urban areas.
One might assume Nigerians in rural and semi-urban areas would turn to digital banking. But as in many developing nations, Nigeria has a low-trust, high-touch financial culture, meaning consumers prefer to transact with people they can interact with.

That's why agency banking took hold in the country after a regulation change in 2013. Agency bankers are third-party providers, usually individuals, who provide banking services in regions where financial infrastructure — branches and ATMs — doesn't reach. In Nigeria after 2013, agency bankers began to provide cash-in/cash-out services for fast-growing numbers of Nigerian consumers.
Agency banking grew so popular that Nigerian banks shut down more than 200 branches and 600 ATMs in 2020 alone, according to a report by the International Monetary Fund.
The Nigerian fintech provider Moniepoint, formerly known as TeamApt, is a big reason agency banking appears to have staying power. In 2019, Moniepoint began providing agency bankers with point-of-sale (POS) payment terminals that enabled nearly instant transaction reconciliations with the Nigerian Interbank Settlement System, the country's centralized settlement authority.
Those POS devices were a game changer, and Moniepoint could have rested on its laurels. But in 2022, it introduced banking, credit, and business management services and expanded its business to many other merchant categories. As of early 2023, more than 1.3 million Nigerian businesses trust Moniepoint to help them connect to domestic and international customers and markets.
"We help them digitize their services," said Moniepoint CEO Tosin Eniolorunda. "And the data from our payment terminals enables us to extend credit."
Reliable POS Solutions for Agency Bankers
Moniepoint's explosive growth and potential have attracted extensive venture capital investment, including more than $30 million in Series B funding in 2021 and an additional $50+ million from QED Investors in 2022, according to TechCrunch.
Payment solutions include a web platform for secure online checkouts via cards and bank transfers and the POS machines, which accept and track payments and print receipts.
Moniepoint also offers easy access to low-interest flexible loans of up to $200,000 and a full suite of management tools with a dashboard that enables businesses to manage expenses, inventory, payments, and transactions. Banking services include free business accounts and debit cards for safe spending.
The company got off the ground in 2015 as a B2B provider helping Nigeria's banking sector automate transactions and settle and reconcile payments. It built some of Nigeria's first digital banking apps and built relationships with most Nigerian banks by 2018.
But Eniolorunda and the team realized Moniepoint services only reached a fraction of potential customers. It was solving problems for banks but not everyday people.
"For us, it always has been about providing financial happiness," Eniolorunda said. "We understood that banks have to be profitable, so they're not going to go into the underserved areas."
That's when the POS solution emerged. Moniepoint built on its technical expertise with bank customers to create a device that communicated with merchant banks and allowed agents to receive real-time transaction reports.
A learning and development team trained thousands of Moniepoint relationship managers, who then introduced Nigeria's merchants to Moniepoint solutions. The key to building trust in Nigeria's low-trust society was that the relationship managers were local people familiar with local merchants.
"Think of those 10,000 relationship managers as our tool for financial literacy," Eniolorunda said.
Lending Services Respond to Market Needs
Moniepoint's agency banking solution processed more than 400 million monthly transactions worth more than $7 billion by 2020. As Nigeria's economy grew, the company reached beyond agency bankers to other business sectors.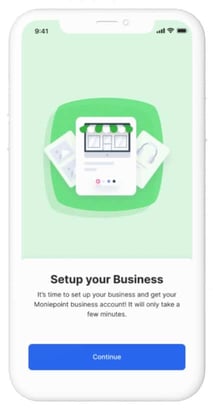 The logical next step was banking and lending — indeed, agents started reaching out to Moniepoint asking for banking services in 2019 because their customers were asking for loans. After a pilot project returned positive results, Moniepoint partnered with a financial institution and instigated the process of applying for a banking license.
"We realized the agents were essentially small businesses," Eniolorunda said.
The banking license arrived on Valentine's Day, 2022. The original idea was to become a consumer bank, but the team concluded that Nigerian consumers were likely to be infrequent users of the service.
So Moniepoint built out the business banking side of its operation to where not only agents use its products but also retail stores, fuel stations, hotels, and every kind of business. Customers choose their business type during the account application process.
That was possible thanks to the data Moniepoint's payment machines generated. Banks are hesitant to offer loans to what is essentially the smallest portion of Nigeria's small business sector because there is no system to judge creditworthiness. Moniepoint has the numbers to back its model because the POS terminals establish a track record of success.
"As we all know, banks take money from retail customers and give it to their massive wholesale customers," Eniolorunda said. "But it's not their fault — although these small businesses make a lot of money, they generally aren't properly registered."
Scalable Financial Inclusion in Developing Markets
That means Moniepoint solutions are essential tools for economic integration in Nigeria. Eniolorunda said that in a country where the unregulated or informal economy still contributes 50% or more of Nigeria's GDP, Moniepoint's more efficient outreach takes up where the banks leave off. Moniepoint helps capture the resources of the informal economy, and that helps everyone.
"These small businesses are running volumes if you can just focus and help them," he said. "Otherwise, they'll just operate under the table, and you can't win."
There's still a ton of upside in Nigeria for Moniepoint. Eniolorunda counts more than 41 million Nigerian small businesses, meaning Moniepoint has captured only a tiny fraction of the potential market.
And with banks reducing infrastructure owing to digital transformation, Moniepoint sees clear sailing ahead. Significant venture capital support attests to the financial industry consensus about Moniepoint's prospects.
Meanwhile, Nigeria's economy and society are rapidly changing. Already the most populous African nation with the largest economy, Nigeria is emerging globally and is poised to lead Africa's development efforts for years or decades.
In a February 2023 blog post, Moniepoint Storyteller Victory Okoyomoh asserted that merchants now activate a new Moniepoint terminal every 30 seconds. Nigeria's regulatory environment is changing, as are people's attitudes about the trustworthiness of digital financial services. Moniepoint is on the cutting edge of progress in a nation and region where it's sorely needed.
Eniolorunda said all developing regions face similar challenges of economic integration and banking and credit access. Moniepoint solutions are a potential fit everywhere consumers need access to financial services traditional banks can't provide.
"The credit system in Nigeria has not advanced yet, so you need that close contact," Eniolorunda said.