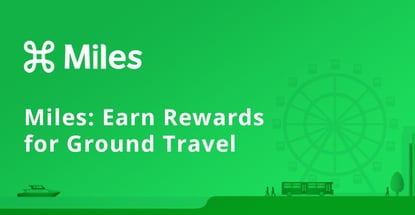 In a Nutshell: Miles is a tech platform that brings the idea behind frequent flyer miles to ground transportation. The app incentivizes people to use sustainable modes of transportation by earning points for the miles they travel. The more eco-friendly the method of transportation, the more miles they earn. Users can cash in their miles and choose from a plethora of products, services, and experiences. Miles delivers these opportunities to users through its large partner network. The platform also benefits brands as a way to get products in front of targeted audiences that would be most likely to use them.
We're all familiar with frequent flyer miles. The more you fly, the more miles you earn and discounts and rewards you can take advantage of.
Personally, I've always felt a bit left out of this club because I don't tend to fly very often. As a result, the paltry number of miles I accrue tend to expire before I build up enough to do anything with them.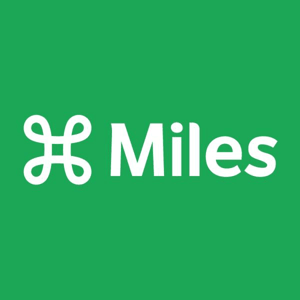 But my curiosity was piqued when I heard about a new app called Miles. The platform is geared toward those of us who don't fly frequently but still want to be rewarded for our travel, letting users earn miles by walking, taking public transportation, and driving.
In fact, the more eco-friendly the mode of transportation, the more miles it's worth.
The company, which bills its app as a frequent flyer program for ground transportation, was launched in 2018 by Co-Founders Jigar Shah, Paresh Jain, and Parin Shah.
We recently spoke with Jigar, who is also the Miles CEO, about how the innovative app and rewards program came to be, shifting trends in transportation, and the benefits of the platform.
"We started on this mission about three-and-a-half years ago by digging into use cases of mobility and the internet of things, and what's happening in transportation," Jigar said. "There's lots of disruption going on in the business models that were in place for the last 50 to 80 years."
Shifting Trends and the Environmental Impact of Travel
One of the main drivers behind the Miles concept is the shifting perspectives in how people approach transportation, Jigar said.
"The biggest trend is moving from an ownership model toward a usage model," he explained. "What this really means is, people were owning cars to drive from point A to point B. But now people are consuming a service to get from point A to point B. Mobility-as-a-service is emerging."
Jigar said he and his colleagues call this MaaS, and it refers to the uptick in people using rideshare services like Lyft and Uber. And cities around the world are implementing — or exploring how to implement — efficient public transportation such as autonomous vehicles.
"There are 1 billion cars on the planet owned by people like you and me," Jigar said. "Each car puts in 10,000 miles in a year, so you're looking at 10 trillion miles every single year. The economics on Wall Street puts $1 of value for every time you move from point A to point B."
This means that it basically costs consumers about $1 each time they drive their cars. This money goes to a variety of destinations attached to the automotive industry like vehicle maintenance, fuel, insurance companies, and more, revolving around a $10 trillion industry, Jigar said.
All this results in significant environmental impacts, of course, from the energy needed to produce new automobiles, tapping natural resources to fuel vehicles, and the emissions produced by so many cars.
The value of other modes of transportation, such as walking, running, biking, and taking trains and buses, is valued at about $0.50 per mile, Jigar continued. So, taking the ground transportation ecosystem as a whole, it adds up to about $0.75 per person for each mile traveled, and a $15 trillion industry.
Jigar said that the co-founders came across their a-ha moment by piecing all this information together and realizing that consumers gaining more diverse choices in transportation.
They understood that there was an opportunity to connect all these travelers with brands while at the same time incentivizing smarter modes of transportation. And they simply looked to the airline industry for how to structure their idea.
"We realized something like this has been done in the airline industry for the last three decades," Jigar said.
Users Earn Miles for Every Trip and Can Choose from an Array of Rewards
For Miles users, the handy app encourages folks to seek out sustainable modes of transportation through its rewards platform. And the more eco-friendly the means of travel, the greater the rewards.
"Every trip, every travel mode, everywhere. No logging of trips required. Miles are earned automatically," according to the company website.
To begin using Miles, simply download the app to your smartphone and set up an account for free. Users are presented with an easy-to-use and intuitive interface that logs trips and miles automatically as long as location services are turned on.
Standard travel in a car is the baseline and is worth one earned mile. The number of miles varies from there, depending on the type of transportation. Carpooling and rideshares are worth 2x miles; buses, trains, and boats are worth 3x miles; and biking is worth 5x miles, according to the app.
Walking and running delivers the greatest amount of rewards at 10x miles. The platform is currently incentivizing social distancing, and for a limited time, walking, running, and bike trips taken while maintaining a safe distance from others are worth 20x miles.
Users can cash in their miles to receive a wide variety of rewards, from unique experiences to numerous products and services.
The app makes redeeming rewards fast and easy. Miles users can select from a variety of categories — including health and beauty, travel and experiences, food and drinks, and jewelry — or browse through the offerings in a variety of other ways.
Some popular rewards come in the form of discounts or gift cards for Starbucks, Amazon, Target, and many more. Miles also offers users a wide selection of discounts off services like PostMates and Hello Fresh.
Understanding User Behavior to Benefit Both Consumers and Brands
Jigar explained that Miles is able to offer its robust rewards to users thanks to the partnerships it establishes with a variety of companies. Not only does it deliver value to users but it's a valuable tool for brands to connect with customers.
"As our users start using the product, we start understanding our users extremely well — the users' lifestyle, behaviors, interests, demographics," he said. "We understand all of this information based on your interactions with our products and so on and so forth."
For those concerned about privacy, Jigar said the company does not sell user data and none of its partners can access the data. Instead, it builds anonymized, aggregated data that it shares with partners to help them understand and create opportunities.
Jigar discussed Garmin, one of Miles' partners, as an example. He explained that a lot of companies that specialize in wearable technology have been paying more attention to consumer behavior.

"If a consumer has an active lifestyle, maybe they're more interested in running, walking, or jogging, it's very easy for us to identify those users and understand those users who are a bit different from the other cohorts of users," he said.
This is where Garmin — through its products and services — can get a better value by creating opportunities for those users to interact with its products.
Jigar said this is just one scenario where users and brands can connect based on user interest and demand.
As for the future of Miles, Jigar said the company has a lot of exciting announcements coming up in the near future, including new partnerships with Japanese companies, East Japan Railway and MS&AD (Aioi Nissay Dowa Insurance), to bring Miles to the Japan market.
In the meantime, users like myself, who don't take to the skies very often, can keep earning miles by downloading the Miles app and going about their daily routines as normal.
Advertiser Disclosure
CardRates.com is a free online resource that offers valuable content and comparison services to users. To keep this resource 100% free, we receive compensation for referrals for many of the offers listed on the site. Along with key review factors, this compensation may impact how and where products appear across CardRates.com (including, for example, the order in which they appear). CardRates.com does not include the entire universe of available offers. Editorial opinions expressed on the site are strictly our own and are not provided, endorsed, or approved by advertisers.