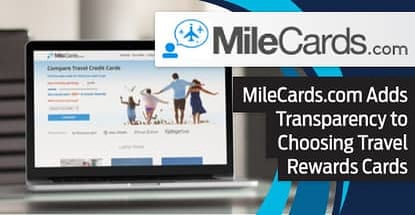 In a Nutshell: Today's credit card rewards programs are almost as numerous as the cards themselves. From introductory offers and annual fees to rewards based on categories, each card has its advantages and drawbacks for specific users. Launched to add transparency to an often confusing process, MileCards.com profiles hundreds of credit card rewards programs and matches them to your spending habits and travel goals, helping you get a little closer to your next destination. //
Before I was married, I used to keep a credit card just for emergencies … you know, emergencies like that one time in college I went to Europe on a moment's notice with four friends. Ahem. At any rate, most people go through a learning period while they figure out how to use credit cards responsibly. As I gained more experience with plastic, I realized they can be very beneficial if used wisely.
Credit cards are useful for actual emergencies and helping you establish and build credit. These days, almost every major credit card issuer has cards with incentive programs that offer rewards you can redeem for any number of things. These include cash back, retail merchandise, gas cards, hotel points, and of course, travel miles.
The way it works is fairly simple. As you spend money with your credit card, the issuer awards you points per dollar spent based on each program's specifications. You don't have to make large purchases or carry a big balance; you can accrue points easily through everyday spending. Despite all of the opportunities that come with responsible rewards card usage, more than 46% of rewards cardholders did zero research before applying for a card.

Recognizing the need for transparency in a crowded credit card market, MileCards.com was launched in 2006.
The site brings clarity to the often complicated process of deciphering which cards fit your spending habits, helping you rack up travel miles faster. MileCards.com believes that earning travel rewards should be simple, and the platform uses up-to-date, exhaustive information to give you comprehensive, side-by-side comparisons of every card's benefits and limitations. The site's expert analysis of hundreds of rewards programs, comparison tools, and news feed lets you hone in on exactly the right card to suit your finances, as well as your vacation plans.
Around 72% of Americans have at least one credit card, and rewards programs are prevalent, with nearly two-thirds of credit card balances held on rewards cards. More than a thousand credit card users were surveyed about the benefits of owning a travel rewards card. Many cardholders had redeemed rewards in the previous year, but many were not aware of their cards' annual fees or how to go about taking advantage of all of their benefits.
My wife and I found ourselves in a similar position when we realized the credit card we initially applied for because of its low annual fees actually had a great rewards program attached. We had used the card for a year or two when my wife discovered that we'd accrued enough points to pay for a trip we had coming up.
Once we realized the opportunity of smart rewards card usage, we began putting all of our regular monthly expenses, like gas, groceries, and childcare on our credit card and paying it off at the end of each month. We've since leveraged rewards points to get several free plane tickets and a hotel room for a weekend beach getaway. And that's why MileCards.com exists — to bring this educational aspect to help consumers get more out of their money.
Bonus Mile Card Offer Analysis Helps You Find the Ideal Card
Trying to find the perfect credit card in a sea of countless offers — all with varying terms, interest rates, and reward programs — is no walk in the park. MileCards curates a staggering amount of data and presents it in an easy-to-understand format on the Top Bonus Mile Credit Card Offers page. I was amazed at just how many detailed card profiles there were, each with requirements, varying values, lists of hotels and airlines that accepted the rewards, reviews, and, of course, links to learn more about the offers and how to apply.
With so much competition in the space, new cards and offers arrive on the market all the time. To keep up with this, the page is updated frequently. It provides information on the latest offers, who should apply (and who shouldn't), and advice for folks with less than perfect credit. For example, one valuable piece of advice suggests doing all of your research before submitting multiple applications, as too many active applications can negatively impact your credit score.
A comments section can be found at the bottom of the lengthy page, and I was pleasantly surprised to see how responsive the MileCards staff was to questions. Many times, the site had left links and other tips and information for site visitors that went beyond the initial post.
Compare Travel Cards to Reach Your Destination Faster
Being able to quickly and directly compare credit card offers is clearly a plus, especially when you consider how much time it would take doing independent comparisons. But what really makes MileCards.com's comparison tool unique is that it is completely customizable.
First, you can start by simply figuring out the number of miles you're likely to earn based on your monthly spending. The tool becomes most effective with the most accurate, personalized information, so it pays to first do a quick assessment of your expenses to get the best value on which to base your decision.
You can then choose your travel destination, and the site factors in how many miles you'll need to get there. Once all your info is entered, the CardFinder tool ranks the best cards for your purposes. And, if you want to refine the search even further, you can select your reward type (flights or hotels), card type (personal or business), and even how many bags you check on flights each year. The tool then instantly lists various cards with programs and rates that best fit your situation — no email addresses or personal information required.
News Articles Give Consumers the Inside Advantage on the Latest Travel Reward Programs
This site's news section hosts a lot of other valuable assets for those trying to figure out which card is right for them or for cardholders in search of card and travel-related advice. Blog posts vary in subject matter and scope, including articles on specific airlines and/or cards and provide forecasts of upcoming deals, offers, and prime times to fly or book a flight.
For example, one lengthy post went deep on a limited-time, 40,000-point bonus offer for the JetBlue Plus card. The article describes exactly what a cardholder could do with 40,000 JetBlue points, where they could go, and when. After discussing two round-trip flights between New York and the Caribbean, one section featured a detailed discussion of how airport taxes differ in the US and precisely what to consider before booking your ticket.
The post goes on to profile five more suggested flights under the same card offer. At the bottom of the page, there's a "Still confused? Have a question?" section where users can post their queries anonymously and expect to receive an answer "shortly," according to the page.
Another interesting post that caught my attention was one outlining the Best Miles to Use for Exotic Stopover Awards. This particular subject is one I'd never come across in my travel research. Apparently, using free stopovers can help you see more places for the same amount of money it takes to get to your destination outright.
Instead of hopping on your connecting flight at a connecting point, you can stay at a stopover point as long as you want — depending on how the airline stopover rules work, of course — and take the time to plan your next move rather than just using the route taken by the airline. This was a eureka! moment for me, as I have a good bit of international travel under my belt and never thought to try this.
These are just a couple of examples of the depth and expertise that can be found in the news section. And the more you dig, the more there is to learn and discover.
Let Your Travel Goals Guide Your Card Selection at MileCards
When I think back to some of the most transformative moments of my life, almost all of them happened away from home. They had a way of happening when I was on the move, in a place I'd never been before, or unsure of what was around the next corner.
And that is really the beauty of travel. The element of self-discovery coupled with the wonder of experiencing sights and sounds not yet felt. And when it comes to credit card rewards, the subject becomes almost a bit of a no-brainer.
What I mean by that is this: You have to spend money every day — why not get something extra in return? Credit card companies offer these rewards as incentives to secure your loyalty. So, if you go about paying off your card balance responsibly and avoid carrying a balance, you never know where you could end up. MileCards.com has all the tools and information to find a travel card that fits your needs and earns you free trips faster.
Advertiser Disclosure
CardRates.com is a free online resource that offers valuable content and comparison services to users. To keep this resource 100% free, we receive compensation for referrals for many of the offers listed on the site. Along with key review factors, this compensation may impact how and where products appear across CardRates.com (including, for example, the order in which they appear). CardRates.com does not include the entire universe of available offers. Editorial opinions expressed on the site are strictly our own and are not provided, endorsed, or approved by advertisers.