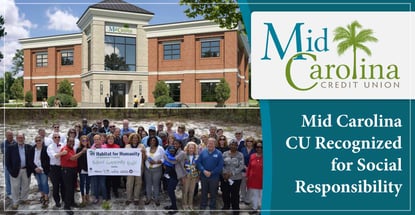 In a Nutshell: The city of Camden, South Carolina, and the people of surrounding Kershaw County, have long fueled the textile manufacturing industry. And in 1961, Mid Carolina Credit Union got its start in a guardhouse shed at a Camden textile plant to support those workers. Now headquartered in neighboring Lugoff, Mid Carolina CU still offers innovative financial products to its members and continues its tradition of giving back to communities through financial literacy programs, charitable donations, and volunteer opportunities. That consistent focus on social responsibility and the well-being of its members has earned Mid Carolina CU our Editor's Choice™ Award for Community Commitment.
For most of the 20th century, textiles — particularly cotton — dominated the manufacturing economy in South Carolina. But as the Palmetto State's textile industry evolved, facilities popped up to process more innovative materials.
In the late 1940s, the DuPont Company built its May Plant in Camden, South Carolina, to produce Orlon, a fabric made with synthetic acrylic instead of cotton. And, as it rode that Orlon wave into the 1950s and '60s, the May Plant became a major employer in Camden's Kershaw County.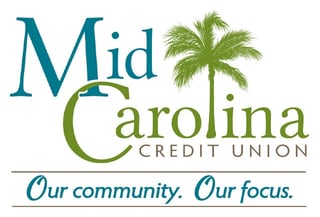 As it grew, DuPont saw a need to provide financial services to benefit its May Plant employees. So, in 1961, it sponsored the Mid Carolina Credit Union.
"We got started in a guardhouse on the plant property with one employee. It later expanded to three or four employees set up in this little building off to the side where they started accepting deposits and making loans," said Tina Smith, Mid Carolina CU Marketing and Business Development Head.
Keeping with its origins of supporting workers in a small South Carolina county, Mid Carolina CU has been giving back ever since.
"Our tagline is: 'Our community, our focus.' And we really live and breathe it," Smith said. "We believe in supporting the organizations here in our community, serving on boards, and helping at community events — not only donating our money but also our time."
The result is a consistent presence in Kershaw County that has long outlasted Orlon — and even DuPont — in the region. For its long-standing commitment to members and local residents, Mid Carolina CU earns our Editor's Choice™ Award for Community Commitment.
Employees Help Guide Charitable Donations
Bowing to changing consumer preferences, DuPont stopped making Orlon in 1990. Later, it rebranded its textile division as Invista before selling the whole operation in 2004.
But Mid Carolina CU remained. It acquired a community charter and expanded to four branches to serve everyone in Kershaw and neighboring Richland County. The credit union's first dedicated branch building is still located on the May Plant property and is now an administrative office where Smith works. In September 2019, Mid Carolina CU relocated its branch headquarters to a new space in Lugoff.
Today, Mid Carolina CU has more than 40 employees, many of whom have input in how the organization dispenses its charitable support.
"We have blue jean Fridays, and we donate all of that money to charity," Smith said. "And we ask our staff where they would like the money to go, everybody votes."
Staff members at Mid Carolina CU's Elgin branch recently took things a step further when one employee spearheaded participation in a local 5K walk benefiting the town, coupled with a toy drive benefiting Toys for Tots.
"All of the employees there participated," Smith said. "We encourage our staff to take part in community events, and we often jump in and back whatever they do."
And opening its Lugoff headquarters gave Mid Carolina CU an opportunity to solicit even more participation.
"We decided to keep with our tagline and philosophy of helping our community, we were going to give to three local charities here in town, we asked not just staff but also the public to weigh in as to where the money would go," Smith said. The credit union ended up donating to the Elgin Police Department Toy Round-Up, the Kershaw County Humane Society, and Habitat for Humanity — where Smith also serves as a board member.
Banzai Partnership Brings Financial Education to Schools and Members
Beyond employee-driven charitable support, Mid Carolina CU gives back by helping people improve their own financial situations.
Credit union management has long made a practice of offering in-person financial literacy and education programs both in local schools and in public venues. And its partnership with online financial education resource provider Banzai extends that reach with free in-school programs for teachers and also free at-home programs for members.
The Banzai partnership allows Mid Carolina CU to positively impact schools and communities in ways that go beyond what staffers could provide on their own.
"We saw a need within our membership and also within our schools," Smith said. "So many kids — and adults — need help acquiring basic financial skills."
The Banzai platform takes a gamified approach to deliver knowledge and testing skills that makes learning easy and fun for all ages.
"Even my seven-year-old jumped in and wanted to do the program," Smith said.
Banzai also provides school teachers with a respite from constructing effective lesson plans that conform to state standards while also offering compelling content for students.
"Teachers struggle with finding information to share with students and identifying good content to use," Smith said. "When I dropped off the pamphlets about the program to the district, there was much excitement to distribute them to the teachers. The program even grades the kids' submissions, eliminating extra work for teachers. We are only six months into the program, but have already had close to 500 students go through the program."
Mid Carolina CU: Helping Communities Thrive
Now part of Koch Industries, the site of the original May Plant is a sophisticated and thriving specialty fiber production facility operating under the Invista umbrella. Worldwide, the Koch organization employs more than 130,000 people.
But the place Mid Carolina CU calls home is still all about people in small towns weathering change. So the credit union continues to focus on its mission of helping the people of South Carolina any way it can — including through initiatives other than education and philanthropy.
Near the end of every year, Mid Carolina CU begins accepting applications from students who want to earn college scholarships. In 2019, four deserving students received $500 Mid Carolina scholarships — and in 2020, others will benefit.
Twice a year, the credit union also offers a skip-a-pay program to members with loans in good standing who might need a bit of extra cash to tide them over during summer or over the Christmas holidays.
"It helps so many families out at a time when budgets can be really tight," Smith said. "When we first launched the program six years ago, about 300 people signed up. Now, we're over 600, and I think we might be close to reaching 650."
Meanwhile, work on bringing product and service innovation continues. The credit union's CardValet app allows members to deactivate and control their cards with a few taps on a mobile device.
"You can turn your card on and off whenever you want or set location or merchant-specific parameters," Smith said. "This app is a game-changer in fraud protection."
While the credit union certainly has deep community roots, folks in Camden and Kershaw County are accustomed to innovation, so when the credit union delivers it, they respond. And Mid Carolina CU is committed to doing its part to keep those communities moving forward.
Advertiser Disclosure
CardRates.com is a free online resource that offers valuable content and comparison services to users. To keep this resource 100% free, we receive compensation for referrals for many of the offers listed on the site. Along with key review factors, this compensation may impact how and where products appear across CardRates.com (including, for example, the order in which they appear). CardRates.com does not include the entire universe of available offers. Editorial opinions expressed on the site are strictly our own and are not provided, endorsed, or approved by advertisers.