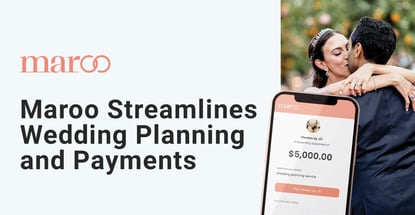 Our experts and industry insiders blog the latest news, studies and current events from inside the credit card industry. Our articles follow strict editorial guidelines.
In a Nutshell: Getting married should be a memorable experience, but organizing and paying for vendors often causes stress for couples. Maroo reduces that stress by providing a unified solution for managing and paying wedding costs. The platform enables wedding businesses to include buy now, pay later (BNPL) features to win more business. It also modernizes wedding planning by making payments more predictable and less burdensome for couples.
Wedding planning has always been a challenge, and the COVID-19 pandemic didn't make it any easier. Shutdowns in 2020 and 2021 created a demand backlog in the industry because there are only so many peak wedding weekends each year. That made getting married potentially more stressful than ever.
As demand for wedding services increased, prices skyrocketed for everything from venues to flowers. Services typically come with a payment deadline — the day of the wedding — so couples face even more pressure to figure out how to pay.
It's rarely a good idea to run up high-interest credit card debt, and putting a wedding on a credit card may not be an ideal way to start a lifelong partnership.
Maroo is a payment platform for couples and wedding businesses that shifts that dynamic and eases the pressure. It simplifies planning and paying for weddings by putting everybody on the same page and adding flexibility to the payment process.

"It's not fun to have to spend all that money all at once," said Anja Winikka, Maroo Co-Founder and Chief Marketing Officer.
Some couples are lucky enough to have family members willing to contribute. But that sets up a communication challenge of who pays for what and when. Stories of arguments stemming from family wedding-cost conflicts abound.
And wedding businesses tend to be local, tradition-bound, and unsophisticated when accepting credit cards — much less offering extended payment plans. That's where Maroo steps in to provide even small vendors with robust payment options to extend to clients.
"We streamline the payments part of the wedding," Winikka said. "You have one consolidated spot to organize all your payments so you can plan it out and automate it."
Dashboard Unifies Vendor Management for Couples
Wedding businesses are often local and informal, but it all adds up to big money. The events cost more than $20,000 on average, with prices projected to rise.
Couples want to see their big day go off without a hitch, no matter what size the wedding. It's hard to imagine a more deflating experience on a wedding day than unresolved worries about what it's going to cost and who is paying for it.
Maroo allows couples to quickly register and link their preferred bank and credit card accounts. From there, it's easy to organize invoices and requests to pay vendors through Maroo.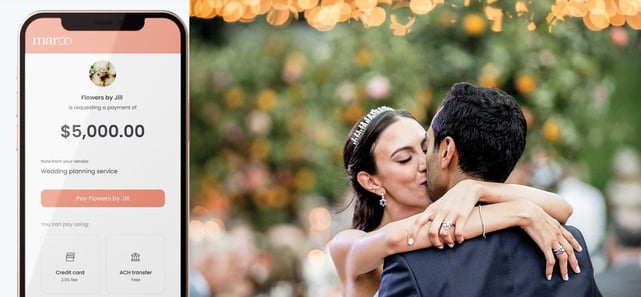 "You're working with a group of individual businesses that all have unique needs, and you can standardize and streamline it in one place," Winikka said. "It saves a ton of time and stress on the couple's side."
For added convenience, vendors don't have to be on the platform to interact with Maroo. When a vendor receives a request to pay, they have the option to register on the platform if they aren't on it already.
Maroo vendors can expect payments to arrive in a day via credit or debit card or digital bank transfer. If the vendor decides to remain off the platform, Maroo automatically sends them a check.
"Most everyone looks forward to having a wedding," Winikka said. "And everybody's got to figure out how to pay for it."
Providers Stipulate Preferred Payment Methods
When wedding vendors create a free Maroo account, they gain the advantages of a modern payment platform. They open themselves up to more business and easier ways to ensure payments arrive on schedule.
Businesses also control the types of payments they want to receive. Maroo never charges a fee to accept payments via check, bank transfer, or debit card. Credit card processing fees vary according to the size of the invoice and start at just 2.9%. Businesses can transparently pass those processing fees on to their customers through invoices if they choose.
And Maroo enables vendors to accept payments over time. A wedding business that can offer that flexibility may be more attractive to couples. Pay over time durations range from three months to a year and carry a 5% to 10% fee.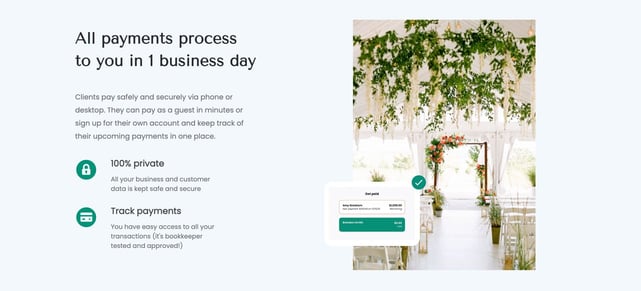 "If you buy a car or a home, those are products you can use to pay in a smart way over time," Winikka said. "But before Maroo, there was nothing like that in the wedding industry."
Additional small business functionality is built into the platform. For example, Maroo integrates with the Zapier web automation tool and Quickbooks Online to make bookkeeping seamless.
Suddenly the most dreaded part of the wedding business — hounding clients for payment — becomes a modern process for vendors.
"We bring best-in-class financial products and apply them to the weddings industry, but we speak the vendor's language and tailor the platform, so it makes a lot more sense for them," Winikka said.
Maroo: Reducing Stress in a High-Demand Industry
Maroo uses modern security protocols to keep transactions private and safeguard business and customer data. It works through a web portal and a dedicated mobile app.
The company is also on a mission. Ideally, a marriage ceremony is a beautiful, unique event symbolizing a permanent romantic union. It's hard to imagine anything more profound than that, so it's not surprising that so many people are willing to spend so much time and money to make the day special.
But before Maroo, no one seemed to want to talk about money. Wedding businesses prefer pricing flexibility, and they want to charge based on what they think a couple is willing to pay. They also want to keep those prices a secret from other local business competitors.
But they generally don't have many tools to make flexibility easier, so couples get bogged down in minutiae when they want to focus on their once-in-a-lifetime celebration.
Maroo's solution is a community for the wedding industry. Its informative content educates wedding industry professionals on best practices and helps couples learn about their options.
Demand for wedding services is at an all-time high due to the pandemic. So, there's never been a better time to onboard with a platform that simplifies weddings for everyone.
"We feel like this is our moment to bring everyone together, not only with tools but also through our mission of understanding," Winikka said. "We're excited to bring more transparency to couples, so they know what they're getting themselves into."