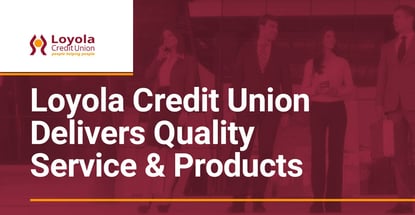 In a Nutshell: Credit unions in the U.S. have long been heralded for their focus on quality customer service. And thanks to technological advances, organizations like Loyola Credit Union are able to offer personalized service and competitive products and services similar to those offered by big banks. The credit union serves employees and families of Loyola University Chicago and the Loyola University Health System as well as students, interns, and residents. As with many other organizations, the credit union was met with its fair share of challenges in 2020, but a silver lining of the COVID-19 pandemic was being able to see the value of digital banking services and moving more in that direction for the future.
People in the U.S. generally have two main choices when it comes to managing and storing funds: credit unions or banks. Because of their broader reach and bigger budgets, banks in the past boasted about being able to offer all the latest financial products and services while credit unions leaned on their reputations for personalized service and a hometown feel.
Thanks to technology, credit unions are now able to provide the high-quality customer service they've always been known for right alongside all the products and services offered by many big banks.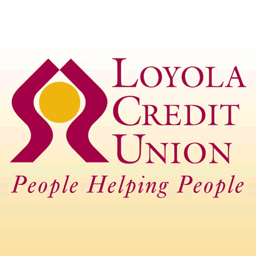 And because credit unions are member-based, co-op organizations, they can even offer more competitive rates than banks on certain financial products.
A lot of U.S. credit unions were born in the first half of the 20th century to cater to small audiences tied to employment at a particular company or organization. While many credit unions have expanded through community charters, some of them, such as Loyola Credit Union, have not strayed from their roots.
The Illinois-based credit union was created for and still caters to members who work for or are paid by Loyola University Chicago or Loyola University Health System. This also includes immediate family members of employees as well as students, interns, and residents.
We recently spoke with Loyola Credit Union Manager Harry Tram about the organization's competitive products, customer service, and its response to the COVID-19 pandemic.
The credit union's mission is to provide its members "with a variety of financial services at competitive rates and fees. These services, which are convenient, dependable, accurate, and secure will be provided in a personalized and friendly manner," according to the organization website.
Serving the Loyola Community Since 1979
"The credit union started out in 1979," Tram said. "I think we had 12 members who started it. It was pretty small — around $1,000 originally started the whole thing."
Over the years, the credit union has grown steadily and now holds about $50 million in assets.
"We've been pretty successful that way," Tram said.
He explained that as a relatively small organization, Loyola Credit Union only has six full-time employees. But it offers nearly every product and service one would expect to see at a big bank.
Tram said the credit union may expand in the future, and if it does, it will likely broaden its membership and perhaps take on a community charter. But, for now, Loyola Credit Union is happy with where it's at.
The credit union and its employees are able to focus on providing the best service possible and helping its members get on or stay on a healthy financial path.
"Loyola Credit Union's philosophy of "People Helping People" is seen through our pledge of good customer service, our commitment to our members' financial growth through low rates on loans, low fees and high interest rates on deposits," according to the website. "LCU has a federal charter and deposits are insured through the NCUA."
Credit unions, such as Loyola Credit Union, are "established to promote the financial well-being of their members, from those people of modest means to those of significant wealth, through a system that is cooperative, member-owned, volunteer directed and not-for-profit," according to the organization's website.
Financial Products and Services to Suit a Wide Variety of Member Needs
"We take an approach of wanting to give folks fair rates on all our different loans and credit card products," Tram said. "We keep (rates) pretty low, and we keep the fees low so we can help those that need it in those areas. And that's kind of the way we've always been doing it."
Being a member of a credit union with a focused membership group can work out in the members' favor in other ways as well, including savings accounts.
"Because we're a small credit union, we don't have the same audience as the big banks. We have maybe 1,000 potential customers here," Tram said. "So we try to pay a little bit higher dividend rates just to attract and keep members happy."
Loyola Credit Union also offers free checking accounts and a wide variety of loans for its members.
"We are committed to providing our members with fast loan decisions, competitive rates, and no application or origination fees. We offer you a variety of loan programs to help you get what you need, when you need it." — Loyola Credit Union
And with four different credit card offerings, the credit union's selection has something to suit nearly everybody's unique financial needs.
"Whatever your shopping needs are, the Loyola Credit Union has a VISA® card program to complement your lifestyle as well as your budget," according to the website. "Based on the program you select, your credit card use can be rewarded by providing you with a variety of choices from getting cash back to choosing from a wide variety of travel opportunities, event tickets, activities, or brand name merchandise."
Loyola Credit Union also offers retirement workshops twice per month that are open to members and non-members alike.
Responding to and Growing From the Challenges Presented by the COVID-19 Pandemic
As with so many people and organizations in 2020, Loyola Credit Union was presented with a number of challenges thanks to the COVID-19 pandemic. With businesses temporarily closing or reducing their hours, and more people staying home, a lot of people explored digital banking options for the first time.
"It was a great opportunity for us because we've wanted to become a more virtual-type operation where members wouldn't have to come in and do any kind of banking stuff in the office, you can just do it all online," Tram said.
While the pandemic was difficult on many, one silver lining is that it pushed Loyola Credit Union and its members further into the digital banking realm.
"We're in the process of coming up with a whole suite of stuff where you can join the credit union, fund everything, you can do everything that you normally would have to come in to do, it would be done electronically," Tram explained. "It's all going to be rolled out this year."
He said the credit union is also in the process of updating its mobile banking app and adding a bill pay feature to it.
"I would say within the next year or two, the idea of having to focus on any office is pretty much going to go away," Tram said.
He said some studies have shown that credit union customers are becoming less interested in the personalized service that credit unions offer and are more focused on efficiency and convenience. But Tram said that doesn't mean Loyola Credit Union is going to be changing its focus on quality customer service any time soon.
Advertiser Disclosure
CardRates.com is a free online resource that offers valuable content and comparison services to users. To keep this resource 100% free, we receive compensation for referrals for many of the offers listed on the site. Along with key review factors, this compensation may impact how and where products appear across CardRates.com (including, for example, the order in which they appear). CardRates.com does not include the entire universe of available offers. Editorial opinions expressed on the site are strictly our own and are not provided, endorsed, or approved by advertisers.