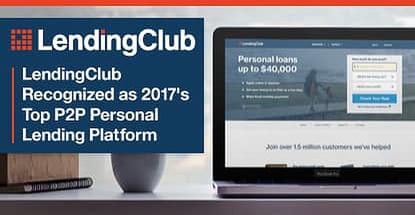 In a Nutshell: Founded in 2007, LendingClub is a peer-to-peer lending platform where borrowers can request unsecured personal loans directly from individual investors. These loans can range in size from $1,000 to $40,000 and have a duration of either three or five years. Individuals who want their money to earn more can browse LendingClub's website, and choose a loan or loans to invest in. Since LendingClub is an online marketplace, it has very low overhead costs compared to banks and can keep interest rates below what banks charge, yet still be attractive to investors. All of this has led to what has become a very popular way to fund loans — and has earned LendingClub our Editor's Choice™ Award for Top P2P Personal Lending Platform. //
Maybe the house needs repairs, or the family vacation fund is a little short this year. Whatever your cash needs, chances are you're leaning toward borrowing from your bank or tapping into your credit cards. Historically, the vast majority of personal or unsecured loans have been made through these traditional sources — but all that's starting to change.
Online peer-to-peer lenders have been making inroads into the personal loan arena and have gained market share every year since they were introduced. The largest of these P2P lending platforms is LendingClub, a San Francisco-based online lender.
What is peer-to-peer lending, you ask? Simply put, it's a way to connect borrowers with people who have money to invest. Loan requests are put out there on the LendingClub website, along with the relevant financial details of the potential borrower, and investors can choose which loans they want to put their money into.

LendingClub turned 10 years old this year, having launched in 2007 as one of the first applications on Facebook. In the ensuing decade, LendingClub has grown into a publicly traded entity with a market value of more than $2 billion. Not bad for a company that began as an afterthought for its founder and former CEO, Renaud Laplanche.
As an entrepreneur, Renaud frequently needed to raise capital and soon realized the banks were an inefficient way to do so. In fact, he is famously quoted as saying, "When I founded my first startup, it got me thinking — banks are middlemen that can and should be disrupted."
And the idea for LendingClub was born.
The World's Largest & Most Popular P2P Lender
Today, LendingClub is the leader in P2P lending, with over $28 billion in loan originations since its inception. Adding to its popularity is the ease with which consumers can make loan requests and the transparency that's built into the process. Investors know exactly the amount and reason for the loan request, which can range from hospital bills and student loan debt payoffs to auto loan financing or planning a wedding.
"We've been part of 2,400 weddings, 121,100 home improvement projects, and 13,593 vacations," said a LendingClub spokesperson. "We've also delivered $337 million to small businesses for working capital, purchasing new inventory, expanding their businesses, or consolidating their debt."
One reason LendingClub has become so popular among borrowers is the amount of money that can be saved in interest charges. Just over 60% of borrowers who take out a loan through LendingClub to pay off debt, end up paying 24% less in interest, on average, than they would through traditional means. They also report an average 28-point increase in their credit score, according to the company.
Another popular use for LendingClub loans is auto refinancing, which has the potential to save a car owner hundreds or even thousands of dollars over the life of his or her loan. If your car meets certain age and mileage criteria, you can lower your monthly car payment, and pay no application or origination fees with LendingClub.
How LendingClub is Disrupting the Traditional Loan Industry
Loans from traditional financial institutions, like banks, come with a lot of overhead and expenses that shouldn't necessarily affect borrowers. Think branch offices, personnel, inter-bank borrowing costs, and other expenses. Because LendingClub is an online platform, many of these costs are reduced, or even eliminated. That's why the interest rates charged to borrowers are typically lower than those offered by banks.
As a company spokesperson told us, "Through our technology platform, LendingClub is able to create cost efficiencies, and pass those savings on to borrowers in the form of lower rates, and to investors in the form of solid returns."
The LendingClub application process is also often easier and faster than requesting a loan through a bank. There are no face-to-face meetings with loan officers, no long and complicated forms to fill out, and no waiting days or weeks for loan approval. With LendingClub, it's a simple online application, where you'll see your loan rate up front. If you accept the loan offer, you can watch as people invest in your loan. Funding is fast and goes directly into your bank account.
Protection Through a Proprietary Loan Grading Model
LendingClub's unique and proprietary loan grading model enables the company to offer competitive loan rates to borrowers, and still protect the capital of investors. Each online loan application is evaluated and assigned a risk grade based on a combination of credit score, credit history, income, employment, and the debt-to-income ratio of the borrower.
Grades assigned to a loan request range from A, the highest grade, to G, the lowest. Within these grades are further risk-based adjustments of 1 through 5, so that a loan request of A1 would receive the most favorable interest rate, while an A5 would still be high quality, but would come with a less favorable borrowing rate. A G5 rating would be the riskiest loan, and would have the highest borrowing rate possible. Based on these grading criteria, investors can see the level of risk involved, and choose to earn more interest, or opt for a safer but lower interest bearing loan.
Further safeguards and investor protection is built into the very structure of how LendingClub offers its loans to investors. When choosing to invest in a loan or loans, an investor can put as little as $25 toward a "share" of the loan. The cumulative amount from all investors is then packaged, and the loan is made to the borrower. In this way, investors diversify their lending portfolio among many different loans, and spread their risk.
Celebrating 10 Years as a Platform That Enables Borrowers & Rewards Investors
With a change in leadership in 2016, LendingClub is moving forward in the lending market under the experienced Scott Sanborn, who took over as CEO after Renaud resigned. A seven-year veteran of the company, Scott previously held the roles of President, Chief Marketing Officer, and Chief Operations Officer.
Undoubtedly, the business model of peer-to-peer lending has the ability to change the way we all borrow money. It's a way for borrowers to get a lower-cost loan, and for investors to earn more money than they would with traditional savings or money market accounts. LendingClub has shown that there is a way to make this model both profitable and safe.
In the decade since its inception, LendingClub has developed the most efficient and transparent online lending market around. Through its use of technology and innovative ideas, the company has helped over 1.5 million borrowers pay down credit cards, consolidate their debt, make home improvements, and cover major expenses … all while saving them money.
If the last 10 years are any indication, expect to see LendingClub continue its commitment to making borrowing and investing easier in the future. We may look back in another 10 years and wonder why anyone would consider a bank loan over P2P lending. For continually demonstrating the nearly unlimited possibility when opportunity meets innovation, LendingClub has earned our Editor's Choice™ Award for Top P2P Personal Lending Platform.
Advertiser Disclosure
CardRates.com is a free online resource that offers valuable content and comparison services to users. To keep this resource 100% free, we receive compensation for referrals for many of the offers listed on the site. Along with key review factors, this compensation may impact how and where products appear across CardRates.com (including, for example, the order in which they appear). CardRates.com does not include the entire universe of available offers. Editorial opinions expressed on the site are strictly our own and are not provided, endorsed, or approved by advertisers.