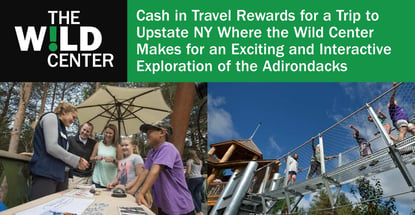 In a Nutshell: We're always on the hunt for cool ways our readers can cash in their hard-earned credit card rewards, and The Wild Center in upstate New York is a great option. The unique science center focuses on the ecosystem of the surrounding Adirondack Park, and how humans and nature can thrive together. The Center has an abundance of indoor and outdoor attractions. One of its most popular attractions is the Wild Walk, a series of bridges that take visitors on a walk through the treetops, giving them a whole different perspective on nature. The Wild Center also promotes healthy environmental practices through its Community Maple Project and Youth Climate Program. Although the Center is in a rural location, it is within a two-hour drive of several transportation hubs.
As a publication that revolves around credit cards, we're always looking for great ways to not only acquire points and rewards but also great ways to use them.
So, when we come across a unique travel destination that could make a perfect place for your next family vacation (and use of your hard-earned travel rewards), we just have to share the news.
The Wild Center is an opportunity for family fun, mixing educational activities with captivating indoor and outdoor adventures, all in the scenic heart of upstate New York's Adirondack Mountains.
"The Wild Center opened in 2006, and we're a place-based science center, natural history museum, community convening space, part aquarium, and interconnected trail system," said Nick Gunn, the Wild Center's Marketing Manager.
That sounds like a lot, but Gunn isn't exaggerating. And while the Center opened in 2006, it's story began in 1998 at a cabin in Long Lake, New York, in Adirondack Park — the biggest natural park in the contiguous 48 states. It can actually hold Yellowstone, Yosemite, Grand Canyon, Glacier, and the Great Smoky Mountains National parks within its borders.
"It is home to one of the most important conservation stories in the world because it demonstrates how people can live in a wild place without damaging its biodiversity," according to the website.
But the group of friends at Long Lake realized that no one had ever really showcased the natural world of the Adirondacks in a comprehensive way. Nor had they used its story to explore humankind's relationship with the natural world.
"Everything you see at The Wild Center — from the animals to interpretive signage to the science initiatives — is all based on the Adirondacks," Gunn said. "Anything you find in The Wild Center is something you would find in the Adirondack Park."
Travel Through the Treetops on the Wild Walk or Head Indoors for Animal Exhibits, Live Shows, and Films
Before you start thinking The Wild Center is just another nature museum with a few examples of local wildlife and wall placards describing indigenous plants and animals, take a look at the Wild Walk as just one example of how the Center stands out.
The Wild Walk is a trail of bridges that takes visitors to the treetops of the Adirondack forest. By walking among the treetops, humans can see nature from an entirely new perspective — that of many animals that inhabit the forest.
"You're not going to get a better view of fall foliage outside of the Wild Walk," Gunn said. "When you're up 40 feet off the ground looking at a full panoramic view of the mountains and the trees, it's a pretty spectacular view up there. It's been really popular at that time of year."
Gunn said the Wild Walk is also now open in winter, which provides a completely different experience.
"For winter, we changed it up a bit," he said. "We created these really cool selfie stations, we strung lights all over Wild Walk to make it shine. We put in snowball throwing ranges and spots to build a snowman."
For those who want to venture outside at ground level, The Wild Center maintains numerous interconnected hiking trails and offers free snowshoe rental during the winter.
Visiting the inside of The Wild Center offers hours of education and entertainment with animals, educational exhibits, feature films, and more.
"We have rotating exhibit spaces. Everything is very hands-on," Gunn said. We really encourage people to get their hands dirty and open drawers and touch the exhibit, things like that."
The Ways of Knowing installation focuses on seeing nature through the lens of indigenous cultures, while the Hall of the Adirondacks gets up close and personal with nature.
"In the Hall of the Adirondacks, you can spend time with a myriad of fish, turtles, and other animal and plant species, and get a deeper understanding and appreciation of the inner workings of nature in this unique region," according to the website.
"There really is something for everyone here," Gunn said. "Whether it's a family with small kids who spend most of the day on the Wild Walk or a retired couple that comes up to see the fall foliage or bird watching. Even those who want to get into the nitty-gritty science, there's an opportunity for that as well."
Engaging Guests through The Maple Project, Youth Climate Program, and Other Science-Based Projects
The Wild Center not only gives visitors a glimpse into nature, but it also participates in valuable programs that interact with nature or protect the environment.
"We think that with the help of science we can move beyond our present challenges where our economy often comes at the expense of the natural world, and find ways to have a vibrant human economy and thriving nature," according to the Center. "The Wild Center is committed to helping the Adirondacks become a model for this idea, and one that can lead by example."
One of its most popular projects is also one of its tastiest.
The Wild Center's Community Maple Project aims to educate the community about the maple syrup industry and connect people with nature.
"Spring is a tricky season here because all the snow has melted and things get a little muddy," Gunn said. "Around here they call it mud season. But for us, it's the time of year when maple syruping happens."
He said The Wild Center's Community Maple Project allows members of the community to tap trees and drop off the sap to The Wild Center where it is then processed in the Center's sugar shack.
"We bring people out to the sugar shack, and it's a nice educational piece," Gunn said. "We teach people about maple syrup, and they can taste the fresh stuff as it's being processed."
Not only does the project educate, but it is playing an active part in igniting a maple renaissance across the Adirondacks.
The Center also runs the Youth Climate Program, which works to convene, engage, connect, and empower young people around the world for action on climate change. Its annual summit is the program's tent pole and inspiration behind numerous other youth climate summits in recent years.
The Wild Center also partners with the Adirondack Pollinator Project to build awareness about the importance of pollinators across the region.
The Wild Center's Rural but Accessible Location Helps Cure 'Nature Deficit Disorder'
"We've been talking a lot lately about what some people are calling nature deficit disorder — trying to get people to disconnect with the screen," Gunn said. "Even just getting people to go outside and experience what's in their own backyard — we've been beating that drum lately."
And The Wild Center's somewhat remote location offers the perfect remedy for nature deficit disorder.
"We're a really nice entry point for the Adirondacks and getting people familiar with the area, and what all there is to do here," Gunn said.
While you won't be hopping off a plane and taking an Uber to The Wild Center, Gunn said getting to the Center, located in Tupper Lake, New York, is relatively easy.

"There are a couple of different options in terms of travel," he said. "The Plattsburgh International Airport is only about two hours from here, and the Montréal-Pierre Elliott Trudeau International Airport is only about 30 minutes further. There's also a regional airport in Saranac Lake, which is about 25 minutes from here."
He said there is also an Amtrak stop at Lake Champlain, which is also about two hours from The Wild Center, as is Burlington, Vermont.
As far as keeping up with The Wild Center's visitors and supporters, Gunn said they conduct monthly surveys, post-visit surveys, and maintain a comment box for recommendations. He said the organization also engages on social media and reads Google reviews, Yelp, and TripAdvisor.
He said The Wild Center receives a lot of positive feedback, with the Wild Walk being one of the most highly praised attractions at the Center. Gunn said people also love the otter exhibit. And, overall, visitors seem to really appreciate the helpful interactions they have with The Wild Center staff, who are helpful in giving recommendations or telling people what their favorite parts of the Center are.
"I think a lot of folks end up making that connection with staff, and I think it provides a whole different experience for those looking for something a little deeper," Gunn said.
Advertiser Disclosure
CardRates.com is a free online resource that offers valuable content and comparison services to users. To keep this resource 100% free, we receive compensation for referrals for many of the offers listed on the site. Along with key review factors, this compensation may impact how and where products appear across CardRates.com (including, for example, the order in which they appear). CardRates.com does not include the entire universe of available offers. Editorial opinions expressed on the site are strictly our own and are not provided, endorsed, or approved by advertisers.