Our experts and industry insiders blog the latest news, studies and current events from inside the credit card industry. Our articles follow strict editorial guidelines.
In a Nutshell: Credit card rewards benefit shoppers the most when they remember to use the right card at the right time. The Kudos smart wallet app makes that easier by assessing the cards in the shopper's digital wallet and recommending the best one to use at every checkout. Kudos works with more than 3,000 cards, streamlines the autofill experience, and contains an explore feature to help consumers apply for cards that better fit their spending habits. And through Kudos Boost, Kudos doubles rewards at thousands of participating online merchants.
The digital cards and wallets consumers use to pay for goods and services seem almost magical in how they turn phones and screens into payment devices. But shoppers realize they leave a lot to be desired after they use them for a while.
For example, digital wallets can't distinguish cards according to their offers and rewards. Instead, they present a stream of cards and require shoppers to know the best one to use in each checkout scenario.
Digital wallets also don't identify expired cards or cards available to autofill checkout forms. Shoppers who use contactless payments on mobile or autofill on desktop, laptop, or tablet screens still must keep their physical cards handy because wallets can't remember card verification value (CVV) numbers.
So while digital checkout represents a giant leap forward from writing paper checks or paying with cash, it's not perfect — not by a long shot.

The Kudos smart wallet app and browser extension fix these shortcomings, transforming digital checkout from a chore to a pleasure.
Kudos streamlines autofill and remembers CVV numbers. It keeps track of expired cards. It also recommends the card with the best rewards at checkout to help shoppers get the most out of their purchases.
It even tracks card benefits users often forget, including extended warranties, purchase protection, and travel delay insurance. And it uses industry-leading security to safeguard data and protect card numbers.
Kudos works with more than 3,000 cards at millions of shopping sites. And with Kudos Boost, a new feature in Spring 2023, Kudos doubles rewards on purchases at 15,000+ participating sites.
"Consumer wallet products focus mainly on merchant integration," said Tikue Anazodo, Co-Founder and CEO at Kudos. "Our mission is to make every purchase delightful and rewarding for shoppers."
Streamline Checkout and Find the Best Card Values
Anazodo and his co-founder, Ahmad Ismail, started Kudos after working on the Google Pay platform and a project to launch the Affirm payment service on Amazon.
They learned in those jobs that the urgency of ensuring merchant coverage could result in neglecting the consumer experience.
"We decided to shift the narrative and focus more on what consumers want when making purchases," Anazodo said.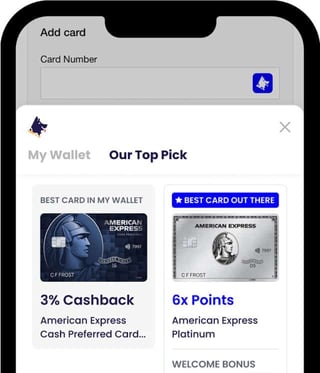 Anazodo and Ismail structured Kudos to reflect that goal. Instead of requiring merchant tie-in, Kudos works as a Chrome browser extension on desktops, laptops, and tablets. It works on mobile as an iOS app with a Safari browser extension.
That means it works everywhere merchants accept digital payments with all the cards they accept — more than 3,000 cards and 2 million merchant sites. And shoppers don't have to log in to bank portals or share their card numbers. They only select the types of cards they have, and Kudos goes to work providing rewards recommendations at checkout.
"We fully solve that problem for consumers on Chrome desktop and Safari mobile through our browser extension," Anazodo said.
Kudos sorts through cards and merchants, and scans the digital wallets to inform shoppers at checkout how they should pay and what rewards and benefits they'll receive. It tracks rewards and can display a breakdown of miles and points earned on purchases throughout the year.
When shoppers elect to store card data securely with Kudos, the app responds with a smarter autofill experience. It deftly inputs card data and remembers CVV numbers, making checkout nearly effortless.
Account holders also receive personalized recommendations for new cards based on how they spend and which cards they already have.
Kudos Boost Doubles Rewards at 15,000+ Sites
Kudos Boost takes shopping a major step further by doubling rewards at more than 15,000 participating merchant sites, including top sites like Sephora, Priceline, and Booking.com. Boost points are cash-equivalent points shoppers earn within the Kudos ecosystem.
"If you have a 3x card at Sephora, you get 6x when you include the 3x we give you through Boost," Anazodo said.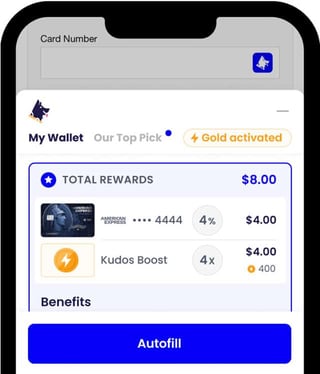 Boost provides an incentive for consumers to improve their wallets. For example, if the Kudos card explorer tool reveals a spending category where a flat rewards card could result in increased earnings, Boost increases the likelihood the consumer will go after that card.
As a startup, Kudos did not work one-on-one with thousands of merchants to secure Boost partnerships. A third-party arrangement led to a package deal with a consistent commission split with every merchant.
Kudos plans to negotiate with some top merchant partners for a better commission split. That will create a win-win-win for the ecosystem. Kudos will earn larger commissions through direct partnerships, but it will also drive purchases to its merchants because consumers will receive a larger portion of its earnings.
Synergy in the purchasing journey also builds momentum toward presenting exclusive merchant offers through the platform.
"We're in a position to evolve into that space because our purchases happen in context," Anazodo said. "Instead of asking shoppers to manually sort 50 offers to find the one relevant to their purchase, we'll be able to offer it directly."
Kudos is well on its way to achieving that goal. With a constantly accelerating growth rate, it has a strong word-of-mouth reputation among bargain- and points-minded shoppers. Part of the Boost program offers cash incentives for customer referrals.
Dedicated to Security and Privacy for Shoppers
Kudos also reaches out to shoppers via social channels. On Reddit, Kudos engages with users, answers questions, and takes recommendations. Anazodo and the team also participate in credit card communities on Reddit and work with influencers on YouTube to project the Kudos brand.
"We find that people are very receptive to that, especially when they realize an actual founder is trying to understand their needs and create new value for them," Anazodo said.
Kudos also offers a blog packed with industry and product news.
The team stresses the Kudos platform's commitment to security and privacy. Kudos understands the consumer's need for the highest level of assurance regarding safeguarding personal financial data.

After a thorough external security audit, Kudos achieved the SOC 2 (Type 1) security compliance standard. SOC 2 compliance signifies its commitment to a fail-safe platform design using the most up-to-date industry protocols.
Kudos also uses bank-level 256-bit encryption to mask customer card data, the strongest encryption available. And it uses Amazon Web Services (AWS) as a hosting service, pointing out that AWS is a preferred provider for the U.S. Department of Defense, NASA, and the Financial Industry Regulatory Authority (FINRA).
"Your encrypted financial data on our servers will never be accessed or used by any other party," Kudos said in a website FAQ.
Kudos also pledges not to sell or share personal customer data with third parties. It uses aggregated and anonymized data for internal analytics and business purposes, and the platform never tracks user behavior offsite.
And because Kudos is still a small team, it's personally available to users for one-on-one consultations. Kudos often interviews users to gain feedback. And as it innovates, users can walk alongside and provide input.
"We're creating more frameworks for people to talk to us in whatever way makes sense for them," Anazodo said. "If we provide value, it expands the pie."