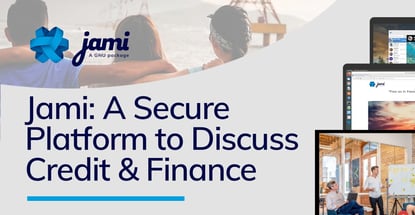 In a Nutshell: Confidentiality and security is extremely important when it comes to the many forms of online communication, especially as it relates to discussing details like credit cards and bank accounts. Jami is a serverless peer-to-peer communication platform that delivers maximum privacy via end-to-end encryption. Users can use Jami to communicate with other individuals or with groups. Because it doesn't depend on a server, the free platform is not constrained by file sizes or storage issues that other communication channels face and all your data are kept in your own device. And its latest release, Together, delivers major improvements in functionality and new features such as conferencing and Rendezvous Points.
Discussing finances in the U.S. is often seen as a taboo subject, although it shouldn't be. But when the discussion involves sensitive information, such as credit card or bank account numbers, confidentiality is of the utmost importance.
We routinely deal with personal financial data online through various portals, whether it's with a credit card company, a budgeting app, or online banking services. While some companies certainly do their due diligence when it comes to security, we as consumers cannot know whether each and every interaction is truly secure.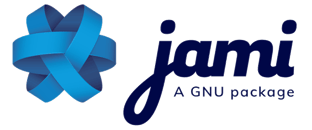 Thanks to platforms like Jami, financial data can be discussed in a truly secure environment. The innovative platform provides an encrypted avenue through which to discuss any number of topics. Of course, at CardRates, we were interested in learning more about Jami as a way to communicate with finance companies and individuals about money-related topics.
We spoke with Jami's Advocacy Vice President Christophe Villemer about the platform, its encryption techniques, and some of its advantages over other communication methods.
Whether you're disputing a credit card purchase or inquiring about a home loan, Jami may be the most secure way to have these conversations outside of a face-to-face chat.
"Today, it's a fully peer-to-peer secure environment of communication," Villemer said. "It allows people to communicate one on one or one to many."
A Peer-to-Peer, Encrypted Communication Platform
In its early days, Jami was mostly known to those in the online community who were most aware of privacy issues and concerned with maintaining privacy.
"Little by little we began to see that there was interest in the company from other areas," Villemer said. "Some of the use cases we are now targeting include healthcare, doctors, lawyers, bankers. Everybody who has issues with keeping data secure for clients."
In fact, due to the COVID-19 pandemic, the platform saw an uptick in interest from lawyers as well as doctors practicing telehealth with patients.
Villemer said the financial sector is another important area where Jami can be very useful.
Jami users can make audio and video calls, share screens, participate in conferences and send secure messages.
One of the key elements that sets Jami apart from many other communication channels is that the platform does not use a server to relay data between users. In most circumstances, data is sent over a third-party server that in theory is susceptible to hacks or invasions of privacy.
"We use state-of-the-art end-to-end encryption with perfect forward secrecy for all communications and comply with the X.509 standard," according to the platform. "Jami is a GNU Project backed by the Free Software Foundation and distributed under a GPLv3 license."
The GNU Project is a long-running initiative dedicated to giving computer users the freedom to collaborate and share software at no cost.
"Jami will remain fully open-source and free to use for everybody," Villemer said.
The platform's potential in the world of finance is virtually limitless — users can rest assured that when they are communicating about their financial accounts, including credit cards, securities, or bank accounts the information is only being seen by the intended recipient.
Free, Fast, and Able to Automatically Adapt to Bandwidth
As Villemer mentioned, Jami is free for anyone to use. But besides being a no-cost and secure communication platform, Jami offers several other appealing features.
For one, Jami is unbound by many limitations other platforms are beholden to. Jami has no restrictions on file size, number of accounts, or storage. And there will never be any advertising on the platform.
And all of its peer-to-peer communications are end-to-end encrypted, which also contributes to its speed.
"Latency and transfer speeds are greatly reduced thanks to the peer-to-peer connection," according to Jami. "Users who are on the same local network can communicate with Jami even if they are disconnected from the internet."
Watch on
And, with privacy being one of its top priorities, no personal information needs to be provided when creating an account.
Businesses can also use Jami as an enterprise communications solution with the Jami Account Management Server.
"Jami Account Management Server (JAMS) facilitates the deployment of Jami in your organization and allows your users to connect using their company ID," according to the Jami website. "Integrate JAMS with your internal Active Directory, LDAP corporate registry or with an embedded database."
JAMS lets companies easily create and manage Jami users on the fly, in addition to several other standout features.
"Manage your community, devices, and contact lists of your Jami users," according to Jami. "Control permissions based on your users' profiles. Push your own infrastructure configurations."
Jami offers a variety of customizable features as well, and it encourages businesses to reach out to them to learn more about what's available.
Jami Together is the New, Better-than-Ever Version of the Innovative Platform
Villemer said that Jami recently launched its most feature-rich and convenient version to date.
"Jami undergoes continuous development and release, so you can experience improvements and new features as we implement them," according to Jami. "When we reach a significant milestone or introduce important new features, we will give it a code name. We have given today's release of Jami the code name 'Together.'"
Just as the COVID-19 pandemic has impacted businesses and individuals around the globe, it has also impacted Jami, which led the platform to re-evaluate its priorities and rethink its vision.
"We've decided to transform Jami from a simple peer‑to‑peer communication system, into group communication software that would enable large groups to collaborate, while preserving individual privacy and security, yet still be free (as in freedom) and gratis (free of charge)," according to Jami.
Together lays the foundation for the platform's new direction.
"Overall, Jami has become more robust and reliable," according to an announcement. "However, three notable improvements are worth mentioning."
There has been a significant improvement to Jami's ability to operate on low-bandwidth networks. For example, now Jami needs only 50 kB/s in audio/video mode, and 10 kB/s for audio-only calls. Jami's mobile version is now much less demanding on phone resources as well. And Jami for Windows now provides a vastly improved user experience.
New features in Together include a more efficient and enriched video conferencing system, according to Jami. Another notable addition is the Rendezvous Point feature.
"Once (the Rendezvous Point is) created, the users you have invited will be able to meet, see and talk to each other at any time — even if you are absent or on another call!" according to Jami. "All you need to do is connect your account to the internet."
In the coming months, Jami plans to continue improving and refining its innovative platform to deliver the ultimate secure, private communication channel — always for free.
Advertiser Disclosure
CardRates.com is a free online resource that offers valuable content and comparison services to users. To keep this resource 100% free, we receive compensation for referrals for many of the offers listed on the site. Along with key review factors, this compensation may impact how and where products appear across CardRates.com (including, for example, the order in which they appear). CardRates.com does not include the entire universe of available offers. Editorial opinions expressed on the site are strictly our own and are not provided, endorsed, or approved by advertisers.