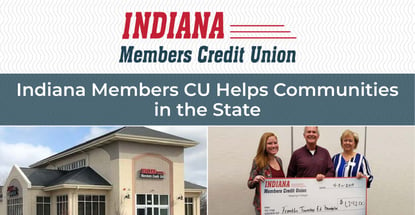 In a Nutshell: Indiana Members Credit Union (IMCU) understands how overwhelming it can be for students to start managing their own money. That's why the credit union works to improve financial literacy in Central Indiana through one-on-one counseling, ongoing group events, and a new seminar series led by certified branch managers and account service representatives. Through the Indiana Members Foundation, the credit union also donates time and money, in partnership with nonprofits and charities, that strengthen its communities. For its financial literacy programs and charitable efforts, Indiana Members Credit Union earns our Editor's Choice™ Award for Community Commitment.
Students anticipate gaining more financial independence in college, but being in charge of your personal finances can quickly become overwhelming. When the novelty wears off, many students struggle to track expenses, monitor spending, and stick to a budget. It's crucial that young adults receive the knowledge and tools to succeed during this time, when they're forming financial habits that will shape their futures.
That is why Indiana Members Credit Union (IMCU) places a strong emphasis on financial education for students, members, and communities.
Founded by employees of the Indiana University Medical Center in 1956, IMCU still operates a campus branch, where its team regularly witnesses the financial struggles of college students. Now the largest credit union in Central Indiana, with 27 full-service branches serving more than 125,000 members in 28 counties, IMCU has developed a unique understanding of the importance of early financial literacy.
"With our growth, we have gained members that might need more than just an account or loan services. That's why our financial literacy program is designed to target our younger members to help them become strong members within our credit union," said Madeline Giddens, Account Service Representative for IMCU and Financial Seminar Leader.
And young people are not alone in needing to learn about money. Many adults have made it through life with little, if any, financial education and struggle with income and debt management. Some aren't equipped to help their children handle their finances.
"Sometimes moms and dads bring in teens to open their first accounts and chime in on how the account needs to operate, or what they need to do to build credit and not overdraw, and some of that information is a little skewed," Madeline said. "So we want to correct misconceptions across as many generations as possible."
In recognition of its commitment to financial education, along with its charitable work in Central Indiana, IMCU has earned our Editor's Choice Award™ for Community Commitment.
Providing an Educational Program Run by Branch Staff
As part of its commitment to the financial health of its members, IMCU has always made financial education a priority.
"We have various relationships with companies, hospitals, and high schools, where we go in and give presentations to their employees or students," said Nikki Thompson, IMCU's Communications Manager.
One example is an upcoming presentation at Franciscan Health Hospital in Indianapolis, which recently hired several fresh-out-of-college employees and wants to put them on secure financial footing to start their careers.
The credit union also holds educational events catered to specific demographics, including the area's immigrant and refugee community, many of whom are unfamiliar with the basics of the American banking system.
But IMCU is also taking its education efforts a step further with the introduction of a formal financial literacy seminar series.
The foundation of the program is its leadership: Selected branch staff, trained to become certified financial counselors. Currently, selected branch staff — including Madeline — lead the inaugural class, which is titled "Basic Financial Health 101." The sessions, held at local branches or community centers several times a month, are free and open to both credit union members and the general public.
"We had our first class with our employees, and they seemed to really like what we're presenting to members in a more formal setting," Madeline said. "We have tables, handouts, scratch pads, and a presentation ready to go. It feels like a classroom setting, but we also want to hear the concerns each group of individuals are struggling with and customize these classes as we get more under our belts."
Since research showed that many Americans are living paycheck to paycheck or over-borrowing, the team designed a class that teaches money management strategies such as determining needs versus wants and writing down income and expenses. Team members also explain how these practices can help with building credit. Madeline also shares how applicants can be approved for a loan or qualify for better interest rates — from a lender's perspective.
"We're trying to help members, or non-members, take a look at their current budgeting habits — what they are doing right and what they can improve," Madeline said.
The current presentation series applies to both older and younger adults, and IMCU hopes to target high school and college students.
A Foundation that Gives Back through Donations, Non-Profit Partnerships, and Scholarships
The credit union also contributes to the overall well-being of its communities through volunteerism and donations through the Indiana Members Foundation. One impactful program it partners with is called Indy BackPack Attack.
"We serve as their fiscal agent and help collect school supplies at all of our branch locations. Separately, we raise money throughout the year doing candy sales at our branches and donate our own supply of backpacks," Nikki said.
Since 2010, the Indiana Members Foundation has donated more than 54,000 backpacks, 957,000 supplies, and 3,800 uniforms to area schools through its yearly drives.
The Indiana Members Foundation has also donated more than 3,000 books to the Salvation Army's Ruth Lilly Women and Children's Center, served lunches monthly for four years at Ronald McDonald House for families of patients at Riley Children's Hospital, and given more than 20.5 tons of food to local pantries.
In 2014, the Foundation established Canvas for a Cause, a unique event that hosts painting parties for nonprofit organizations.
"Individuals supporting any nonprofit can sign up to do a Canvas for a Cause event to give back to their organization. We supply the painter, and they get to choose their picture. We can take the event to them, or they come to one of our community centers or our warehouse on the Southside of Indianapolis," Nikki said.
The painter who helped set up Canvas for a Cause is the son of former IMCU employee Joan Wolfe, whose love of the arts continues to live on through Canvas for a Cause and The Joan Wolfe Legacy Grant Program. The programs have awarded more than $129,000 to nonprofits and schools that work with youth in the surrounding communities
And, starting in 2016, the Friday Jean Initiative has given individual employees at IMCU branches a more personal way to give back. Employees make a small donation for the privilege of wearing jeans to work on Fridays, and the proceeds are awarded to a specific local charity.
"Employees can nominate charities to our community involvement executive, who selects a different organization every week," Nikki said.
IMCU also awards additional grants, including the Mike & Marti Ney "People Helping People" Grant, the Terry Renick Legacy Golf Grant, and Robert E. Martin Scholarships.
"Through all of our grants combined we have awarded over $87,000, and through our scholarship program we have awarded over $126,000," Nikki said. "Mike Ney and Robert E. Martin are board members at IMCU, and Terry Renick is a former employee."
Bringing Hands-On Financial Literacy to Youth and Adults
During Madeline's time at IMCUs' campus branch, she spent much of her time sitting down with students who were frazzled and didn't understand how to deal with money. As its new financial literacy program continues to grow, IMCU hopes to address this need by moving directly onto campuses and expanding its program from presentations into more interactive experiences.
"The program we went through to become certified financial counselors has partners that go into high schools and set up a large scale event that gives kids a job, an income, and the ability to 'spend' their money," Madeline said.
This Reality Fair concept is a way credit unions across the U.S. are successfully teaching students the basics of managing cash flow, budgeting, saving, and setting healthy financial habits as they head into their college years — and beyond.
"They're participating; they're not just sitting, taking notes. That's where we hope to be as our financial literacy program continues to grow. We want to be a little more hands-on because that's the best learning experience these kids are going to get. We're in the process of getting it coordinated with our partner high schools," Madeline said.
Through its current financial wellness programs, vision for the future, and volunteerism through the Indiana Members Foundation, Indiana Members Credit Union is taking responsibility for the financial strength of its members and the Central Indiana communities it serves.
For this strong community commitment, Indiana Members has earned our Editor's Choice™ Award.
Advertiser Disclosure
CardRates.com is a free online resource that offers valuable content and comparison services to users. To keep this resource 100% free, we receive compensation for referrals for many of the offers listed on the site. Along with key review factors, this compensation may impact how and where products appear across CardRates.com (including, for example, the order in which they appear). CardRates.com does not include the entire universe of available offers. Editorial opinions expressed on the site are strictly our own and are not provided, endorsed, or approved by advertisers.