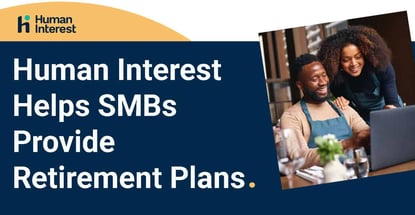 Our experts and industry insiders blog the latest news, studies and current events from inside the credit card industry. Our articles follow strict editorial guidelines.
In a Nutshell: Businesses often struggle to provide retirement benefits to employees, especially when legacy providers lack transparency in pricing. Human Interest was developed to address the gap in retirement offerings among small and mid-sized businesses. By making 401(k) and other protective packages more accessible to employees, SMBs can attract and retain more talent.
Having retirement options is something most employees want when they commit to a company long term. But many small and medium-sized businesses either don't have a viable option or can't afford to offer their employees a retirement plan.
Boston College published a study last year that revealed that only 48% of small businesses with fewer than 50 employees offer retirement savings plans. Those stats reveal that it is a serious challenge to get everybody ready for retirement when half of small business employees don't have access to a retirement plan.
The severity of the situation makes it abundantly clear that small businesses are extremely underserved, and it has contributed to what some experts refer to as the retirement savings crisis. US workers have an estimated $23 trillion gap between what they have in savings and what they need for retirement.

Human Interest has entered the market as a solution to this crisis. The company itself came about as a product of necessity in 2015. Its founder formed a startup prior to Human Interest and was shocked to discover the many hurdles in setting up 401(k) plans for employees. In the end, it proved to take too long and was far too expensive to implement.
From that initial disappointment, Human Interest's founder was inspired to create a company that could help small businesses offer low-cost, quality retirement plans to their employees.
To rectify an unmet need in the market, Human Interest connects the pain of trying to set up a retirement plan system to the data showing a real need to address the retirement savings gap, said Jared Gardner, Human Interest's VP of Growth.
An Easier Solution for SMBs and Their Teams
When it comes to 401(k) providers, not all solutions are the same. Human Interest's goal is to help people gain access to retirement opportunities regardless of their line of work.
Human Interest can provide a supportive role in a number of ways. They eliminate all transaction fees, can act as a 3(16) fiduciary services provider, and even offer 403(b) plans for nonprofit organizations.
The company can also act as a resource to prepare clients for any state-mandated retirement legislation whether it's active or taking effect in the future. Human Interest can help SMBs stay compliant while employees accumulate their retirement funds.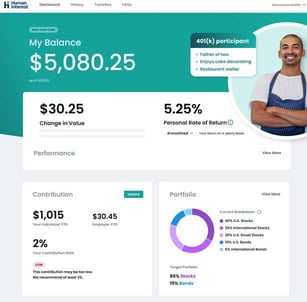 Human Interest reaches more than 12,000 small businesses through both direct channels like their website but also a large share through their network of accounting professionals, benefit brokers, financial advisors and banks.
SMBs can also streamline employee onboarding and automate 401(k) contributions seamlessly through Human Interest's payroll integrations. The company works with over 400 payroll providers, so clients have an option that reduces their manual work each pay period.
One of the biggest challenges that SMBs face with retirement plans is that most legacy providers charge exorbitant fees that are not readily transparent.
Gardner said that when a customer goes to a legacy 401(k) provider's website, they generally won't find any pricing, so it becomes difficult for SMBs to know what they should be paying. He said that providing fair and transparent pricing — viewable on the company's website — is something Human Interest is very proud of.
He added that eliminating transaction fees is something Human Interest has been trying to push forward within the industry. Some modern providers have even followed Human Interest's approach, and the team is pleased to see actions are trending in a positive direction.
Helping Employees Invest in Their Future
While small business owners gain a hiring advantage when they offer cost-effective, quality 401(k) plans, employees benefit as well. And it's fair to say that workers actually gain the most from this operational model.
"We find that the retirement savings benefit is the second most requested benefit after healthcare," said Gardner.
Gusto, which is a partner of Human Interest and one of the larger payroll providers in the country, recently conducted a study of its +200,000 customer base and discovered that when employees use a retirement savings plan, they are 40% less likely to leave the company.
That's a significant difference and it shows that having retirement options means a lot to employees. Doing so helps companies retain quality workers, which in turn helps businesses grow.
In Gardner's view, attracting talent in combination with retaining employees who use the plan can quickly start offsetting a company's cost of offering a 401(k) plan through Human Interest.
That can have a major impact on employees as well as employers as more states move toward mandated retirement benefits. Gardner said that California is probably leading with the most aggressive mandates. California companies with more than five employees that don't offer a state-approved retirement plan face paying steep fines. "Now it's like, if you don't do it, there's going to be a cost. So you may as well get the benefits from having a retirement plan," he said.
The prospect of having automatic enrollment should also be an added benefit to employees starting to save for retirement. By 2025, employees eligible for a company's retirement plan will be automatically enrolled into the plan with a default contribution rate of between 3% and 10%, according to a federal SECURE Act 2.0 legislation passed recently.
"We're believers that that's actually the most powerful weapon for the retirement savings crisis, because it basically removes procrastination from the equation," said Gardner. "That's one of the reasons why people don't start saving. They just don't think about it and they don't make time for it."
Turning Customer Feedback Into An Advantage
Human Interest takes a strong approach to customer feedback and performance measures to deliver the best platform available in the market.
Human Interest collects feedback in a number of ways, and one of the most helpful so far has been through customer reviews on its G2.com profile. The company has already gained hundreds of responses via that avenue alone and has made the best use of that information. "We get a lot of feedback there that we take pretty seriously, and we direct that to teams who can act on it," said Gardner.
The company also makes use of its internal NPS program. Gardner said every participant and admin has the opportunity to provide Human Interest with internal feedback on a quarterly basis.
By listening to customer feedback, Human Interest has also developed an assistance platform to serve customer needs. "Most of the decisions people have to make in our product can be done through a tooltip. If you hover over, it will give you more information," said Gardner.
Those tooltips go out to the company's Learning Center and help customers understand more about the product and industry. And the Learning Center is for those who really want to learn what to do. The Learning Center will assist with every need, whether it be understanding why the product suggests certain settings or what the required minimum distribution is. The platform covers over 400 articles, so there's plenty of opportunities to learn about retirement.
"If we make it easy enough, people don't have to learn it," said Gardner. "By gaining more knowledge and using the power of compounding interest at an earlier age, it could have a meaningful impact on people's retirement."