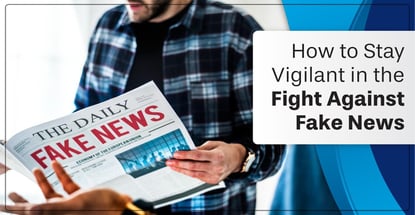 In a Nutshell: Fake news is very real in today's media landscape. Researchers have discovered that false stories on financial websites can actually sway stock markets one way or another and impact trading levels. We spoke to the Founder of Media Bias/Fact Check — Dave Van Zandt — about how Americans can remain vigilant while getting their daily dose of news. Van Zandt said transparency about ownership, funding, and sources are major indicators that a story or website is credible. Still, watchdog websites like Media Bias/Fact Check are important in the ongoing fight against fake news. Bias can come in many shapes and forms, and Van Zandt's website breaks down the many ways bias can work its way into a news story.
Unfortunately, fake news is very real.
These misleading stories range from benign clickbait to inflammatory rhetoric intended to evoke violent reactions from readers.
In 2016, a gunman motivated by an online conspiracy theory intended to discredit Democratic Party leaders stormed a Washington, D.C., pizzeria with the mission to stop a fictional pedophile ring. Meanwhile, millions of Facebook users were exposed to deceptive or outright false stories presented as journalism leading up to the 2016 presidential election.
Countless other examples exist of how the internet can blur the lines between fact-based journalism and exaggerated or completely fabricated stories published to promote an agenda.
Just as these stories have been used in attempts to sway political currents, fake news has been disseminated with the goal of influencing financial markets as well. Research conducted by a team of researchers from MIT, Yale University, and AQR Capital Management, offers further insight into the real impacts fake financial news has had in recent years.
"We find that fake news increases trading activity and price volatility relative to non-fake news for the equity securities of firms mentioned in the articles. Following public revelation of the existence of fake news, we find an immediate decrease in reaction to all news, including legitimate news, on these platforms, consistent with indirect spillover effects of fake news conjectured by theory." — "Fake News: Evidence from Financial Markets"
To learn more about the battle against fake news in the U.S., and how Americans can remain vigilant against it, we recently spoke with Dave Van Zandt, Founder of the watchdog website, Media Bias/Fact Check.
Van Zandt launched the website in 2015 with a mission to educate the public about bias in the media and unethical approaches to journalism.
How Americans Can Identify Questionable News Sources
"If the stories you see seem too good to be true or are not very believable, then they probably are not," Van Zandt told us. "Fake news is deliberate in its attempt to deceive. This could be for clickbait/viral profit, political motivation or other factors, but it is done with a purpose."
Van Zandt provided us with some ways the average news consumer can check to see if a story may possibly be fake news or otherwise biased. He also pointed out that the term fake news has another meaning, which is essentially something that someone does not agree with. These instances are not fake news, but personal bias.
"Check and see if the source has an about page that describes the purpose of the source, with names behind the website as well as if they disclose ownership," he said. "A lack of transparency is a huge red flag. What are they hiding?"
He said another great way to check out an individual story is to simply copy the headline and paste it into a Google search. If the search results reveal known credible sources that you are familiar with, then the story is most likely true.
On the other hand, if you get very few results from known partisan sites, then it probably is not a credible story or perhaps it needs more time to be verified, he said.
"To determine the credibility of a source you can always use the Media Bias/Fact Check Extension, which displays the bias of a source and when clicked shows the level of factual reporting as either High, Mixed or Low," Van Zandt said.
The Ongoing Fight Against Partisan Journalism
Van Zandt pointed out that fake news in itself is harmless if people are aware that it is fake, but unfortunately, that is not always the case.
"We have the case of the fake Pizzagate story when a gunman actually showed up at a pizzeria because he thought it was real," he said. "This business was almost driven to closing in a short period of time. Eventually, they were able to recover, but it nearly destroyed the business and could have gotten people killed."
He also referred to recent instances of people believing anti-vaccination propaganda, which has led to a large measles outbreak in New York in which about 250 people — mostly children — have been infected, with 21 people being hospitalized, and five of those admitted to intensive care.
For reasons such as these, it's important for organizations like Media Bias/Fact Check to arm readers with knowledge.
And when it comes to finances, Van Zandt said that people have to be sure they are getting sound advice, yet a number of financial websites peddle conspiracy theories.
"One of the most notorious is ZeroHedge, which promotes far-right propaganda as well as conspiracies related to the New World Order and globalization," Van Zandt said. "They have a very poor track record with fact checkers and many of their claims have been debunked. It is best to stick with the large, well-known financial news sources if you want to avoid fake financial news."
Where people used to have to turn exclusively to newspapers or news programs to stay up to date on current events, consumers today often bypass news outlets and go straight to sources on social media. He said an example of this is how President Trump can manipulate the stock market with Twitter.
"One day he makes a false threatening claim against China and drives the markets down and the next he can Tweet a false positive claim and drive them up," Van Zandt said.
Classifying Various Types of Bias in the Media
"Biased sources use emotional language to sway the reader to their side, thus biased financial publications may sway investment toward those they politically support," Van Zandt said. "This may not be the best advice because it is based on emotions or ideology."
It is important to look for evidence in any claims, whether they be financial or the day's news, he said. A credible source will always direct you to external links to support their claims, but those sources need to be checked as well to ensure they are credible.
The Media Bias/Fact Check website does a thorough job of detailing the organization's methodology for identifying bias and breaking down the different types of bias that may be found in a story.
Each page features a scale with a yellow dot indicating the degree of bias for each source, a notes section offering further details about the source, and a voting poll for readers to offer their own opinion on the level of bias.
"When calculating bias we are not just looking at political bias, but also how factual the information is and if they provide links to credible, verifiable sources," according to the Media Bias/Fact Check website. "Therefore, the yellow dot may indicate political bias or how factual a source is, or in many cases, both."
The bias ranking is based on scores from zero to 10 in four categories: Biased Wording/Headlines, Factual/Sourcing, Story Choices, and Political Affiliation.
The website indicates that bias can occur in any number of ways, including bias through the omission of information, the labeling groups or individuals, story placement, source selection, loaded language, or language that specifically favors or opposes one side.
The bottom line is it takes work to find the truth in stories and to navigate the bias, Van Zandt said.
"We all want to read the things we agree with, but that might not always be correct and supported by evidence," he said. "Everybody needs to be a researcher and hopefully Media Bias/Fact Check can help sort through some of it."
Advertiser Disclosure
CardRates.com is a free online resource that offers valuable content and comparison services to users. To keep this resource 100% free, we receive compensation for referrals for many of the offers listed on the site. Along with key review factors, this compensation may impact how and where products appear across CardRates.com (including, for example, the order in which they appear). CardRates.com does not include the entire universe of available offers. Editorial opinions expressed on the site are strictly our own and are not provided, endorsed, or approved by advertisers.