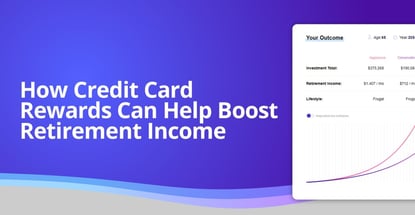 In a Nutshell: Implementing a successful retirement investment strategy may seem intimidating, but every dollar added to an account today can mean a more secure and flexible future. It also means maximizing input now, which is why some savvy investors are cashing in credit card rewards and even using sign-up bonuses to help fortify their retirement earnings. Consumers can rack up rewards and pay off their cards each month to secure bonus investment cash while avoiding fees and interest. And they can quickly check Investment Calculator to see how much they should be saving to meet their retirement goals.
Investors have no shortage of tools, strategies, and account options to aid in saving for their retirement. But they can only be successful if they provide a steady stream of funds to keep those accounts on the right trajectory.
That is the key to maximizing the compound interest that fuels retirement accounts and helps them grow over time. Some solid investment strategies are apparent, including investing the maximum amount if your employer offers a 401(k) match. That effectively doubles each dollar you put in.
Responsible credit cardholders also have a built-in way to boost retirement savings that they may not have considered: cashing in rewards points or sign-up bonuses for investment capital.
Consumers can use credit cards that offer cash back on purchases and pay off the balance in full each month to avoid interest. Then, they can cash in the rewards they accumulate and put the money into their investment accounts. And no matter how small that amount may seem today, compound interest can exponentially increase its purchasing power over decades.

That approach takes a little bit of discipline and plenty of information. Investment Calculator is an online tool that provides users with a clear picture of how much they need to invest now to meet their retirement goals.
"The biggest thing about compound interest is that time is your friend," said Ben Adam, Co-Founder of Investment Calculator. "That's why you want to maximize time as much as you can. The earlier you start, the better you do, and the less money you have to invest to have a higher curve. That's what we're trying to help people visualize with our graphs."
The platform also offers data on how much people should save based on their salary and age. And if someone starts later, they may consider investing more money now or taking a different approach with their portfolio.
Investment Calculator Helps Keep Investors on Track
Knowing how much you're putting into a retirement account is good. But knowing how much you should be putting in to reach your goals is better. That's why Ben Adam and Caleb Barclay launched the sleek and intuitive Investment Calculator in 2018.
And the tool doesn't just spit out numbers based on input; it uses responsive design to help people visualize their savings over time.
"Caleb and I both work in tech, and we have a passion for design. We were starting to think about our own investment strategies, and we felt like there weren't many resources targeted at people our age or younger," Adam said.
So the Arizona State University graduates started Investment Calculator as a side project to improve on the typical offerings. They aimed to develop a site that was aesthetically pleasing and easy to navigate while producing relevant content for its target audience.
Adam and Barclay also wanted to eliminate the annoying email sign-ups that other calculator tools forced users to fill out.
"We just wanted a tool that people could log on and use and get the information they came for. We also provide interactive, interesting content for people to play with," Adam said. "When we launched it, we didn't have any expectations. And the first day, we got about 30,000 visits."
Investors can easily adjust the numbers on the calculator's home page, including current age, expected retirement age, money saved per month, and even the percentages for conservative and aggressive strategies.
The results show users just how much a little extra money today can affect their lifestyle well into the future. The calculator even has a tool to account for inflation. That is essential data for investors, as the money people accrue over decades may not be worth as much as it is today.
"We show what your spending power will be based on the rate of inflation," said Adam. "That's because $100,000 was worth much more 50 years ago than it is today. It may look like a lot of money when you calculate it, but your purchasing power might be lower in the future."
Structure a Savings Strategy to Avoid Interest and Remove Impulses
Investment Calculator shows users the importance of investing now and highlights how financial discipline can help them meet — or exceed — their goals. According to Adam, setting up a system is an important first step.
"Many people either aren't aware of personal systems or need guidance on how to set one up," Adam said. "But having a system is key."
And Adam knows from experience the importance of taking the right approach. He even shifted his own strategy from microbudgeting to a more holistic plan of attack. He accomplished that by putting money from his paycheck toward his goals, including savings and a 401(k), and then making the remaining money in his bank account work.
That strategy can allow people to set aside money without having to think much about it. Because when they look at their bank account, it's not there.
That same type of discipline is necessary for people who want to cash in credit card rewards or use sign-up bonuses to add to their investment accounts. When consumers put recurring monthly purchases on their credit cards and then pay the balance off in full each month, cash back is like free money. But if they let those balances roll over and rack up interest, it may negate the benefits altogether.
The same is true when someone opens a new credit card account to take advantage of a sign-up bonus. If they use the card for a purchase they've already saved for — perhaps a TV or refrigerator — to meet the bonus requirements, they can pay off the balance and invest the bonus.
No matter how much the cash back or credit card sign-up incentive, it can add up to a significant amount of money in the long run.
"If you put an extra $150 into some of today's millennial-friendly investment tools, it's a great thing," Adam said. "And you may know when that $150 is going to be there if you're paying rent or a car payment on a credit card that offers rewards."
Simplify Retirement Planning by Running the Numbers
Retirement doesn't mean you have to stop working, but a retirement account can provide you with more choices. Investing in one simply means using some of the money you don't need right now to help you pursue other passions later in life.
"The goal of retirement is not always to quit working. It's to have the freedom to do whatever you want, whether that is starting a business, pivoting to a new project, or going golfing every day. And everyone has their own vision for what retirement is," Adam said.
Crunching the numbers with Investment Calculator is a great place to get an idea of what the future can hold. Its blog offers plenty of tips on how consumers can boost their savings with a little extra work or more conscious spending decisions.
Whether you decide to put extra money into a 401(k) or regularly cash in credit card rewards to fuel your retirement, every dollar counts. Many people even find they can adjust their priorities today and maintain a similar lifestyle while having a significant impact down the road.
"You can shuffle your life in a way that you can maximize your happiness from start to finish," said Adam. "And you can use finance as a tool to build leverage."
Advertiser Disclosure
CardRates.com is a free online resource that offers valuable content and comparison services to users. To keep this resource 100% free, we receive compensation for referrals for many of the offers listed on the site. Along with key review factors, this compensation may impact how and where products appear across CardRates.com (including, for example, the order in which they appear). CardRates.com does not include the entire universe of available offers. Editorial opinions expressed on the site are strictly our own and are not provided, endorsed, or approved by advertisers.