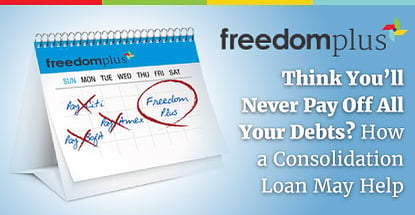 In a Nutshell: Carrying debt over multiple loans or credit cards can get expensive. Borrowers who make minimum payments to several creditors every month can spend thousands of extra dollars in interest payments over the life of each loan. If you're struggling to get ahead of your monthly commitments to multiple lenders, consolidation may help by rolling all of those debts into one loan with a single monthly payment. Since 2014, FreedomPlus has extended more than $1 billion in loans to more than 57,000 US consumers. FreedomPlus offers consolidation loans with affordable interest rates that start at 4.99% for two- to five-year terms. //
If you're currently working hard to manage your debt, you're not alone. More than 80% of all Americans carry some amount of debt — and that number is only increasing. However, contrary to what you may have heard, holding debt can actually be good for your credit score.
Lenders often want to see how consumers manage debt before extending them a line of credit. But, while a little debt can make you more attractive to financial institutions, having too much can make you appear too risky for any credit product, whether that's a rewards card or a home loan.
And, when you owe several lenders, you end up paying thousands of extra dollars in interest even as you make the minimum monthly payments. The task of simply paying your bills becomes that much more costly and time-consuming.
Many Americans who are struggling to keep up with their debt often turn to consolidation loans to roll all of their debts into a single loan that requires just one monthly payment. You can add to the savings if your new consolidation loan charges a lower interest rate than that of your current debts.
While these types of loans are extremely popular in the US, they can sometimes be hard to acquire through traditional banks. These institutions can be rightfully hesitant to invest capital in those who are already struggling to pay their debts. But technological innovations have ignited a new generation of financial service providers, and loans that were once only possible through banks and credit unions are now readily available through online finserv companies at more affordable rates.
FreedomPlus is a market leader in online, direct-to-consumer consolidation loans and has extended more than $1 billion in loans since 2014. The company allows clients to check their interest rate online for free, without damaging their credit score, to see if they qualify for a loan between $7,500 and $35,000.
We asked Joe Toms, President of FreedomPlus, what sets FreedomPlus apart, he replied, "One factor that separates FreedomPlus from many other lenders is our belief in "human to human" contact. Our Loan Consultants work to understand your financial situation in order to find the right loan for you. Getting the right loan product isn't easy; it requires thoughtfulness and planning, and our Loan Consultants are excellent resources for a consumer looking for the right loan."
Debt consolidation loans from FreedomPlus have helped more than 57,000 consumers roll their existing debt into a single account, reduce their rates, slash the time it takes to pay off their debt, and save money along the way.
And, with rates as low as 4.99% APR and payment terms between two and five years, it makes sense to see if you can get out of debt faster and for less money.
Responsible Consolidation Can Boost Your Credit Score
Borrowers who have a credit score above 660 are more likely to qualify for debt consolidation loans through FreedomPlus. And, by using the loan responsibly, consumers could see their credit score actually improve — and quickly. That's because your credit utilization, one of the many factors that impacts a credit score, will shift as you change how much credit you have available versus how much of that credit you're using.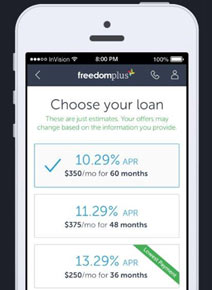 Lenders don't like to see high usage rates and can view a request for a new line of credit as trying to pay off existing debt with new debt.
But, by properly consolidating credit card debt with a single loan, you can pay off your existing credit cards and bring their utilization rate to zero. While the new loan will weigh down your score initially, each monthly payment will begin to balance your credit profile.
Once you decide a consolidation loan is right for you, FreedomPlus will begin its assessment with a soft pull of your credit report, which has no effect on your score.
However, the company will perform a hard inquiry later during the formal application process. This way, if it's clear from the soft pull report that you won't qualify, your credit score won't have taken a hit.
But, keep in mind, the positive effects of debt consolidation can only take place if you're responsible with your new loan. Don't cancel your newly paid off credit cards because that will only lessen your total available credit and your overall utilization rate. At the same time, don't fall into the trap of putting new charges on cards you cannot pay off right away.
FreedomPlus Offers Ways to Increase Your Savings
Borrowers have multiple ways of lowering their interest rate or securing further savings with a FreedomPlus consolidation loan.
Savings and discounts vary by borrower and depend on factors like loan amount, credit score, and your financial situation. For example, the lender will often extend lower interest rates to any applicant who holds more than $40,000 in retirement assets.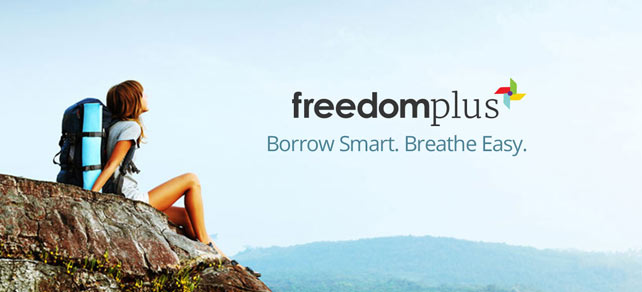 If an applicant doesn't qualify for a loan or qualifies at a higher interest rate due to his or her credit score, FreedomPlus will accept applications with a co-borrower to help improve loan terms. In fact, the company extends its biggest rate discounts to borrowers who apply with a co-applicant — especially if the co-borrower has excellent credit and a dependable income.
"FreedomPlus is a big believer in putting up 'guardrails' that help keep a consumer keep on the right financial path.  It's the equivalent of finding a friend who goes to work out classes with you, to ensure both of you stick to the goal of 'getting in shape.' The same applies to getting into 'financial shape.'  By offering interest rate discounts to pay off your credit card debt or by having a co-applicant join you on the loan, we provide support so you can you to achieve your desired goal and improve your financial health," said Toms.
However, co-borrowers should only participate once they fully understand the associated risks, including taking full financial responsibility for the loan, the borrower's likelihood of default, and the co-borrower's financial means to either pay off or take on the monthly required minimum payment in case of default.
When applying for a debt consolidation loan, be sure to factor in FreedomPlus' origination fee, which can be between 0% and 5%, when determining how much of a loan you'll need to pay off existing debts.
Successful Loan Management Leads to a Fresh Start
While a debt consolidation loan won't magically make your credit card debts disappear, it could substantially lower your monthly bills, improve your credit score over time, and give you some much-needed peace of mind when balancing your personal budget.
FreedomPlus offers multiple payment options once it disburses loan funds or uses them on the borrower's behalf to pay creditors directly. Borrowers can make payments by check or over the phone, or through automatic ACH payments that FreedomPlus withdraws from the borrower's checking account on a set day each month.
Clients also have access to an online borrower dashboard where they can track their payments and access important loan information. These tools, combined with a smart financial game plan, have helped thousands of Americans reap the benefits of an affordable consolidation loan and escape the monthly grind of sending out minimum payments to multiple lenders.
Advertiser Disclosure
CardRates.com is a free online resource that offers valuable content and comparison services to users. To keep this resource 100% free, we receive compensation for referrals for many of the offers listed on the site. Along with key review factors, this compensation may impact how and where products appear across CardRates.com (including, for example, the order in which they appear). CardRates.com does not include the entire universe of available offers. Editorial opinions expressed on the site are strictly our own and are not provided, endorsed, or approved by advertisers.