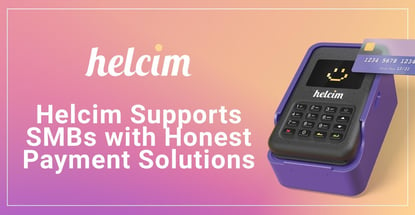 Our experts and industry insiders blog the latest news, studies and current events from inside the credit card industry. Our articles follow strict editorial guidelines.
In a Nutshell: Helcim helps small and medium sized businesses navigate payment processing in a transparent and honest way. Businesses can accept payments in person, online, over the phone, or through invoices without any further hassle. Customer service is a priority for Helcim, and the company invests in five-star service every step of the way. Helcim offers all of this through an affordable, transparent rate available to everyone, no matter how small your business.
The Covid-19 pandemic brought major changes in our day-to-day life. Face masks were required and maintaining a safe distance from others helped keep the deadly virus from entering our homes. Staying away from each other meant we had to adjust to spending a majority of our time at home.
But for brick-and-mortar shops, not interacting with customers was not an option. Small, local businesses had to face reality: either close up shop or find a new way to do business. Moving an entire business to an online model is difficult and poses several challenges of its own.
Creating a user-friendly website ready to take orders and process payments takes time and is costly, something small businesses trying to stay afloat in the pandemic can't often handle.
Helcim takes the guesswork out of taking payments for your products. Anyone can walk into the store or make a purchase online using the exact same system.

Helcim's payment solutions work online, in person, or over the phone, and support sending invoices. All of those services connect together seamlessly and come included with what the company calls honest and transparent pricing.
There's no digging around to find fees and rates for Helcim's payment processing. It's right on the company's homepage. Everyone gets the same rate to start out, with no hidden fees.
It's a bit of a departure from traditional payment processors that require information about a business before offering a rate that can be better or worse than rates for other clients. Helcim is up front and gives backstage access to its technology because it wants its clients to understand the benefits of what they are buying.
Helcim said it makes the payment process easy so business owners can focus on their business.
"Business owners don't want to be spending their time thinking about their payment processor all the time, they have a business to run," Chief Operating Officer of Helcim Rob Park said. "What we focused on was this idea that there needs to be a good guy in this whole business, doubling down on transparency and honesty."
Focusing on Customer Service as a Brand Pillar
Payment processing is confusing. It goes through several layers before your money ends up in a business account. Helcim told us its mission is to make the process digestible for anyone to understand. That way clients don't feel like they are being ripped off at every turn.
"When you have a really complicated product, you can use that complication to take advantage of customers," Park said. "With all the ways to hide fees and the nature of the service with interchange amounts, it's easy for a small and medium sized business person to get lost. With us, you'll get the same pricing with automatic discounting, it's just a much better way to go about things."
Businesses will pay the same rate when signing up with Helcim. Over time, and depending on the sales volume a business does, those rates will go down with automatic discounting, as Park mentioned.
Helcim sees its biggest differentiator from competitors as its customer service. Like its pricing, the support phone number and other methods of contacting the support team are right on the front page. Clients know that, when they need an issue solved quickly, they do not have to go far to put in a ticket. Tickets can be created with a phone call, email, or from the app or web platform.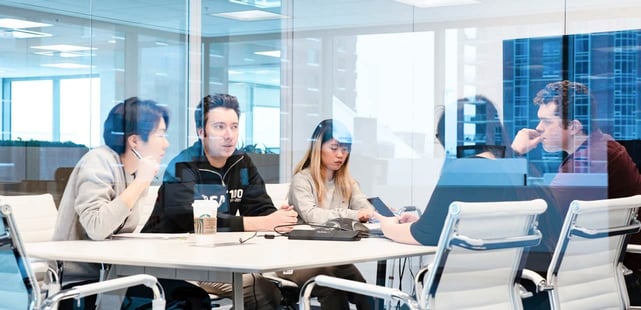 When clients call, there won't be an automated system on the other end. A human will pick up the phone and address any issues clients have. Helcim said it's not motivated by getting through the most calls in a day. The motivator for them is to offer five-star service.
If the issue is with the payment processing platform, the team will reach out right away to get the system up and running again. And clients do not have to worry about their tickets going unread. The customer service team will always reach out to the client to say it is aware of the issue and has begun working on it.
Helcim's focus is to help the small and medium sized businesses and treat them as if they were a part of their neighborhood.
"What we have today is like our dream come true," Park said. "Offering our service our way: transparent, honest, and straightforward. The focus is on the customer. That's all a result of having that vision of creating a place where small and medium sized businesses are not taken advantage of."
Offering Feature-Rich Technology at a Reasonable Rate
Helcim's payment solutions work on nearly every modern device at a business' disposal. There are apps for Android and iOS phones and tablets, and Mac and Windows computers.
The platform allows businesses to keep track of purchases through all of its devices, in-store or online. After customers make a purchase, their information is kept inside the customer vault, helping with future interactions so there's no need to constantly re-enter information.
Businesses can purchase a card reader and case that conveniently attaches to phones or tablets for purchasing on the go. It does not require a sim card because it connects directly to the phone. The card reader has a keypad for debit pins, a chip reader, and support for contactless payments.
"Many of us have marveled at the Apple Store style checkout, where every team member can become a slick and convenient mobile checkout. The card reader helps any business embrace that more modern, exciting checkout experience," Park said. "It goes with our philosophy of finding ways to let the small and medium sized businesses do the things the big guys can, right out of the box."
Watch on
Helcim determines fees with an interchange plus model. Every purchase with a credit card goes through multiple middlemen before reaching a business' account, each taking a small cut. This rate varies depending on where and when the purchase is made. Instead of offering a flat rate at the highest possible cost, Helcim uses that variable rate and charges a small fee on top. The company said it's how it passes savings on to the clients.
There are no hidden or monthly fees attached to the service. The only fee comes after a purchase is made. And while Helcim admitted its rate will not always be the lowest, it did say no other company offers the service it provides at Helcim's rates.
Modernizing Fraud Security and Chargeback Systems
Security has to be a top priority when dealing with money and accounts. For many of the small and medium sized businesses Helcim serves, one instance of fraud could wipe out an entire year of revenue and even cause them to go under.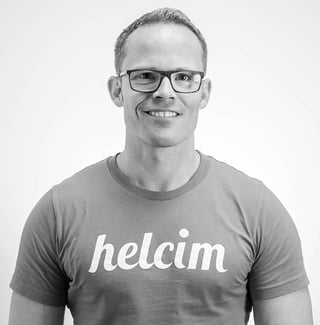 Helcim's fraud detection system — which it calls Helcim Defender — is included with all accounts. The system provides an estimation of risk based on an analysis of seven transaction factors. The risk estimation displays as a confidence score that ranges from 0 (high risk) to 10 (low risk).
Ultimately, the decision is up to the business on whether the purchase should go through. The system doesn't want to shut out a trusted customer and lose businesses regular clients.
In the event someone issues a chargeback against the business, Helcim jumps in to help. A human team guides the business through the process. Businesses also have access to the Chargeback Wizard which lets businesses navigate responses themselves. Helcim has a $15 chargeback fee that is refunded if a chargeback is successfully disputed by the business.
Helcim will never stop innovating in its security measures. The company said it has a new security system in the works that provides businesses with more metrics to better indicate whether a transaction is fraudulent.
"It just comes down to the focus on building trust between us and having a long term relationship with the customer," Park said. "It's really just doubling down on our mission to be the most loved payments company, and our vision for a better service for our small and medium sized business customers."