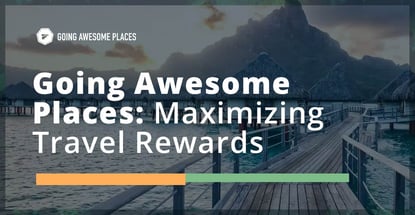 In a Nutshell: Will Tang became passionate about travel while he was a student backpacker, and he started Going Awesome Places to transform that interest into a career. The site offers detailed itineraries and knowledgeable guides, and has grown into a go-to resource for travelers looking to maximize credit card rewards on their journeys. And during the COVID-19 pandemic, Going Awesome Places is expanding to help adventurers discover experiences they can have closer to home.
In a way, Will Tang may have always been destined to make travel his career. He grew up in the Toronto area with a family that saw travel as a way of life. Will was further inspired by his participation in a college study abroad program that landed him in Sweden for four months — nominally as a student but mostly as an adventurer.
"We attended the minimum number of classes, but the group of us that went pretty much did the whole backpacking thing," Will said. "And that's what kick-started my interest."

Will eventually graduated from college with a degree in electrical engineering that he used to start a consulting firm. But the rigors and routines of business travel ground him down, and he decided to go in another direction.
So he started Going Awesome Places, a comprehensive site for travel enthusiasts who want to plan efficiently so they can focus on having great experiences. The site features detailed itineraries, travel guides, packing lists, trip planning videos, and a blog filled with tips and tricks.
Since Will made Going Awesome Places his main focus in 2016, it has grown into a popular destination for experience seekers, including credit card rewards enthusiasts looking to maximize their travel points.
"That's how I started. I quit my job, and I didn't know what the next phase of my career was going to be," he said. "So I burned all my credit card rewards and hotel points and ended up in Asia for a good part of the summer of 2012."
That's when his adventure with Going Awesome Places began.
In-Depth Content and Partnerships Help People Eliminate Guesswork
Just before Will departed for his adventure, a friend suggested on a whim that he blog it. So he did, quickly getting up and running with a GoDaddy domain and a WordPress account, and figuring out content as he went.
"I had no idea what I was doing except that I was writing for fun," Will said. "It was very raw and very personal, and even very naïve, but it was the start of Going Awesome Places."
When Will returned from his trip, he got involved in travel startups while continuing to hone his skills and gain an audience as a writer and blogger. Gradually, he realized that his passion project had business potential. In 2016, he took the leap and embarked on a strategy for the site capable of generating sustainable year-over-year growth.
That involved Will building a meticulous business framework around his content. Today, Going Awesome Places leverages relationships with brands and destinations that work in conjunction with other content to create what amounts to a portfolio of travel solutions.
The site even has a toolbox that cuts to the chase and presents Will's personal travel kit. The kit is an ever-evolving compendium of flights, accommodations, gear, and technology that has earned Will's stamp of approval. Travelers who have ever regretted a credit card purchase or how they used their rewards will find Will's advice useful.
"I've been successful because I treat it as a business," Will said. "Instead of being distracted by things like vanity metrics, I focused on building traffic and creating revenue drivers. The work that I'm investing my effort in is worth something to brands."
Travel Hacks Balance Details and Convenience
Establishing the brand wasn't always second nature for Will — especially from a content perspective. A good deal of trial and error has gone into creating the content growth engine that is Going Awesome Places.
The site, which now features a travel blog with news, tips, tricks, and reviews, is also a source of "ridiculously detailed itineraries and travel guides."
All of this content is accessible through keyword searches and works together to provide enough — but not too much — detail. That means travelers redeeming credit card rewards points can spend less time in front of their screens and more time at their destinations.
"When I first started, I was just going to write about everywhere I went and tried to impart whatever information I could," Will said. "But over the past few years, I've honed in on where I feel like I'm the strongest by taking a data-driven approach and figuring out where people are landing and what they respond positively to."
With reader attention spans getting shorter, Will said he has found that travelers want him to quickly get to the details.
"They want to know things they may not know — details of what I've learned and mistakes I've made," he said. "By arming them with as much information as possible, they can plan their trips easily."
That strategy works for most travelers and can be especially helpful when travel opportunities arise suddenly. And more than a few travelers today are taking time for adventure thanks to readily available flights and ubiquitous work-from-home arrangements during the COVID-19 pandemic.
Changing with the Times to Help Users Discover Experiences Closer to Home
Will and his wife recently took a trip to Egypt with some friends, and it served as an example of Will's most refined approach to posting information on Going Awesome Places.
"Egypt was a perfect opportunity to get granular because there's a lot of uncertainty and apprehension associated with it," Will said.
The resulting content addressed safety challenges and scams, and gave readers a jam-packed schedule for experiencing the country in about a week. The group started in Cairo, journeyed to Luxor, and cruised the Nile before returning to Cairo for their flight home.
Activities, restaurants, and accommodations constitute the core of the daytime itinerary, but Will also offers details from his own experiences and need-to-know facts like currency and transportation info.
"It's just balancing everything," Will said.
Will's carefully honed format applies well to all types of adventures, even those in one's own backyard thanks to travel restrictions related to the global pandemic. That's why travel experiences closer to home are more attractive than ever.
"Pivoting has been a big thing for everyone during this period," Will said. "It's been an awesome opportunity to look inward at the jewels and gems we have here in Canada, even in my own home province of Ontario."
A budding partnership with Ontario travel and lifestyle brand Joya promises to bring even more of those backyard experiences to Will's audience.
"It's not something that was ever a top bucket-list thing, but I'll be foraging for mushrooms soon," Will said. "During this time, those experiences can open your eyes while allowing you to remain socially distant and safe."
Advertiser Disclosure
CardRates.com is a free online resource that offers valuable content and comparison services to users. To keep this resource 100% free, we receive compensation for referrals for many of the offers listed on the site. Along with key review factors, this compensation may impact how and where products appear across CardRates.com (including, for example, the order in which they appear). CardRates.com does not include the entire universe of available offers. Editorial opinions expressed on the site are strictly our own and are not provided, endorsed, or approved by advertisers.